Double Falsehood
William Shakespeare and John Fletcher
MokitaGrit in association with The Steam Industry
Union Theatre, Southwark
(2011)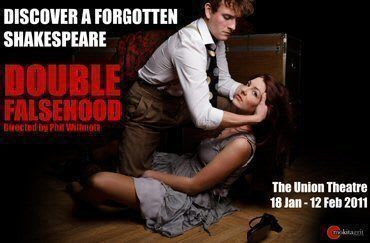 There's always a buzz when a new play opens in town. That frisson of excitement as an audience awaits the evening's unfolding narrative. Established playwrights might attract a specific following, but we never know how the play will develop or what changes in style and approach we might encounter. For Double Falsehood the anticipation is that much sweeter. How often do we get to see a 'new' play by William Shakespeare, written in collaboration with the playwright who filled his dramatic shoes at the Globe in 1616? Shakespeare and Fletcher, the team that brought you Henry VIII, now offering their fascinating Spanish sex drama, Double Falsehood? A theatre publicist's dream.
MokitaGrit's 2011 production, in association with The Steam Industry, does not disappoint. Quite the contrary, this remarkably sensual, sexual play is revived with a passion and dedication only matched by the characters in the play. The site for this revival of a seemingly 'lost' Shakespeare play is the Union Theatre, a Dickensian venue whose menacing railway arch entrance entices you into the claustrophobic gloom of its studio space. A central acting area, an oblong of flagstones, is delineated on the floor. Seats are arranged in three ranks, angled slightly to embrace the action. Often, actors make journeys through the audience. We are complicit with the action. We are part of the action.
A myriad of battered oil lamps are suspended from a ceiling that regularly rumbles with the passing of an overhead train. These light up like a star-studded sky at various points in the play. Otherwise the acting area is bare except for an upstage left coffin and some strategically draped religious iconography. At various moments, cold tree-shaded light filtering through a Gothic window is projected above the coffin to highlight the play's association with monastic life. The monastery is a recurring shelter, and a source of disguise.
Disguise? There are more disguised friars in Double Falsehood than Measure for Measure's Duke Vincentio has had hot dinners. The playhouse habit-makers must have had a field day when the play was first produced. It is easier to list the characters that do not don this ubiquitous costume than those that do. Hooded monks appear and reappear. Men, women, lovers, rapists, abductors, all wear the disguise, many arriving onstage at the same time. The poor lowly Friar Lopez (Richard Morse), the only person entitled to the garb, seems understandably nonplussed by the sudden popularity of his chosen vocation.
Double Falsehood is, ultimately, a tragicomedy. The multiple marriages at the play's dénouement, staged with that wry, bitter acrimony that accompanies most modern stagings of early modern marital alliance, offers the requisite comedy ending. They come, though, after rape and physical abuse, attempted suicide and murderous attack, have all threatened the lives of those whose fidelity and love are eventually rewarded.
The principal lover is, of course, young Julio, played with joyous passion by Gabriel Vick. Julio is an innocent, a country gentleman unschooled in aristocratic intrigue. When his 'friend' Henrique (Adam Redmore), youngest son of the Andalucían Duke Angelo, ensures Julio's invitation to court, it is to remove a rival in love. Julio intends to marry the virtuous maid, Leonora, a beauty whose strength and vitality are brilliantly evoked by Emily Plumtree. Henrique also recognizes Leonora's charms, though his needs are more basic. The young prince has already beaten and raped another victim of his lust, the unfortunate servant Violante (Jessie Lilley). Now his attentions revert to Leonora.
Julio and Leonora have other obstacles in their way. Leonora's parent, re-gendered in this production as a domineering Mother (Su Douglas), sees no benefit in alliance with her rural neighbour. Certainly not when a prince is seeking her daughter's hand. Julio's Father, played by Stephen Boswell with exquisite paternal timing and a naturalism that is truly heart-breaking, is powerless to prevent the rejection of his son. What none of the parties realise is the mental instability of Henrique, a young man who veers dangerously into the schizophrenic realm of Gollum with his disjointed, self-inquisitory dialogue.
Of course, all will turn out for the best. It is that, I'm afraid, that represents the fundamental flaw, not of the production but of the play. There is never any doubt that the lovers will be united. Apart from an onstage beating and an abduction in the coffin, there is little mortal danger or threat for them. In the last long scene of revelation, the dramatic irony thus seems decidedly contrived. We, as audience, know who is hidden beneath the friar's weeds and who will rise triumphant. There is a pedantic inevitability about the ending.
The play's director, Phil Willmott, makes a brilliant attempt at analysing the play in his programme notes. He comments on its brevity, and on the filmic cutting between scenes, thoughts and actions. It is a play that seems to have suffered since first composition and its radical re-presentation as a 'lost Shakespeare' in 1727. Should it be included in the Shakespeare canon? The editors of the Arden Collected Works certainly believe so.
As this production proves, when a play has a good, strong narrative, ultimately it doesn't really matter who wrote it. Shakespeare's name will guarantee an audience whenever and wherever it is staged. Thank goodness that this, the first British production since its publication in the Arden series, is of such consummate professionalism and quality that Double Falsehood's true worth can shine forth. If Shakespeare and Fletcher did write Double Falsehood, they can be proud that a twenty-first century Bankside theatre has staged it with such clarity, integrity and artistic style.
Simon Sladen reviewed this production on its transfer to the New Players Theatre
Reviewer: Kevin Quarmby