Doubt
John Patrick Shanley
Walter Kerr Theatre, New York
(2006)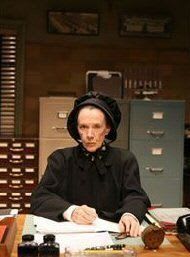 Winner of a 2005 Tony Award as well as a Pulitzer Prize, Doubt is about the sort of intense moral dilemma so beloved of Terence Rattigan, and John Patrick Shanley's interesting and intelligent drama is also a well-wrought one, played without intermission in ninety absorbing minutes.
The play signals its seriousness by the sombre brick cloister of the opening set: St Nicholas Church School in the Bronx, 1964. The young and handsome Father Flynn, played with an appealing openness and good-hearted energy by Ron Eldard, arrives to deliver an inspiring sermon on the subject of doubt. He describes the shipwrecked sailor afloat on a raft, taking his bearings from the stars in an effort to reach land, then enduring thirty nights of cloud that make him unsure of the way. It is a fine sermon that not only opens the play's central debate but also gives a strong impression of Father Flynn as a man of truth and intelligence.
The play's other set, the school office, is a smaller room rolled onstage within the cloister, and this is where the ageing Sister Aloysius sits busily at her desk. Eileen Atkins has never looked more pinched and shrivelled as she does here, undermining the youthful enthusiasm of her colleague Sister James: 'You're performing too much, Sister. It's your pupils you should be helping to perform ' and then asking her whether she's noticed anything inappropriate about Father Flynn's behaviour.
It looks like the work of a bitter and manipulative old woman, dropping this seed of doubt into a mind she's prepared with a good drubbing. But it is possible that, contrary to appearances, this experienced and dedicated nun is right, and that Father Flynn is indeed grooming a young black pupil with his special attention.
Summoned to her office, Flynn gives a perfectly reasonable account of his behaviour, astonished at Aloysius's accusation. And he finds himself trapped by her fixed ideas of him: whatever he says, she has an incriminating rejoinder.
At this point Flynn delivers another eloquent sermon, on the subject of gossip. Gossip is like the man who was one day told to stand on a rooftop and cut open a feather pillow, then on the next day ordered to go and gather up all the feathers
It is hard to believe that this deeply humane man could possibly have sexual intentions towards a young pupil in his care, and despite the doubts that have been planted, Sister James becomes convinced of his innocence. It is finally Flynn himself who resolves what is now an impossible working situation, by informing his superiors of the accusation. When Sister Aloysius hears that he is to be moved and promoted, she wrings her hands, and the play ends with her exclaiming her terrible doubt.
What Shanley's play doesn't manage to achieve, though, is any convincing sense of doubt about Flynn. Where Rattigan's Winslow Boy constructs some real possibilities of the boy's guilt despite his apparent innocence, all we're given by Shanley is the suspicious observations of a once-married nun. Not for a moment does Flynn himself betray the slightest shadow of guilt or concealment, a tiny slip that might call into question his version of events. If he is guilty, then he is a chillingly consummate liar, but nothing in Eldard's performance remotely suggests this possibility.
The real pleasures of the play lie in the two central performances, especially Eileen Atkins' harrowed nun, and in the exchanges between the priest and his accuser. What the play certainly doesn't do, though, is enable the audience to participate in the nun's dilemma. Her doubt may be interesting to watch, but it would have been riveting to be allowed to share it.
Philip Fisher interviewed Doubt's writer, John Patrick Shanley, and also reviewed the production with a different cast.
Reviewer: Jill Sharp