Doves
Benedict Ayrton and the company
State of Grace
Dance City, Newcastle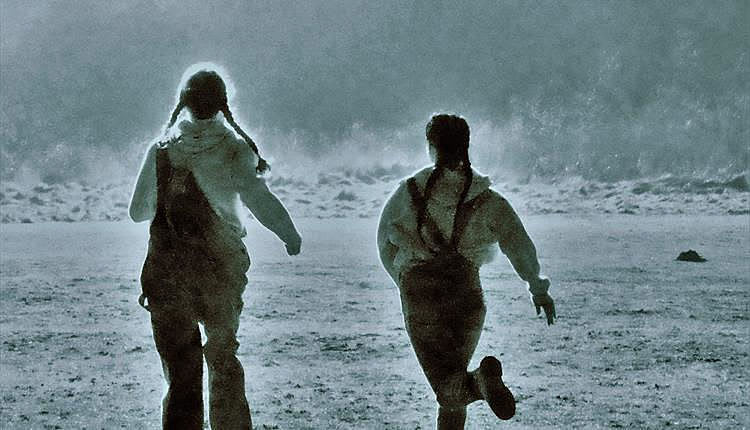 A roughly drawn white on black animation of the world moves across the back wall. Zoom in to focus on the USA. Closer and it becomes a map. It's Louisiana. Closer still. X marks, not the spot, but "ME".
Abuse. Unhappiness. Fear.
An escape. A journey. A quest? A road trip to New York.
Some images: a girl trying with her hands to sweep ants or fleas or something of that ilk from her clothes and body, shuddering and shaking, feeling soiled, dirty, disgusted; a girl sitting on a white chair places a paper bag over her head (very State of Grace!); there are masks, disturbingly real and ambiguous, even sometimes threatening, whilst, on the surface, appearing to be neutral (I was reminded of the early work of Trestle Theatre); two girls lying on the floor, exhausted and miserable, each stretching a hand out to the other but not quite able to touch, to make contact; the visual white noise of an untuned TV projected onto the backdrop but this is in colour, like thousands of worms wriggling; John Travolta-like classic Saturday Night Fever disco pose, finger pointing up; that iconic James Bond pose with gun held vertically.
Music of the eighties. Figures of the eighties. Reagan. News broadcasts. Video and animated images. Acid House psychedelia.
All are part of this dance theatre story of Jo-Beth Chalaire (Alice Henry) and her sister Billie (Cora-Jay Williams), but, although the story arc is clear, this is not traditional storytelling. Sound, music, video and animated images join with an eclectic movement language to help us experience rather than just watch or listen to the story, almost as if we are immersed in it.
There's athletic, even acrobatic movement; small animal movement; normal everyday movement and gesture; contemporary dance; the emerging hip hop style of the period: whatever carries the story along effectively.
And it's a story which, in development, unfolded (and, in performance, unfolds) gently, as director Ben Ayrton explains in a programme note. There has been time in the development period for thought and reflection, he tells us, and this has led to a subtlety and depth which involves the audience to such an extent that, at the end (and even though the words THE END were projected on the back wall), there was a long and slow release of held breath before the applause began.
In theatre we often talk about something being an ensemble piece in which each performer is of equal importance; here we have a different kind of ensemble piece, for the music and sound (by Jamie Cook at HOWZAT) and the film and animation (by Adam Goodwin) are as important a part of the story as the characters, as all make a substantial contribution to the impact of the piece.
State of Grace has a unique approach to dance theatre; their work is always fascinating and involving and Doves is no exception. I understand a tour of the region is a strong possibility. See it if you can!
Reviewer: Peter Lathan