Down to Zero
Lizi Patch
Coracle in partnership with Alphabetti
Alphabetti Theatre, Newcastle
–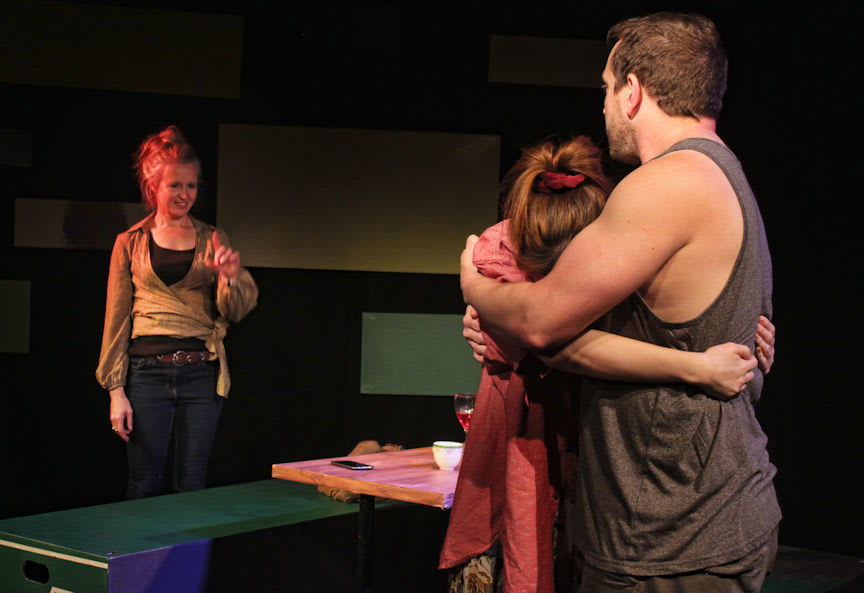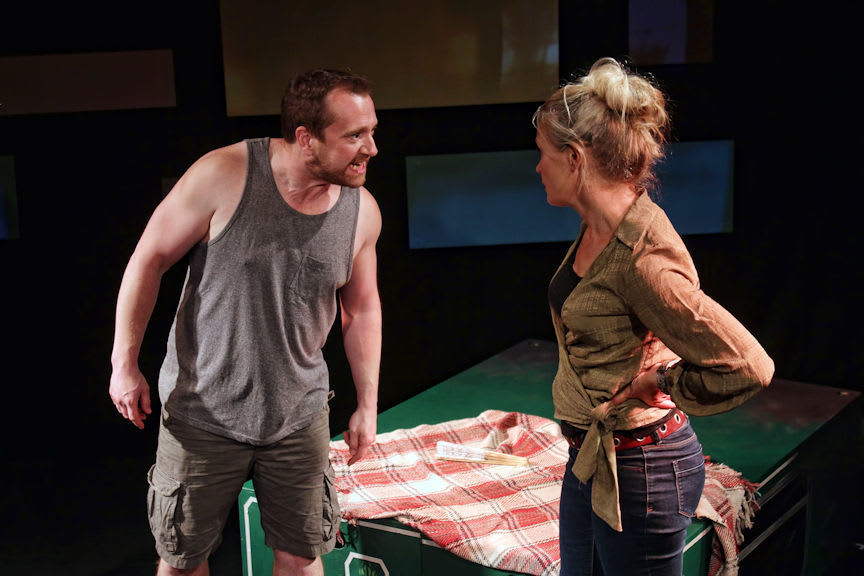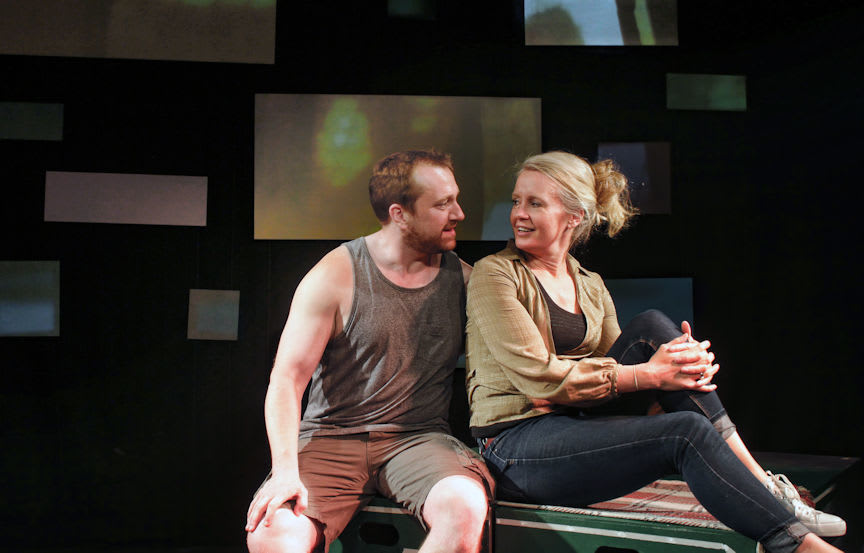 Sam is taking his partner Steph on a trip to celebrate her fiftieth birthday. They've got prosecco and red wine and a secluded place all to themselves, the perfect romantic getaway. There's a small fly in the ointment because Steph is going through the menopause and hot flushes and her bladder can cause some problems. And "I'm scared," she says, "of being evolutionarily pointless."
But they can deal with these. Of course they can.
But in every relationship there are tensions rippling away under the surface. How could there not be between two people who have previous partners with whom they are still in touch? And Steph has a 13 year old son who's staying with his father. And of course there are mobile phones so that even a boat on the Caledonian Canal is not really isolated enough.
And then the completely and totally unexpected "blast from the past" happens.
Writer Lizi Patch mines this situation not just for all the rawness and power inherent in the complex and conflicting emotions within each individual but also for its humorous possibilities. It's black humour, of course, but humour it is and there's a lot of it, arising from the characters she has created.
It would have been so easy to make Steph a walking menopause but, although she is going through that change with all the physical, emotional and hormonal upset it causes and it features largely in her life at this moment in time, it doesn't define her; there is much more to her than that. She carries us along with her as she revisits her past, her teenage years, and the events which made her what she is.
Arabella Arnott really embodies Steph in all her complexity, from her helplessness in the face of physical problems over which she has no control, through the balancing act her relationship with Sam requires, to the re-awakening of teenage trauma. It really is a beautifully judged performance.
Some might call her and her partner Sam something of a mismatched pair. He's younger than her by around ten years; he's working class, a carpenter, and she's a middle class secondary school English teacher; he's a body-builder and she enjoys poetry. He loves her but is very aware of these differences and that awareness is constantly in his mind and colours their every conversation. And she, of course, has her son whom she is co-parenting with her ex (but not divorced)- husband
Brian Lonsdale captures Sam's uncertainty, his desire - even desperation - to please and his super-sensitivity to anything which he perceives as a threat to their relationship. We really do feel that he is an explosion waiting to happen.
Freya is the blast from the past. In the middle of a potentially embarrassing situation there's a knock at the door. Sam goes to answer. It's someone called Freya, he announces. "I don't know any Freya," Steph replies. "She says you'll know her as Iris," Sam says. And from her reaction, she clearly does.
Enter a young – early thirties – glamorous and carefully made-up woman…
But no more on this: spoilers not allowed!
Samantha Neale is Freya. There's a carefully judged tentativeness and vulnerability about her performance; you feel that this young woman is walking on eggshells.
Director Matt Jamie brings out the best in his very talented cast against a background of what looks like a number of coloured rectangles of various sizes but which turn out to be screens on which video suggesting location, time of day and weather appears. Molly Barrett's very simple set of two blocks and simple furniture transforms the stage into a car and the deck, sleeping area and seating area of a canal boat.
The play is followed each evening by response pieces by Degna Stone and Beccy Owen after half the performances and by Allison Davies and Claire Tustin after the other half. At the press night we saw the contemplative and tinged with sadness view of life of this particular 40+ woman and joined in the singing in the menopausal Temple of Chaos run by musician Beccy Owen.
Please note: there are no performances on Sunday or Monday.
Reviewer: Peter Lathan