Dr Frankenstein
Mary Wollstonecraft Shelley, adapted by Selma Dimitrijevic
A Northern Stage and Greyscale co-production
The Crucible
–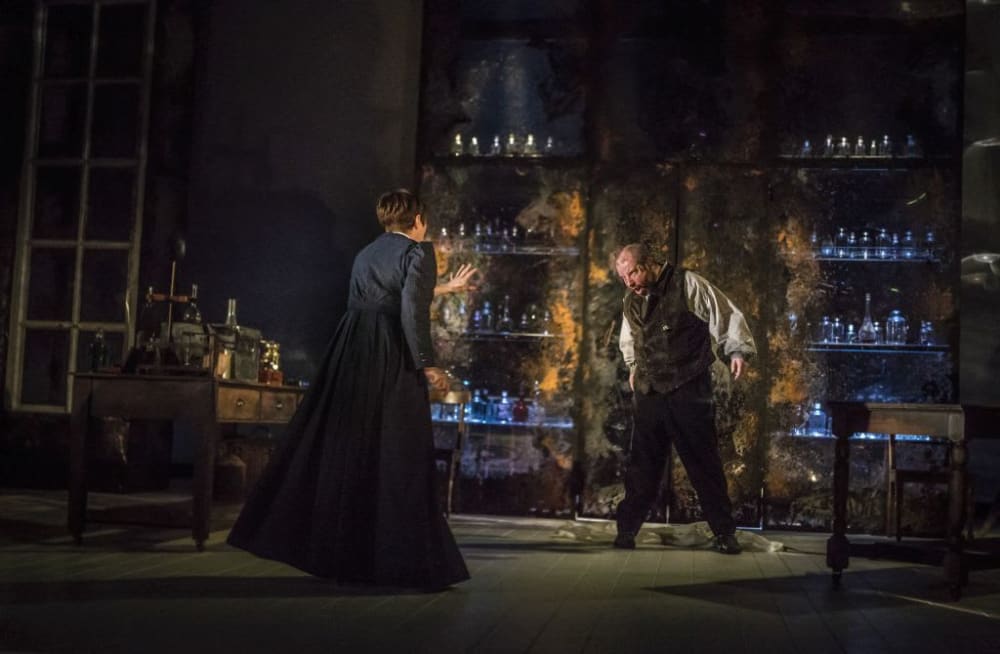 Northern Stage and Greyscale theatre company, based in Newcastle upon Tyne, bring a new version of Mary Wollstonecraft Shelley's Frankenstein to the Sheffield Crucible.
In this version, we meet Doctor Victoria Frankenstein, a brilliant and free-thinking experimental scientist, who challenges Victorian mores by rejecting her traditional role of wife, mother and carer of her ageing father in order to go to university where she can pursue her passionate interest in scientific research.
Her father is an eminent medical doctor whose mission is to help people who are suffering. But Victoria's dream is much more ambitious than that. She wants to explore the boundary between life and death and bring the dead back to life.
The audience is greeted by a shimmering set (Tom Piper) which represents the family home and later reveals Victoria's laboratory with its shelves of gleaming glass bottles and convenient spaces for the concealment of work-in-progress. Startling lightning flashes illuminate the action and provide the electrical shock which renews life.
Selma Dimitrijevic's thought-provoking adaptation of Shelley's novel provides plenty of opportunity for the discussion of large issues, many of which are relevant today.
As well as issues surrounding women's education, contribution to science and role in the family, the play takes on the role of experiment and medical research in procedures which overstep boundaries traditionally held in place by religious belief or social convention. Victoria is accused of acting like God.
The debates are presented dramatically through arguments in the extended family group. But more important than these, as in Shelley's original, is the effect on the 'creature' that Victoria brings back to life. The creature is maimed both physically and morally, constantly reaching out for understanding and affection and reacting violently when these are denied.
As Victoria, Polly Frame gives an engaging, lively performance as the idealistic scientist who is ultimately horrified by the uncontrollable force she has released into society.
The presentation of the creature is effectively realised through Ed Gaughan's laboured, barely controlled movement, which is a physical representation of the damage and suffering within. While Gaughan is convincingly repulsive and frightening, he is still able to elicit sympathy for that part of him which is still all too recognisably human. He begs Victoria to create another creature to comfort him in his isolation and loneliness.
There are strong supporting performances from Libby Davison, the housekeeper Mary, who stands for traditional beliefs, from Donald McBride, as Victoria's querulous ageing father and Victoria Elliott, as her long suffering, supportive sister Elizabeth, whose life plans for a happy conventional marriage are subverted by Victoria's obsession with her chosen career and refusal to adopt the traditional role of a spinster daughter.
Scott Turnbull provides an additional perspective on the debate as the young man who eventually becomes Victoria's brother-in-law. Although urged by Victoria to join her at University, he dutifully follows his father into the family business and gradually loses sight of a broader world view. In an early scene in Victoria's laboratory, he is horrified to discover the drowned cadaver which will eventually be re-vivified.
Greyscale company celebrates the work of disabled artists through the Unlimited Ally programme. It is entirely appropriate that Rachel Denning, as a disabled performer, is included in the cast of this production as Justine, a member of the family group. This is such an important counterblast to the presentation of the creature, when Rachel gives such a strong, professional performance which demonstrates what disabled artists are capable of.
Reviewer: Velda Harris