Dr Jekyll and Mr Hyde
David Edgar after Robert Louis Stevenson
Touring Consortium Theatre and Rose Theatre Kingston
Festival Theatre, Malvern
–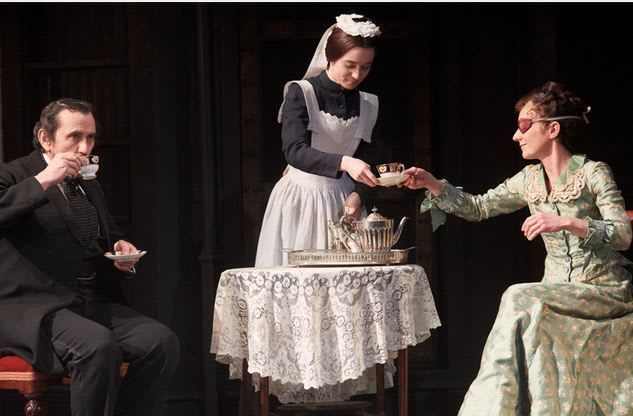 Fiends in human shape or monsters within us? To improve the lot of the lower classes by rebuilding drains, or reconstructing their brains?
Stevenson's short story was published in 1886, after the Pall Mall Gazette had exposed the sordid underside of London life and just one year before schizophrenia was scientifically identified as a discrete mental illness.
Unlike some film versions, David Edgar's wordy adaptation is less of a Gothic thriller than a debate about the nature of self. Indeed by the introduction of a sister for Jekyll, not present in the original, the playwright creates a plotline to show that to change character the good doctor did not necessarily have to keep taking the pills.
It is at times an uneasy mix of metaphysics and melodrama, especially in a rather dull first half, and, despite an atmospheric set, the greatest chill on a cold night came not from the stage but an open entrance door.
By Edgar's own very high standards, the sociological and psychological arguments remain relatively undeveloped, but it may be that I missed some of its subtleties by failing to pick up every word in the heavy accents of the principals.
Edgar revised his 1991 version of the play five years later by having the alter egos of Jekyll and Hyde played by the same actor—surely a sound idea, but not entirely successfully realised here by Eastenders star Phil Daniels.
As Dr Jekyll, FRS, Daniels captures that precise particularity of educated Edinburgh, albeit with little sense of the obsessive. The trouble comes with Hyde, for in manner and speech the magic medicine turns the doctor inexplicably Glaswegian and—oh horror—working class.
Matters improve greatly however as the spirit of Hyde gradually invests that of Jekyll, settling the pair presumably somewhere around Falkirk.
The supporting cast are excellent, particularly the pert Grace Hogg-Robinson as Jekyll's irrepressible maid Annie, Polly Frame as sister Katherine and Sam Cox, who plays the butler Poole with the studied aloofness of man with a bad herring down his shirt-front.
Reviewer: Colin Davison