Dracula
Bram Stoker, adapted by Jenny King
The Touring Consortium
Grand Theatre, Blackpool
–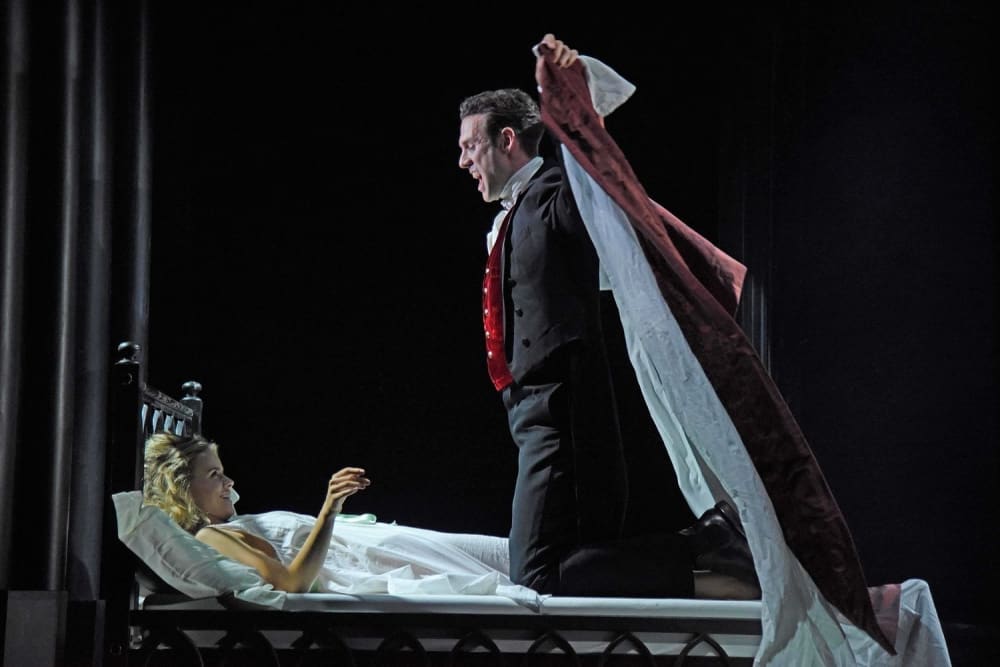 A thrilling new stage adaptation of a time-honoured tale that should satisfy anyone's bloodlust.
There is a long line of theatre productions that have sunk their teeth into Bram Stoker's genre-defining gothic novel, but few that achieve quite the shock, or even occasional horror, that adapter Jenny King, director Eduard Lewis, and the Touring Consortium theatre company manage here.
With plentiful stage magic, ranging from side lighting, deep shadows and swirling smoke, to actual visual trickery devised by illusionist Ben Hart, this Dracula becomes more of a graphic novel, with all the speed and creativity of that medium. And if one or two characters occasionally seem to speak in speech bubbles then it's only in keeping with the overall style and atmosphere.
It's all graced by meticulous lighting and sound cues against a set design of sliding gothic columns, or descending prison bars. Blackouts between scenes are deeply dark, thanks to co-ordinated strobe lights; it's not just the memory of several dramatic tableaux that will be seared on your eyeballs.
Certainly the undercurrent of erotic passion in the novel becomes more of a tidal wave in a performance that doesn't flinch from the story's brooding sexual plot.
Cheryl Campbell is nearly unrecognisable as Lady Renfield, the insect-chewing acolyte of the bloodthirsty Count Dracula. It's probably the most rounded character performance here, although Glen Fox, in the title role, laps up his every appearance.
Jessica Webber, as Lucy, and Olivia Swann (Mina Murray) are pretty well unbridled as the 'brides' of Frankenstein.
They might all agree though that the real stars of the show are the backroom talents of set designer Sean Cavanagh, lighting designer Ben Cracknell and sound designer Paul Ewing. Delivering West End performance values in a touring production reflects immense credit on them and the show's producers.
Reviewer: David Upton