Dracula
John Ginman
Blackeyed Theatre
Greenwich Theatre
–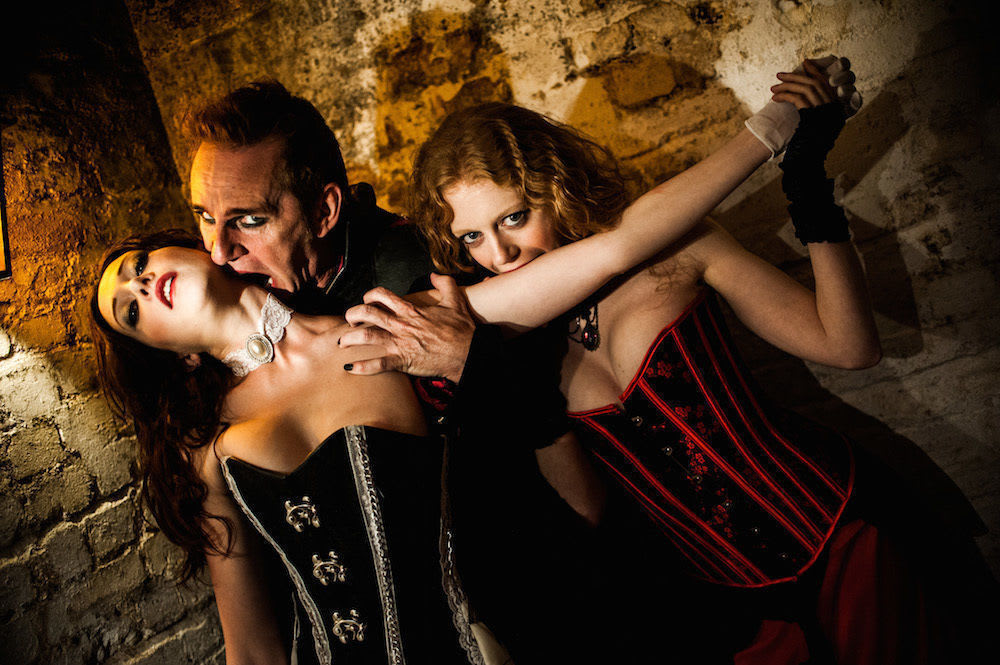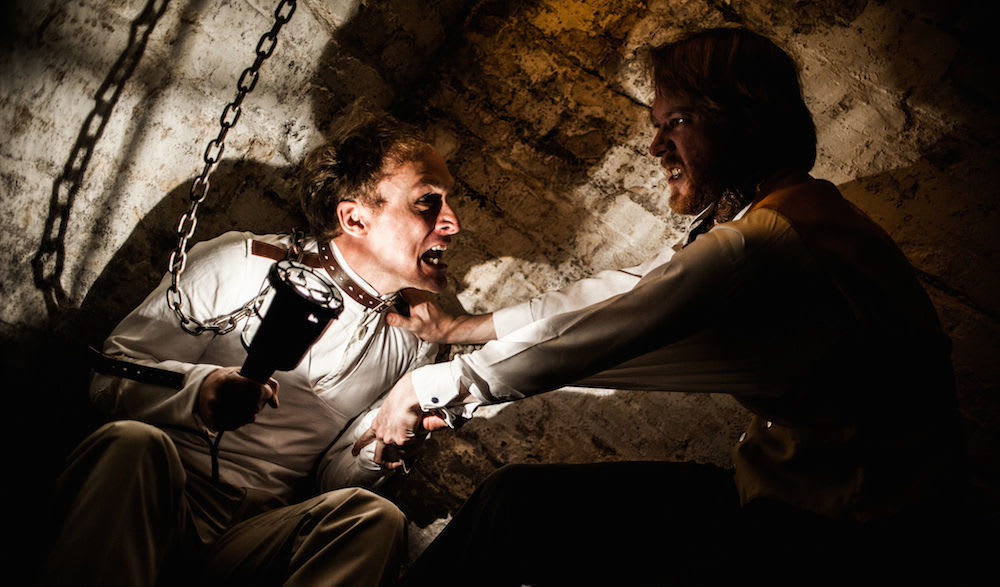 The Blackeyed Theatre's version of Stoker's classic, on a three month UK tour, visits Greenwich for a energetic production of the 1897 novel, drawing on inspiration from that era.
Victoria Spearing's set has most of the action taking place on a main theatre, with a smaller tower-like platform perched above it. This stands in for Jonathan Harker's turret bedroom, where he tries to shave with his undead host creeping up behind him, naturally without casting a shadow, and then later as the seat in the Whitby graveyard looking down on the seaside town where Lucy and Mina sit.
One slightly odd touch, however, is the large upright "coffin" which takes centre stage. This final resting place, decorated in a light colour and wide enough to fit at least two vampires in, looks incongruously like a large fridge.

Costume designer Jenny Lethbridge dresses the cast in an impressively fin de siècle range of top hats and mustard-coloured waistcoats for the gents, and tightly-corseted, flowing Victorian pink frocks for the ladies, which must make it difficult to climb up to the turret.
The programme notes state the production blends Victorian Gothic with technology contemporary to Stoker: so the actors recreate magic lantern shows, casting the vampire's shadow looming impressively behind his unsuspecting guest as he is welcomed to the castle or showing the Russian ship Demeter on storm-tossed seas, and references the Lumière brothers' silent films as the actors enthusiastically emote in silence. This lavish visual approach makes most Stoker fans recollect 1992 Coppola's melodramatic classic.
Director Eliot Giuralarocca has his actors kept extremely active: they are all-singing, and all-dancing, as they enthusiastically recreates Harker's frenzied dash across Transylvania, with the actors using revolving parasols to stand in for his train wheels while making train noises, or howling as wolves when portraying the "children of the night".
The pace accurately mimics Stoker's characters' hyperactivity, making the play feel like a 1920s speeded-up film. His characters are forever galloping around Transylvania in a carriage, breaking in through iron bars, enthusiastically donating blood, or grabbing a stake to chase off a vampire, and Giuralarocca's direction matches this vivacity: his performers waltz, play violin and sing, as music director Ellie Verkerk keeps them busy.
The titular role is played with enthusiasm by Paul Kevin-Taylor, doubling up as Van Helsing with the help of an impressive auburn fringe, either swept aside or quaffed-up dramatically depending on whom he is playing. Wil Bryant (Harker) likewise also swaps roles to play a suitably manic fly-consuming Renfield. Otherwise, the cast is kept small with Lucy's lover Arthur Holmwood removed from script.
The play finishes with an interesting twist, as the Count walks down from the stage into the audience and breaks the fourth wall to explain directly why vampires "exist" in many different media—because the audience needs them to.
Despite being a little too frantic for its own good, this is an energetic and thoughtful production which needs a longer run.
Reviewer: Nina Romain