Dracula
Choreography by David Nixon; based on the novel by Bram Stoker
Northern Ballet
Leeds Playhouse
–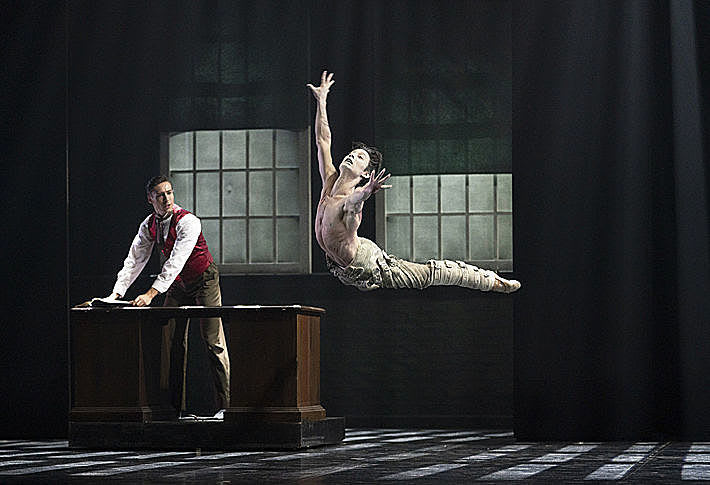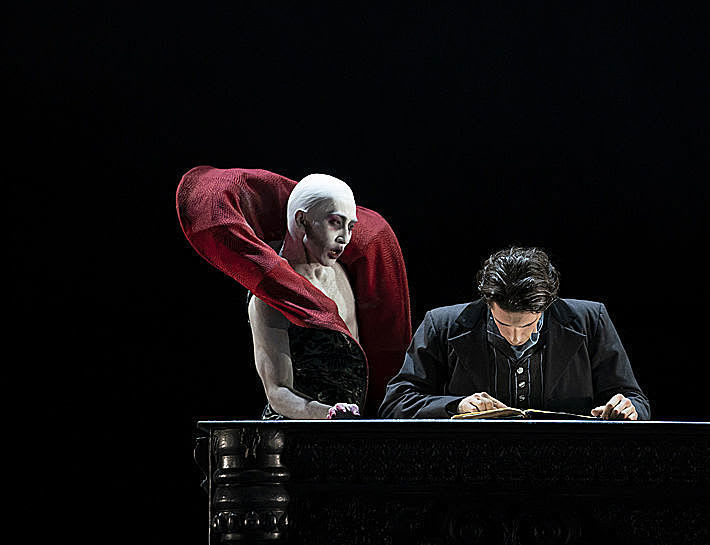 Few novels have captured the public imagination like Bram Stoker's Dracula (1897). Not only did it introduce the world to literature's most famous vampire, but it has inspired countless adaptations on stage and screen, from the rodent-like villain of Nosferatu (1922)—brought to thrilling (non)life by Max Schreck—to Christopher Lee's dashing lady-killer in a series of sexed-up Hammer films.
Over the years, the Dracula myth has been reimagined in a variety of diverse ways. Very soon, the BBC will be unleashing a new version of the story—courtesy of Sherlock creators Steven Moffatt and Mark Gatiss—in which the prince of darkness will be portrayed as a bisexual predator, resulting no doubt in twice the level of carnage.
Despite taking the form of a ballet, David Nixon's version of Dracula stays surprisingly close to the source material. All of the main incidents of the novel are faithfully preserved—from Jonathan Harker's first encounter with Dracula, to Lucy's transformation into a creature of the night, to Dracula's seduction of Mina—and the storytelling is crystal clear throughout.
The ballet opens with the striking image of an ancient Count Dracula (Riku Ito) emerging from folds of black fabric. When the inner-lining is revealed to be red, he appears to be luxuriating in a lake of blood.
Ito makes such a strong impression in the opening act that it seems a shame when his character transforms into a younger, more handsome version. His unnatural movements and lithe athleticism bring an otherworldly quality to the character, and this is particularly effective during his encounter with Jonathan Harker (Lorenzo Trossello).
Later, when he is restored to full power, Dracula is played by Javier Torres, who embodies the character with the sort of virile charisma that we have come to associate with Stoker's protagonist. With his slicked-back hair and oversized black cape, he reminds one immediately of Bela Lugosi in the Universal film. I would have preferred a slightly less orthodox rendering of the character, but there's no denying Torres's command of the stage.
Torres's talents come to the fore in a gorgeous pas de deux with the equally impressive Abigail Prudames. Set to the plaintive sound of Arvo Pärt's "Spiegel im Spiegel", Nixon's choreography is exquisite in this sequence, powerfully capturing the burgeoning romantic fascination between the two characters.
Nixon's choreography amply delivers on the madness and melodrama of the original novel. Kevin Poeung is extraordinary as Renfield, Dracula's demented victim / slave. While his relevance to the plot may not be immediately obvious to those unfamiliar with the novel, he is a mesmerising presence on stage, and his twisting, contorting physique skilfully conveys the character's mental anguish.
Also impressive is Antoinette Brooks-Daw as Mina's friend, Lucy, who falls victim to Dracula when he arrives in London and is transformed into an insatiable bloodsucker. The sequence in which she causes an uproar at her own engagement party is particularly exciting to watch.
Special praise must also go to Rachael Gillespie, Sarah Chun and Minju Kang, who bring an eerie eroticism to Dracula's undead brides.
While Dracula is a fine piece of work, I was turned off by a few elements of the production. I was mystified, for example, by the decision to have Dracula scuttle from side to side like a crab. This only happened on a couple of occasions, but it seemed like an odd choice. I also felt that certain parts of the narrative were unduly rushed, namely Lucy's nightly exploits as a vampire and the final scene in Dracula's castle.
However, despite a handful of reservations, I found myself seduced by David Nixon's vivid choreography, Tim Mitchell's clever lighting and Ali Allen's gothic set designs. A Halloween treat.
Reviewer: James Ballands