Dracula
Based on the original book by Bram Stoker, adapted by Simon James Collier
Okai Collier Company
Lion & Unicorn Theatre
–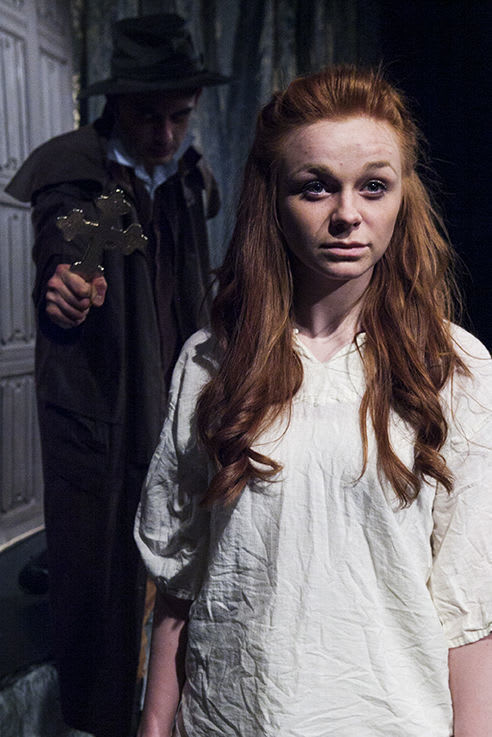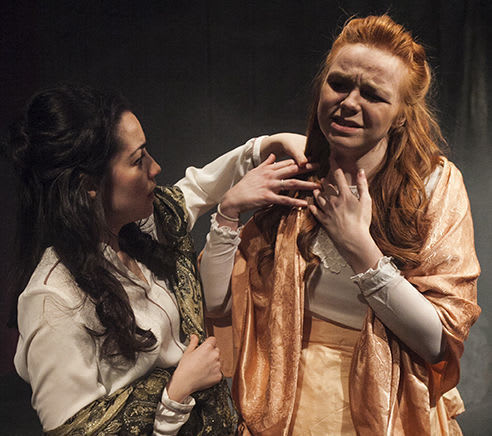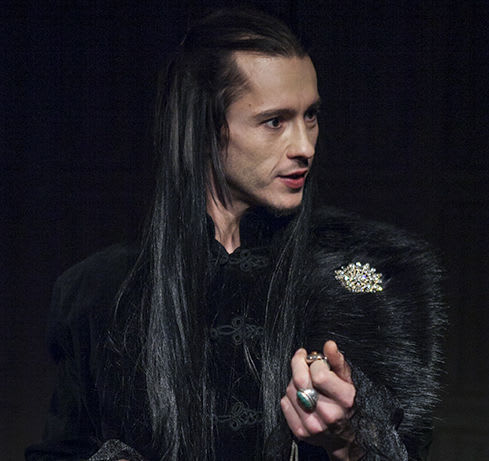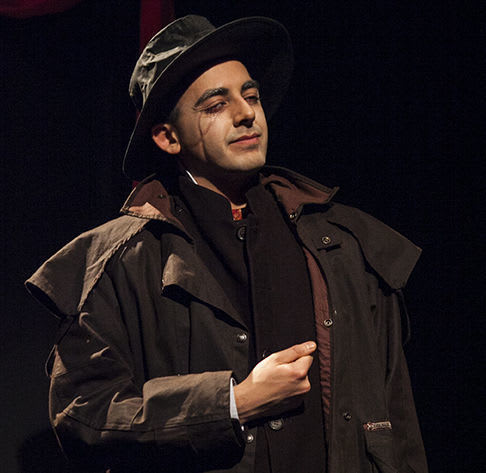 Yet another Dracula, you may say. But this latest addition to the Lion and Unicorn's Gothic series is, like those before it, different.
The vampire story, written by Henry Irving's manager and former theatre critic Bram Stoker, has had many stage and film adaptations. The first was made by Stoker himself and given an onstage reading at the Lyceum Theatre to establish its stage copyright before the book itself was published.
Announced by a playbill outside the theatre only half an hour before the performance started it had a paying audience of two plus members of the Lyceum company. Stoker wanted Irving to play Dracula and put it in his repertoire but the "Governor" wouldn't think of it. No stage version of the book appeared during Stoker's lifetime and it was the 1922 Nosferatu and 1931 Dracula film versions that really launched the story's enormous popularity.
Stoker's version took over four hours to read; Collier's stays close to the original but is much more compact and lasts half that time (plus interval). It adds period flavour by using the book's format of letters and journal entries as well as dialogue scenes. It trims the plot and some of the characters to facilitate staging with fringe resources and, as in some earlier versions, does not have the original's final closure though the spirit of the book is still intact.
There isn't the realistic scenic setting a Lyceum production would have provided—instead you have horror close-up. The theatre's black walls, draped with crimson swags, give a gothic frame and setting designed by the producers and Christina Pomeroy of rostra, linen-fold panelled doors, brocade drapes and a few pieces of Victorian furniture combines a Victorian opulence with spookiness.
Against the nineteenth century costume of the other characters, Christinel Hogas's tall, mysterious Count Dracula shimmers in a long, black robe patterned with silver thread, his black hair falling down his spine. His charismatic power, reinforced by sound and light, is established from the play's first moments as, seen by flashes of lightning in his Carpathian castle, he calls out imprecations in the native Roumanian of Transylvania.
Mark Lawson is young lawyer Jonathan Harker, first seen being briefed by his employer for his trip to Transylvania to smooth the London property purchase of their Roumanian client. Mitch Howell plays the employer, pleading gout as an excuse for sending another.
Mina Murray, Jonathan's fiancée, is a personable and positive young woman as played by Josephine Rattigan. Connie Jackson, by contrast, is more girlie as her close friend Lucy Western, making the change that Dracula works in her the more dramatic.
Anthony Matteo plays Arthur Holmwood, her lover, as a sound son of Empire and Geoffrey Gant is their friend John Seward (performing the riskiest and most rapid blood transfusion ever!) and Ella Garland has a trio of cameos as (rightly) superstitious innkeeper, a housekeeper who doesn't understand what garlic is for and a nun. They are all strong performances, though Garland, strong-voiced in her other roles, is sometimes a little difficult to hear and understand as Mrs Evans.
In the second act, Mitch Howell plays Dutch scientist Abraham Van Helsing, face scarred across a sightless eye, the vampire hunter who is Dracula's main antagonist, making him a cool scientist given to sudden rages.
This company seems to have bonded as an ensemble and appear to be enjoying themselves but most fun is probably had by Grant Leat as Dr Seward's fly-, mouse- and cat-eating mental patient Renfield and even more by the audience.
This production plays for real, never for laughs, though as with all horror it sometimes provokes a nervous titter from a couple of audience members. It never sends things up but, while the performances are deadly serious, it keeps a delicate balance between a dark pretend reality and a tongue-in-the-cheek awareness.
Collier builds great atmosphere, with huge help from James Corner's sound and Michel Edwards's lighting (and some snazzy cueing from stage manager Pip Brewer) and has created a flowing production in which each scene begins almost before the previous one has ended, moving easily between England and Transylvania and time and place.
Grand Guignol explicitness is avoided, violence is present but stylized and its excesses screened as handled by Omar F Okai's movement direction. Talk of a severed head is coyly counterpoised against the pouring of a cup of tea and a beautifully staged mime of a wild coach ride across the Carpathians builds its drama just a moment longer than is necessary, wittily sharing awareness of its conscious theatricality that is typical of this enjoyable production.
Reviewer: Howard Loxton