Dracula: The Bloody Truth
Le Navet Bete with John Nicholson
Le Navet Bete
New Wolsey, Ipswich
–

Listing details and ticket info...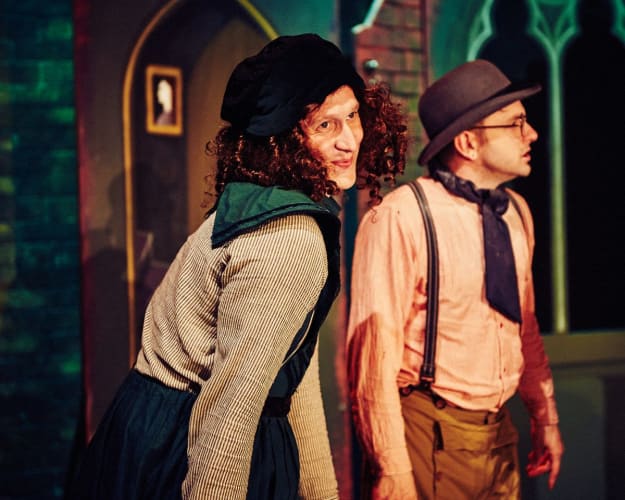 A spoof comedy about Dracula? I didn't hold out much hope. But actually this was a genuinely funny evening with laugh-out-loud comedy from the start that delivered the hilarity mixed with the Halloween make believe horror it promised in bucketloads.
Le Navet Bete is a physical theatre company based in Exeter, formed in 2008 by three college friends with a basic remit to tour comedy. This is the first time they've found their way to Suffolk, but they certainly made an impression on the audience at the New Wolsey in Ipswich last night.
In the style of The Play That Goes Wrong, four actors attempt to tell the story of Bram Stoker's famous novel on a beaten-up set that continually falls apart while playing a multitude of characters in various states of costume as lines are forgotten, props go wrong and the actor playing Van Helsing gets more and more overwrought and frustrated.
Following remarkably closely to the story of the novel, Van Helsing narrates while berating the hapless actors he has recruited to play the parts, and the audience for laughing in the wrong places. It's a play within a play in the funniest of senses, as the performers continually break through the fourth wall, at one point recruiting an audience member to hold up some collapsing scenery and then read some lines while the main protagonist recovered from head injury.
All four actors' comic timing is perfect as they pratfall, wrestle with headless corpses and collapsing furniture and generally create mayhem.
Le Navet Bete pride themselves on their physical comedy skills, and this is certainly in evidence. But the script too, written in association with John Nicholson who also directed, is genuinely funny—and unlike some comedy, not reliant on crude words or bad language to try to get a laugh.
Unfortunately, there was no programme—not even a downloadable one—so all I can tell you is the core company is made up of Nick Bunt, Al Dunn and Matt Freeman with 'technical and production wizard' Stuart Billinghurst.
It was obvious the four actors had worked closely together for many years. I think this production first aired before the pandemic. But the performance felt fresh and vibrant and the energy on stage was palpable.
This is a hilarious, entertaining evening of slapstick comedy that is also intelligently written and performed.
I would recommend it wholeheartedly.
Reviewer: Suzanne Hawkes