Dracula
Choreographed by David Nixon
Northern Ballet
West Yorkshire Playhouse
–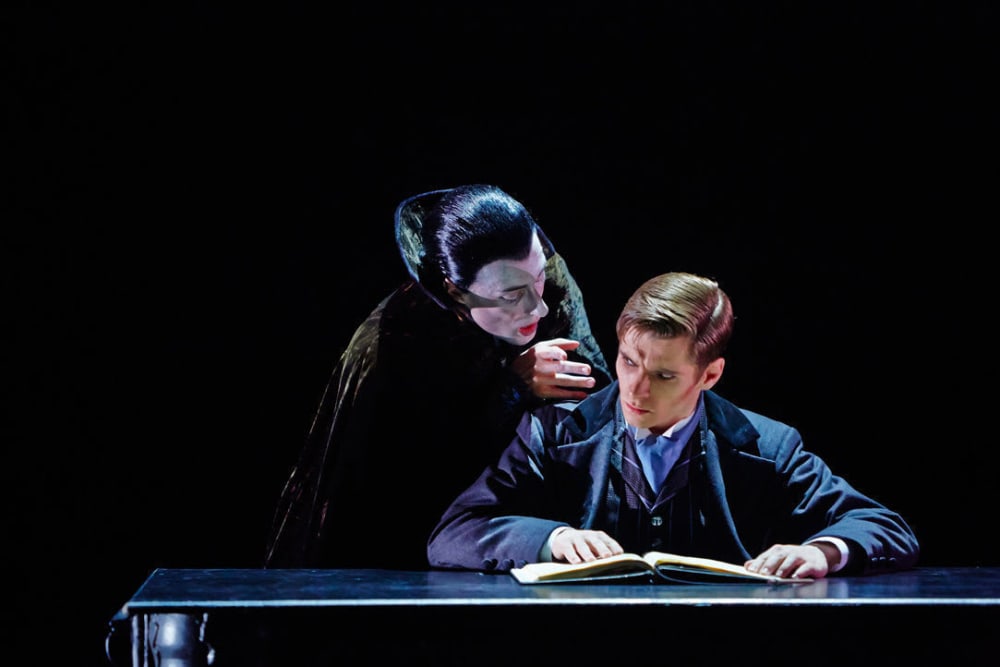 Northern Ballet has revived its splendid and popular Dracula, first performed by the company in 2005, with an atmospheric and eclectic staging sure to satisfy aficionados and thrill newcomers to the form.
The production, choreographed and directed by Northern Ballet Artistic Director David Nixon, signals its intent in the stark, dramatic opening sequence of images. Tobias Batley, in the title role, emerges slowly from the sub-stage before impressive puppetry sets the scene as Jonathan Harker (Ashley Dixon) arrives by horse and carriage at the grand mansion of the vampire. The whirl of dry ice quickly invades the stage, then gives way to the show's first pas de deux, a surprising and inventive dance between Premier Dancer Batley and First Soloist Dixon.
Immediately, shades of other classic adaptations of Bram Stoker's novel are evident; most evidently in the arched wrists and sidling walk of the vampire, echoing Franz Murnau's famous film incarnation. Some of the settings and costumes, too, evoke the 1931 film; but far from slavish imitation, this is a springboard to a wholly original work.
Ali Allen's set is versatile and augmented by Tim Mitchell's angular, moody lighting, with colours used sparingly and to great effect. When the stage is awash with light in the ballroom world of Mina Murray and Lucy Westenra, you find yourself yearning for the darker corners inhabited by the vampire.
The music is of a modern, magpie classical style, predominantly made up of works by Russian composer Alfred Schnittke. This, too, is a fitting move: the dance, like Schnittke's "(K)ein Sommenachtstraum", for instance, is unapologetically diverse in its influences, while maintaining a classical tradition, poise and execution.
Occasionally, this choreography becomes almost too confusing, as in Harker's early encounter with the Brides of Dracula (Rachael Gillespie, Jessica Morgan and Hannah Bateman). When all three Brides are moving separately, it seems a shame to be torn between these very different choreographies—though this very chaos is, of course, the point of these figures.
The only other criticisms I had were that the unison work in a large ensemble ballet scene is occasionally slightly flawed, and the choreography of Dracula in particular tended at times to some stock, almost camp gestures.
Apart from these quibbles, the dancers are flawless and transfixing. Martha Leebolt is a striking Mina, who moves from the perfectly graceful pointe work of the woman in Harker's memory to a stunning climactic pas de deux with Batley, which makes excellent use of the levels provided by the bed and some incredible lifts and postures. This piece in particular is at the same time passionate, powerful and delicate, movingly and appositely soundtracked by Arvo Pärt's "Spiegel im Spiegel".
Pippa Moore's Lucy Westenra also undergoes a breathtaking transformation, and the dancer glides effortlessly between lifts and runs in several of the choreographies, becoming more abstracted and explosive as the vampire's curse takes hold.
Kevin Poeung has two exhilaratingly physical dances as the half-man Renfield, urging those around him to stroke and feed him, lurching from poised upright work to some extremely contemporary use of the floor.
As Dracula, Tobias Batley is ominous, other-worldly and sensual, exactly as he should be. A number of superb physical feats and images stand out, not least of which is a scuttling entrance he makes down one angle of Ali Allen's flexible, atmospheric set. To move between spider-like sinuousness, muscular power and a truly shiver-inducing oddity, sometimes within a single dance, is remarkable, and Batley rises to the challenge laid down by David Nixon.
This is an enjoyable, dramatic evening of dance which showcases a broad and populist range of styles while managing to incorporate a surprising amount of Stoker's original narrative.
Reviewer: Mark Smith