Bram Stoker's Nightmare - Dracula
Devised and performed by Ullaloom
Unity Theatre, Liverpool
(2005)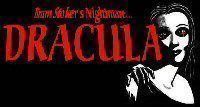 This is a very puzzling show. Over the past four years Ullaloom have established a solid reputation for energy, irreverence, invention and exuberance. Bram Stoker's Nightmare – Dracula has none of these.
The central idea, that the life of Bram Stoker can be intertwined with the story of Dracula, that 19th century impresario Henry Irving's relationship with Stoker was vampiric, is hardly developed at all; just the occasional biographical note dolloped onto a straight and rather ordinary retelling of the Dracula story. As a result Nick Birkenshaw's Stoker is left to wander the stage for the first half of the play watching the other characters with a faint air of bewilderment, looking for all the world like an escaped member of the audience. It's only when he's allowed to play Van Helsing (which to his credit he does very well) that he has anything to do.
Fillipo Fiori hands in a rather limp Dracula, certainly doing his best to look the part, but achieving little of the gravitas or menace of a 450 year old demon. Or a 19th century actor manager for that matter. Performances on the whole are mannered and unaffecting, Jake Norton and Nick Birkenshaw taking what few acting honours are available. Mike Gray's set impresses, particularly its mirror. Carl Pownall has composed some fine music, but lack of vocal projection means it more than once drowns out the dialogue.
The show lacks invention, energy and pace. Ullaloom's legendary gore is confined to two rather restrained stakings and there is little here to delight. Even here in Liverpool, Ullaloom's home town, with an audience which must contain a good proportion of Ullaloom's friends and supporters, sitting at the back of the theatre I was surrounded by people whispering, fidgeting and looking at their watches. Applause was polite and there was no curtain call. There's little wonder.
Bram Stoker's Nightmare is a weak show. So it's all the more puzzling that this is Ullaloom. Ullaloom have shown that they can produce tight, brilliant work, so it's bewildering that they have put their names to this. It's all the more puzzling because if you search the Internet you can find a preview video of the show that has the energy, and imagination and all the qualities we've come to expect from Ullaloom – qualities that this show so conspicuously lacks. Hunt it down (or visit the link above) and see what could have been – there is the energy, there is the power that Ullaloom are capable of, there is a frustrating glimpse of just how good Fiori's Dracula should have been. So what happened? I can't really speculate, all I can do is strongly advise you not to waste your time on this limp, pointless, and frankly boring effort. And wish Ullaloom a speedy return to form.
"Bram Stoker's Nightmare: Dracula" is on tour until the 14th April
Reviewer: Ged Quayle