Drag King Richard III
Terri Power
Stance Theatre
Riverside Studios (Studio 3)
–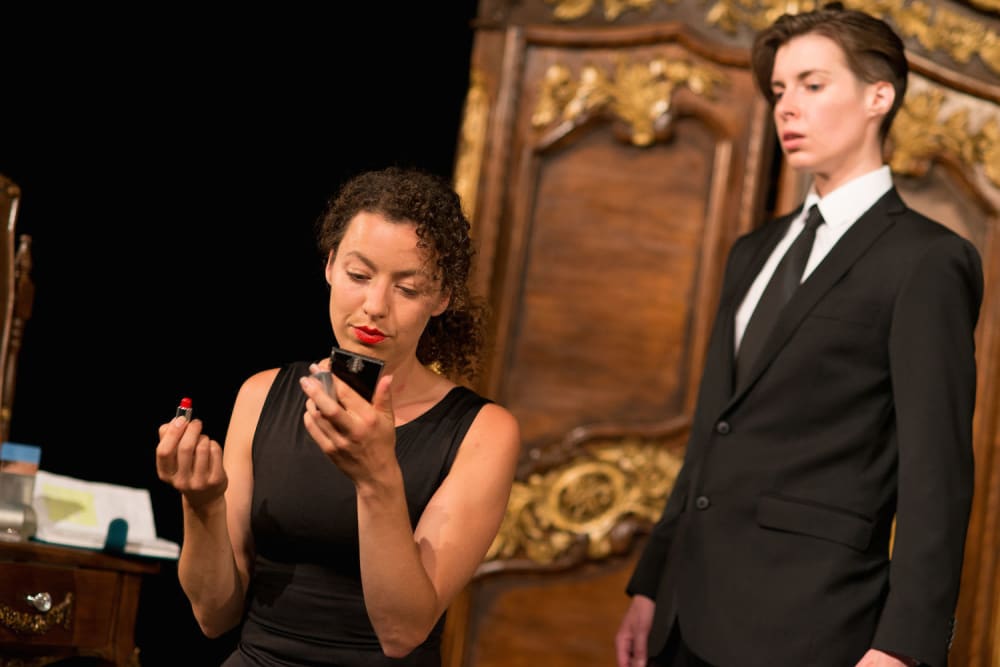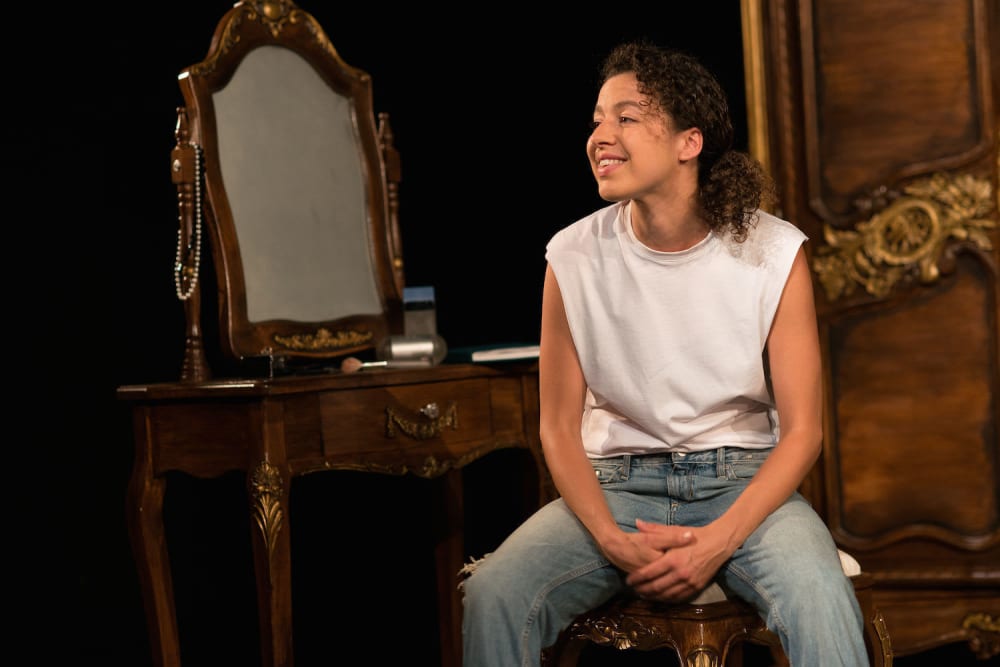 This is an oblique look at the situation of a transgender person seen from the perspective of a friend and apparently based on American dramatist Terri Power's own experience in conservative Georgia in the 1990s.
Even before the play begins, a stage empty except for an ornate ormolu-decorated wardrobe and dressing table opposite a bentwood hat stand suggests the opposites of masculine and feminine and hint at the possibility of cross-dressing. There is touch of decadent glamour, but when curly-haired Bonnie Adair enters in well-worn jeans it is another contrast.
While Anne Zander's Laurence hovers with a touch of menace in the shadows she tells how the two of them were friends right through their schooldays, bonding long before they realised that both were lesbian. Some years later when they had not been closely in touch, Laurie turns up announcing that she is now Lawrence and set on gender reassignment and asking for her old friend's support.
She doesn't find it easy to give support. She is happy with her own sexuality. She may put on the Femme drag for weddings parties and hot dates—glamming up with high heels, sexy clothes and makeup makes her a differently empowered person (though it can bring dangers in attracting unwanted men)—but changing gender? That is something difficult to accept and, when Laurence comes on to her in his masculine persona, that is hard to handle.
Power's play does not dig deep into the transgender situation but rather explores reaction to it and does so using text from Shakespeare's Richard III. This eccentric but intriguing approach is sparked of by the involvement of them both as schoolgirls in a final year production of the play in which Laurie set her heart on playing Richard. She didn't get it, but instead was cast as his mother, the Duchess of York, while her friend played Lady Anne.
Richard's "How is the winter…." becomes Laurie/Laurence's reflection his own sense of deformity, the Duchess of York's vehement condemnation of her son his own mother's rejection and the Lady Anne wooing scene is used to present Laurence pressing his attentions on La Femme.
The Shakespeare passages don't always work as a direct analogy. Apparently Richard of Gloucester, having killed Anne's husband, is intended as a metaphor for the way in which Laurence has metaphorically killed-off Laurie as her female friend, but what of Richard's dedication of himself to being evil? He voices it as his decision, not as being what others call him.
Picking up on the Elizabethan use of "weapon" as synonymous with "cock" in some contexts gives a new reading to lines to Lady Anne with the displaying of a plastic penis and, even more bizarrely later, in its presentation to one of the soon-to-be-murdered little princes who requests it. As a running gag to send up Elizabethan punning, it is worth a laugh and perhaps some other dildo flaunting is meant to be funny too.
The play's promotion calls it a "black comedy", but there is little sign of humour in otherwise excellent playing. Unavoidable late changes of cast meaning that they had only three days rehearsal may account. All the more reason that Zander and Adair are to be congratulated on delivering such strong performances.
Part of the credit for them must lie with Roz Hopkinson as director. (She worked with a different cast when Drag King Richard was seen at Bristol's Shakespeare Festival.) Her invention, which includes introducing a tango into the wooing scene and an intimidating confrontation into the audience later, gives the work a heightened sense of theatre that disguises the play's flaws and holds the audience's attention, bringing notice to a subject that needs to gain much wider understanding.
Reviewer: Howard Loxton