Drama Menu at a Distance
Glyn Trefor-Jones
Nick Hern Books
Released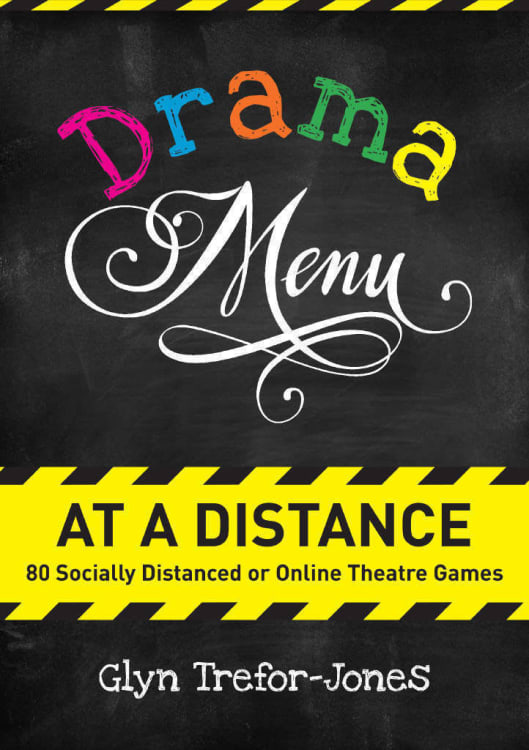 Glyn Trefor-Jones has taken his best-selling Drama Menu book for drama teachers and created a version of it—with some exercises from the original book mixed with some new ones—for the post-COVID drama workshop.
The metaphor of the 'drama menu' actually fits well with how most of us have been planning drama workshops for many years. Each class begins with 'appetisers', which are the warm-up games, followed by 'starters', which are more focused exercises that lead into the 'main courses', where students are creating something more substantial, often in groups.
The difference with this version of the 'menu' is that all of the exercises have been chosen to be appropriate for use either in the same room with distancing rules applied to prevent the spread of infection or over web conferencing services such as Zoom—or both. There is even a 'desserts' section, which is a collection of additional exercises that have been tested to work over Zoom by the author.
In terms of the exercises, experienced drama teachers are unlikely to find much here that's new to them, although every teacher and writer of drama games books has his or her own spin on them. The 'appetiser' games are certainly all pretty standard (there appears to be an unwritten law that every book on drama games must have a version of Wink Murder); while there is scope for more variety in the longer exercises, most of us will have done something of that type before if not that exact activity.
Of course, the difference with this book that makes it 'of the moment' is the "at a Distance" part, which claims that all exercises are possible with students who have to remain least two metres apart or even at opposite ends of a webcam link. Most descriptions contain the words "socially distanced" at least once (although this has become the accepted jargon, I would argue that the drama class or rehearsal room should be promoting social bonding, even when the participants are physically apart) and some have a bit of extra explanation for how to adapt the activity to the distancing rules. Exercises deemed suitable for online use are marked with an icon of a laptop.
All exercises are described very clearly in a jovial style (with lots of exclamation marks). Where additional materials such as lists, images or scripts are required, the exercise is marked with a star to direct you to a free download from the Nick Hern Books, so you can print off as many as you need—much better than spending ages at the photocopier or trying to think up lists of characters, locations, situations etc just before class. There is an introduction with some information on working in the 'socially distanced' classroom or online, which—while more a collection of tips than a full tutorial—has some useful details.
This book would be of most use to inexperienced drama teachers looking to add to their armoury of games and exercises to challenge their students. As someone who has been teaching workshops for nearly thirty years, there were a few things that spurred a few ideas in me, but most of it was fairly familiar.
Rather than being "a new approach to teaching drama", as the author claims in his "Closing Thoughts", these exercises are adaptations of tried and tested methods to work under different restrictions or through different media (some exercises look like they would be a challenge to explain, let alone implement, in a Zoom-based classroom where some may have dodgy wifi or not have turned their mics on and perhaps be working in separate groups in break-out rooms), but adapt we must in order to survive the current crisis.
Reviewer: David Chadderton