Dream
Pippa Hill
Royal Shakespeare Company, Manchester International Festival, Philharmonia Orchestra and Marshmallow Laser Feast
–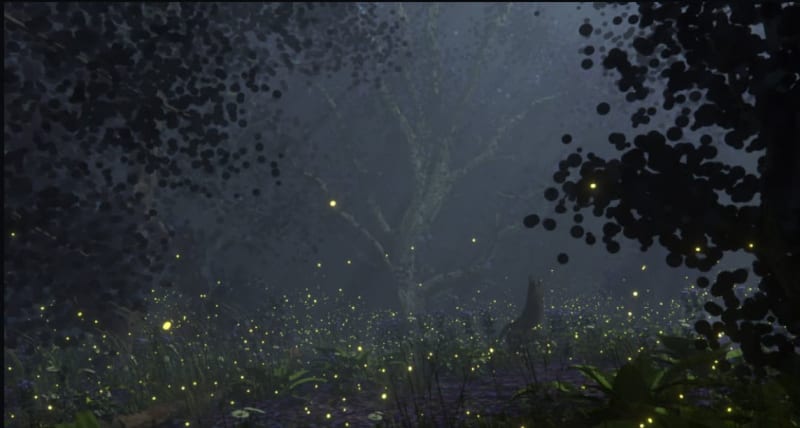 In 2016, the RSC's The Tempest featured a digital avatar Ariel as well as a live one and this online presentation takes the company's experiment with virtual technology further. It is an Audience for the Future Demonstrator projected supported by the Government's Industrial Strategy Challenge Fund created in collaboration with Manchester International Festival, the Philharmonia Orchestra and Marshmallow Laser Feast. Originally, this was intended to be an in-person and online performance to première last spring, but the closing of theatres saw it rethought as online only.
It has been inspired by Shakespeare's A Midsummer Night's Dream but doesn't tell that story. Instead, it reimagines the forest world of the fairies and takes its audience on an exploration of its dark depths encountering some of them using a mixture of live actors and computer gaming technology. Performers with motion capture sensors placed all over their bodies move through real space in a small studio in Portsmouth, their movements reproduced in their fairy avatars in the dark wood.
Dream can be viewed for free (with donations invited) or, if you have the right kind of hardware, experienced interactively by buying a ticket. Interactive participants become forest fireflies, helping to light the action and influence where exploration takes them.
After an introduction by E M Williams, who plays Puck, you enter the magic forest, a place where great boulders pile on the forest floor, where rustling foliage bursts into a flurry of leaves like an exploding pointillist painting and where you meet fairies unlike any you have seen before. Puck looks like an articulated artist's model figure, but one made out of rounded rocks; Moth (Durasie Kianganu) is seen as a giant moth made up of a flock of small moths; Peaseblossom (Jamie Morgan) a hominid shape formed from twisted vines; Mustardseed (Loren O'Dare) a face discerned through the roots and fungus underground and Cobweb (Maggie Bain) a scary eye, the strands of a web stretching out like its lashes.
Lines of light are etched in the air as the audience navigate fireflies. Do they really influence where to explore next? Since every performance is live, the actors can respond to such movement and in turn their movements can affect the sound score, adding extra elements to the score prerecorded by the Philharmonia Orchestra.
Although there is a text that is assembled from snippets of dialogue from Shakespeare, there is only a simple storyline as Puck takes the lead through the wood, encountering creatures and weathering a great storm. Perhaps, seen on a wall-sized screen, you could be drawn into the action, but on a large desktop monitor, this felt more like demonstration than drama, intriguing rather than involving. Perhaps those being interactive get a different experience, but regular gamers might find it rather tame, despite the atmospheric music, strange creatures and rapid movement through treetops or even underground. That not withstanding, it should captivate younger children.
Partway through the performance I saw was a sequence when both virtual forest and actual studio shared a shot and this seemed strangely more exciting. Interaction between virtual action and live performer isn't new in the theatre, but the control of image in real-time does offer different possibilities.
I don't find any deep meaning here, but the imagery has the flow, fluctuations and sudden surprises of dreaming. The delivery of dialogue sometimes sounded surprisingly awkward for a company so familiar with handling verse, though E M Williams's prologue and an after-show discussion and response to viewers' questions, which complete the programme's fifty minutes, were very smoothly presented.
It is clear that a great deal of effort has gone into Dream and those involved will have learned techniques that can be used and developed in other work. It demonstrates possibilities. Don't expect Shakespeare and remember that it has been developed during the pandemic. Watch it for what it is and let it intrigue you.
Reviewer: Howard Loxton