Dreamboats and Petticoats
Book by Laurence Marks and Maurice Gran
Sunderland Empire and touring
(2009)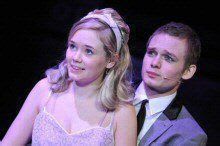 It's hard not to be cynical about Dreamboats and Petticoats. Take 40+ hits from the late 50s/early 60s, make them into a series of compilation album and sell a million copies to a generation who are suckers for nostalgia, then get a couple of writers to create a stage show round them - a sure fire commercial hit, especially when backed by Universal Music (for the songs) and the Churchill, Bromley, and Bill Kenwright (for the stage show). Cynical I most certainly was.
And yet....
And yet it's an enoyable show on many levels. The music - of course! - is great, the performers are superb and Marks' and Gran's book captures the era perfectly. Set in a church youth club (fond memories here), it tells a simple story of teenage love and music, of the desire for sex and the fear of sex, of acne, glasses and tooth braces, of school uniforms and fashion. So much of it was my story, even to playing ping-pong when the girls weren't showing any interest - although I never had acne, thank goodness! And that mixture of admiration, jealousy and sheer hatred you felt for the one guy who seemed to be able to pull the girls effortlessly, even though he was - of course he was - a total sod.
But the best thing about it is that it doesn't take itself seriously. There is none of that pretentiousness and self-conscious cleverness which marrs, for example, We Will Rock You. Indeed, the book makes no secret of the fact that it is there to provide a lead-in to some of the best songs of the time, but it does it in amusing and amused way, making us, the audience, complicit with the writers in recognising that the whole thing is a rather rose-coloured memory.
Looking back with nearly fifty years of hindsight, we wonder if we really were that innocent and the show chimes with our memory - yes, indeed we were.
Terry O'Donovan reviewed this production on its transfer to London's Savoy Theatre
Reviewer: Peter Lathan