Dreamboats and Petticoats
Book by Laurence Marks and Maurice Gran
The Wyvern Theatre, Swindon, and touring
(2011)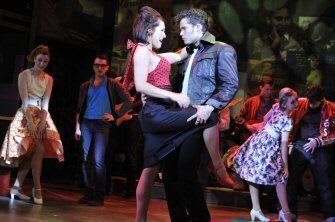 The touring version of Dreamboats and Petticoats has arrived at The Wyvern in Swindon and it is a gigantic slice of 50s and 60s nostalgia and I absolutely loved it, as did the enthusiastic Wyvern audience who were singing along and, by the end, dancing in the aisles.
This spirited all singing, all dancing show is based on the phenomenally successful hit compilation albums that have sold over a million copies.
Set in St Mungo's church youth club in Essex in 1961, Dreamboats and Petticoats is a teenage love story with a lightweight book by Laurence Marks and Maurice Gran that somehow captures the innocence of the time as well as the adolescent angst regarding growing up.
Its themes of fitting in, being accepted, belonging to a band, wearing the right clothes and finding a boy or girl friend are universal: ask any teenager today and they will worry about the same things.
The highly talented 17 strong cast sing and play all the music live and they do so with energy and gusto.
The hero of the piece is Bobby, impressively played by David Ribi, who worships the brash, brazen Sue (Katie Birtill) but she prefers the macho-man, Norman (Ben James-Ellis).
Samantha Dorrace perfectly captured the music loving, song writing Laura who is about to reach her sixteenth birthday and is in love with Bobby. The couple are hoping to win a song writing competition and Laura invites Bobby round to her house to work on the song providing Wagon Wheels for sustenance which Bobby devours," Just because they'ere called Wagon Wheels you don't have to eat all four!" exclaims Laura. There were some wonderful one-liners.
But true love never runs smoothly and Norman decides to force his attention on Laura with the resulting friction and competitiveness and, as for Sue, she wants, "to be Bobby's Girl."
An outing to Southend and the funfair leads to riding on dodgem cars, winning prizes and a boxing tournament, whilst Laura goes back to the coach to read Catcher in the Rye.
But all ends happily and Bobby gets his girl Sue. Cue the song Let It Be Me.
Dreamboats and Petticoats is a feel-good show that lifts the spirits with some of the all time pop classics such as Shakin' All Over, Only Sixteen, Da Do Ron Ron and Let's Twist Again and is performed with brio.
A great night's entertainment that brought lots of memories flooding back.
Touring nationally until March 2012
Reviewer: Robin Strapp