A Midsummer Night's Dream
William Shakespeare
Octagon Theatre, Bolton
(2010)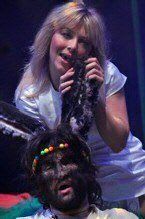 David Thacker opens his first full year at Bolton's Octagon Theatre with Shakespeare's romantic comedy set in a version of classical Athens distorted into a society more like renaissance Europe and now translated to Athens in 1968 in a time of turmoil in Greek—and European—politics.
Most of the 60s theme comes through the design by Ashley Shairp. The court of Theseus has the look of a military dictatorship with everyone in army uniforms and a huge backdrop of Theseus's face on a red background. This opens up into a psychedelic forest with stairs and platforms, military uniforms replaced by the colourful jackets of Peter Blake's iconic Sergeant Pepper cover image for the fairies and lots of different coloured bouncy balls all over the stage.
This style is certainly great to look at but it is all a little disjointed and its relevance to the play is questionable. Theseus is portrayed in the design as a fascistic dictator, but he is played by Rob Edwards more as a kindly if firm fatherly leader. The forest scenes have quite a jumble of 60s-ish styles from the more real street or hippyish styles or military fatigues of the lovers to the cartoonish fairies and the more high-fashion style of Titania. The bouncy balls and orange furry tunnels are visually striking but make the stage look rather like one of those play areas in large shopping centres where you can leave your children. The balls also get in the way of the action, cause a few stumbles from the cast and occasionally block visibility if you are sat near to the front.
The fairies are not exactly spritely; rather than the young, agile creatures that we usually see these days, they are mostly men who have left youth behind them and have very little to do, led by a Puck who isn't very puckish at all. Leo Atkin's Robin Goodfellow is less the mischievous sprite than Oberon's weary, reluctant old retainer who puffs and pants his way up the stairs, so it's hard to imagine him putting a girdle around the earth in forty minutes.
All of the inconsistencies and contrived references could be excused if the action ran smoothly, but the whole thing runs at such a deathly slow pace that it feels like playing your new 45 RPM records at 33. The pace isn't helped by the amount of unnecessary movement that takes up a lot of time; any character with a lengthy speech it seems has to walk around the whole stage while speaking, sometimes also going up and down the various staircases on the stage and in the auditorium.
There are some elements that do work well, the best of which is the performance of Pyramus and Thisbe towards the end which is great fun and got plenty of laughs, making great use of the stage and auditorium. There are also some strong performances from key members of the cast. The towering figure of Kieran Hill is a more laid-back and less pompous Nick Bottom that we usually see, making him more real than ridiculous but it works very well indeed and is still funny. Russell Dixon also makes Peter Quince into a very real but funny character. Brendan Quinn gives a very watchable performance as Flute and Thisbe with some nicely-understated comic expressions.
Rob Edwards is quietly commanding as Theseus and Oberon, while Paula Jennings plays Hippolyta quite naturalistically and Titania in full declamatory mode. The four lovers are fairly uninteresting parts as written and there is little in the direction or the acting that particularly marks them out here, except perhaps a stronger performance from Vanessa Kirby as Helena.
There is some nicely-atmospheric live music composed and played on stage by Carol Sloman, although her instrument mic with its heavy reverb sometimes picks up the dialogue and makes it sound rather odd.
Overall, this is a jumble of ideas some of which are very interesting but they are not brought together coherently or made to work satisfactorily with the play. The main problem, though, is the pace, which makes this into a very long, drawn-out evening that sells short the humour, the romance and the magic of this play. If Thacker can make Midsummer Night's Dream last for nearly 3½ hours, it is to be hoped that he never tackles Hamlet.
Playing until 6 March
Reviewer: David Chadderton