A Midsummer Night's Dream
William Shakespeare
Footsbarn Theatre
In Victoria Park, Hackney
(2008)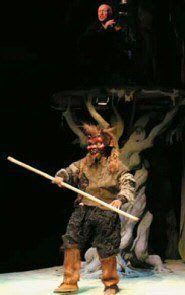 It is now nearly forty years since Footsbarn Theatre first came to life in a barn in Cornwall in 1971 and it is still going strong with a brand of riotous, festive theatre that aims to bring joy to wherever it travels - and travel it does. This month it has pitched its tents in a London park, following a visit to Canterbury, appearances at the Edinburgh Festival and at Shakespeare's Globe on Bankside and in January they will be back in France at Tulle, Avignon and Marseilles with many more dates booked.
Patrick Hayter, who leads the company now and whose American wife Fredericka designed the set and masks, joined them in 1973. The company left England in 1984, partly from wanderlust, partly because Thatcher's policies gave them no support. For seven years they travelled the world before finding a base to settle in a farmhouse in the Auvergne from which they now take their shows across the continents. They play in English here, but elsewhere, in their version of Victor Hugo's L'Homme Qui Rit in French, but these are not the only languages they use for the company is multi-national. This cast has only two English actors, the others French, Japanese and Indonesian with musicians from Poland and India.
There are only seven actors to play all the characters and it says much for their playing that I have not been able to work out all the doubling! Partly this is because of the use of masks, both half masks for some characters and full grotesque masks for others. Puck is a troll-like figure, Titania's attendants gnome-like, though the fairy king and queen are mask-less - it is Theseus and Hippolita who have grotesque dark-skinned faces.
This is a company that seems to carry on the tradition of the travelling player, of the mountebank not just the peripatetic life. They parade the streets to promote their shows; they draw on clowning and commedia skills rather than Stanislavsky or the Method. I can easily imagine them walking a tight rope or performing tumbling tricks if that's what a particular place prefers. This is not the RSC and they play a different ball-game. While some of the much abbreviated verse is eloquently though rather self-consciously spoken, large chunks of the text are incomprehensible due to accent, and a few times because it is muffled by the masks or being gabbled. Shakespeare is not entirely about the words but the rest grows from them and when being played in his original text and to an English speaking audience the words are central.
Had this been billed as a company from the Auvergne and played in French we would have different expectations but, when something is in one's own language, it should be possible to understand enough to follow the story and I think that - at the opening especially - I would sometimes have been very confused if I had not already known it. That said, Vincent Gracieux's engagingly north country Peter Quince only slightly betrays his real origin and I find it hard to believe that Caroline Piette's clear spoken Hermia is not British born and bred. Nevertheless, if you bill Bill Shakespeare you shouldn't throw away what he does best. Part of me wishes they had dropped the text and just done their own material, or substituted enough non-verbal performance to explain who people were and what was happeningg.
Nevertheless Footsbarn bring their own magic. I saw the show with an audience that must have ranged from about 7 to 14 years old where I think I and one girl were the only white faces apart from accompanying teachers. I couldn't make the official press night and was asked did I really want to join a solidly sold out school's performance it was likely to be very rowdy. Yes I did. Kids audience don't stand for crap and, though two hours without an interval proved too much for quite a number of young bladders, this audience, who may have been getting their first experience of Shakespeare, were by no means rowdy or even restless, they seemed caught up in the performance.
Some of the company's playing is decidedly broad and at times I found myself thinking this was how those old barnstorming and portable theatre actors might have been before theatre got sophisticated. Tricksy sometimes with complex gestures to match what they are saying but with guts and balls that are often matched with sensitivity, sometimes where you would least expect - in the relationship between Bottom and his fellows for instance, and in the close relationship between Oberon and Puck.
There are some oddities in the production that don't quite add up and I wonder whether this is the result of a show that has been with the company for years and perhaps seen many small changes so that some explanatory moments have disappeared without being noticed. Theseus and Hippolita, for instance, open the play veiled behind gauzes and we never really seen them again until they appear on their hunt, when if you don't know the play you wonder who they are. A little boy next to me asked me if they were the fairies. Time, I presume, accounts for the fact that instead of romantic young dishes for Lysander and Demetrius we have a pair of rather geriatric clowns who have aged rather more rapidly than their roles. Perhaps I'm wrong, but they are very strange interpretations when matched, as here, with attractive young women. But again, there used to be a tradition of performers 'owning' a role and keeping it so long as they could do the business. I couldn't help thinking what a marvellous dame the Lysander would make while Demetrius would have been a perfect Demon King - but fanciable and to pine for, no - I can't suspend disbelieve that far.
You would never guess that one of them was Patrick Hayter who is also the grotesquely buck-toothed Bottom. This performance is a key reason for the show's success. He has a huge but lovely ass's head with teeth that match - nice touch that - and neither dentures nor mask stop him speaking loud and clear. He just looks a born clown (though I think his training was Jacques Lecoque rather than Bertram Mills). He ad-libs a little but less than Shakespeare's own clowns would have done I suspect and he doesn't milk the laughs but always plays it real.
For the young audience things really took off when Titania tried to entice Bottom to her bower I am not sure what she said instead of the lines about 'lamenting some enforced chastity' but they certainly ended with 'sex,' on which Bottom, retreating through the audience, did a double take and repeated 'Sex!' The kids loved it. The also loved the two low slung ballons that were Thisbe's bosom, especially when, having burst one in stabbing herself, she gained their support in deciding to burst the other. They also loved it when coloured paper rained down on them like confetti but why, oh why did they all boo Bottom when he was first restored to human form? Was it just that they preferred him with an ass's head? Was there something that made him a baddie for what, judging by the girl's headscarves, was probably largely Muslim audience?
My favourite moments were with Oberon, up in a tree, a somewhat truncated 'I know a bank' was accompanied by Puck dancing rhythmically below and plying a pair of castanets, and some magic minutes before the play began. I was invited to take a seat before the children came in and, in the empty theatre lit like a leafy dell with leaves beneath my feet on a path that circled through the audience, I heard birdsong above me. When the children came, in a tiny child sat next to me and said, 'Is there a bird in the tent?' He was fascinated already, and the bird song went on as row upon row of kids swarmed in, topping their commotion until the band struck up with the music that supports and is an integral part of this show.
The schoolchildren I saw it with all went for free, courtesy of Tower Hamlets, and all Tower Hamlet's residents can see the show for s special £10 price. Bravo Tower Hamlets! I wish all local councils could see how important it is that children get to experience theatre that will free their imagination and open up their artistic sensibilities.
Until 30th November2008
Jackie Fletcher reviewed this production at The Cartoucherie, Paris
Reviewer: Howard Loxton