Dreamgirls
Book and lyrics by Tom Eyen, music by Henry Krieger
Sonia Friedman Productions
The Lyric, Theatre Royal Plymouth
–

Listing details and ticket info...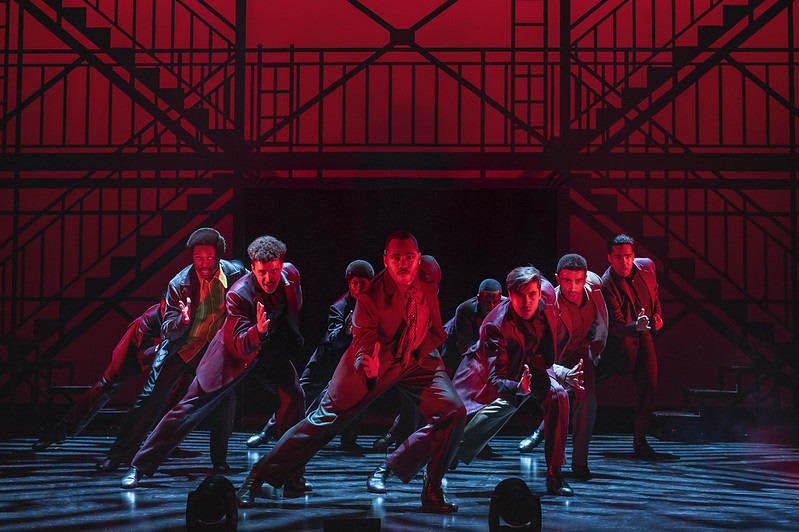 Tom Eyen's book reaches for the stars but is spread rather thin, shoe-horning feminism, racism, history and the rise of Motown into a couple of hours of glitz and glam.
The story of Diana Ross and the Supremes is barely disguised as the saccharine country bumpkin trio morphs into sassy vamps with ever-more sophisticated wigs and shimmery sexy dresses against a background of 1960s Black Power Movement, payola and pop.
There is double-dealing as charts are manipulated and talent shows fixed to ensure the girls will sign as backing singers to R&B star James Brownesque Jimmy 'Thunder' Early (Brandon Lee Sears) whose strutting stage antics are matched by his off-stage philandering; betrayal as Effie (Nicole Raquel Dennis) is usurped as lead by the milder—in voice and demeanour—eye candy Deena (Natalie Kassanga, whose credits include Diana Ross in Motown: the Musical); with side helpings of love triangles, unplanned pregnancy, bribery, abusive relationships, stretched loyalties and the non-stop rollercoaster of showbiz.
And all the while, car salesman-turned- agent Curtis (Matt Mills) is making history booking black acts into white enclaves and changing the face of the white-dominated, misogynist music industry with female vocalists, dance music and oh so much soul.
There are many flaws: much happens in a rush with no time to properly develop interesting themes while characters make massive leaps in savviness—from giggling schoolgirls to determined women ready to stand on their own stilettos. Lorrell (Paige Peddie—the 'Unexpected Star' on Michael McIntyre's Christmas 2018 Big Show), who provides the light relief, in particular transforms from gawky giggly teen to confident diva while CC (Shem Omari James) retains a sweet air of naïvety despite his chart-topping song-writing.
The original multiple award-winning musical by Henry Krieger and Tom Eyen opened on Broadway in late 1981 and was adapted for a 2006 film starring Jamie Foxx, Eddie Murphy, Jennifer Hudson and Beyoncé Knowles, but on stage, Dreamgirls, now on its first tour, is all about the score and the spectacle.
Eyen's lyrics and Kreiger's music are apposite, enjoyable and mostly forgettable with some great wordiness, some fun and some stridency with "One Night Only" the earworm while "And I Am Telling You I'm Not Going" the exhausting, angst-ridden showstopper bringing tears to the eyes and the audience to its feet in a fabulous performance by Dennis (2019 The Voice finalist). Simona Budd keeps the tremendous live orchestra pacy, but the sound system didn't always assist with level issues at the outset and some volume tweaking required.
Tim Hatley's set is simple, allowing performance and behind the shiny curtaining views in quick rotation while his costume choices are spot-on, whether homespun, glam or high fashion, and director Casey Nicholaw's choreography excites: super-sexy showcasing sets or high octane ensemble pieces (with Samuel Nicholas outstanding).
Although somewhat 2D, pedestrian and predictably safe—save for the phenomenal Nicole Raquel Dennis songs—it's clearly an audience-pleaser given the spontaneous applause throughout, standing ovations and general auditorium buoyancy.
Reviewer: Karen Bussell