Dreaming in Code

2Faced Dance Company
Stanley & Audrey Burton Theatre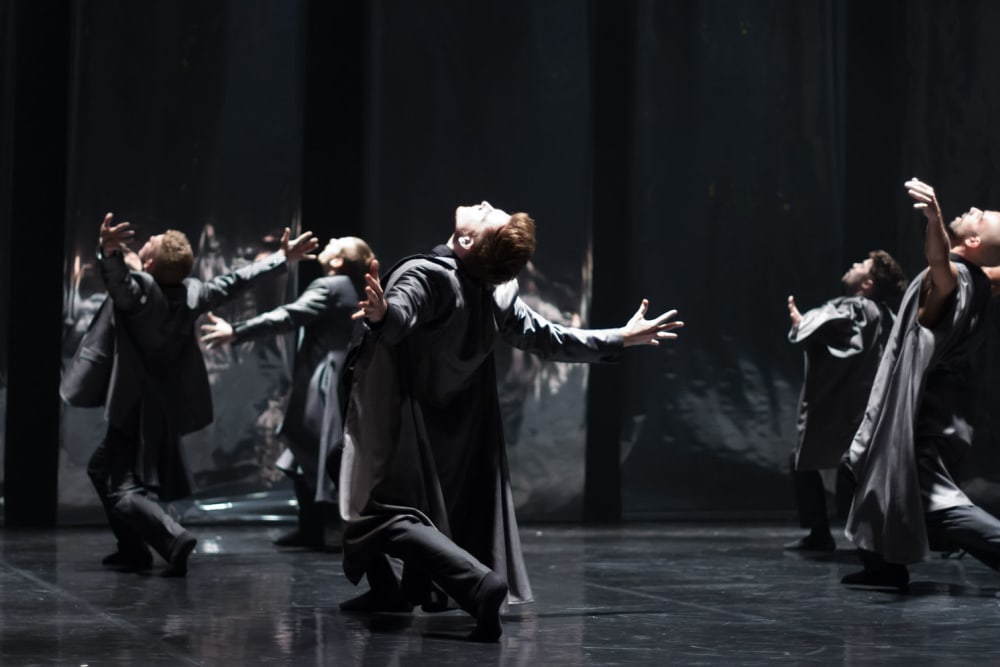 Comprising of two pieces investigating memory and identity from different angles, Dreaming in Code is a thought-provoking and delight-filled evening of dance and dance theatre.
The first work, milk night, is choreographed by Eddie Kay, well-known for his performances with DV8 and Frantic Assembly. Those inheritances are clear in the piece he has created with the company, and lovers of the leaps and catches of contact improvisation will find much to admire here.
Inspired by the idea of working with an all-male company, Kay's piece examines what might happen in a world from which women have disappeared. The five performers each have spotlighted moments in which they evoke different memories of women they once knew, in a combination of text and dance. Both of the evening's pieces work the possible combinations offered by the troupe of five in ever-changing patterns, affording each of them solo moments as well as generating a strong sense of ensemble.
A low-tech approach to lighting and set in milk night generates simple but pleasing effects: the dancers emerge from a row of small tents, and manipulate hand-held lights in a particularly effective early movement where performers appear from the pitch-black surroundings to duet in the single mobile spotlight. Later the tents combine with the lighting design to create some imaginative projection effects.
Another witty segment, soundtracked by a 70s-sounding disco number, evokes the hands-in-pockets bobbing of reluctantly rhythmical lads in a nightclub. There are flashes of the compulsive head movements of the boxer, and these as well as some of the other lifts and falls are almost overly familiar from Frantic's work and that of Pina Bausch. But on the whole this piece carves out its own identity based closely, you get the feeling, on the stories told by the performers in its development.
2Faced Dance's founder, Tamsin Fitzgerald, choreographs the second half of the evening, titled Lucid Grounds. This is a purer dance piece, without the spoken text of Kay's work.
In it, a slicker, more regimented vision of the future is evoked. Shimmering metal-look sheets at the back of the stage reflect the dancers as well as James Mackenzie's excellent, stark lighting, which itself forms an integral part of the choreography. As the dancers are led through energetic leaps and floorwork by the shifting vertical spotlights, they whip their long coats and stride confidently through compelling, dynamic sequences of moves.
The piece ends with a powerful image, perhaps of confrontation, perhaps taking stock, and a unison march into the distance. Throughout both pieces, the dancers—Jason Boyle, Jack Humphrey, Chris Knight, Luke Rigg and Ed Warner—are committed and strong performers.
This is not a company I had caught before, but I will certainly look out again for more of their thought-provoking and energetic work.
Reviewer: Mark Smith