Dream On
Lloyd Eyre-Morgan
BadCheck Productions
AXM Bar, Manchester
(2011)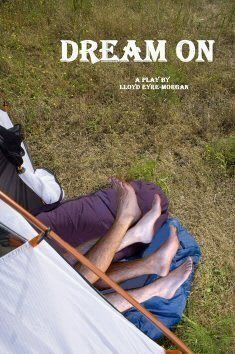 The course of true love does not run smoothly for two young lads in Norman's Cozy Welsh campsite in the mid 80s. Paul, an innocent northerner from Rochdale, meets George, a jack the lad, nervy young man from London. Paul has come on holiday with his domineering mum Denise and her attempts to control him, though comic, throw him further into thrall with George. Both teenagers dream of escape but their dreams go through many ups and downs in the course of Dream On, this 90 minute comedy drama from gifted new writer Lloyd Eyre-Morgan.
There is much to enjoy in this sitcom style two acter. The settings and scenery are minimal, which reflects the fact that the performance is taking place in an adapted bar room. The space is, however, cleverly employed. Good use is made of the split level of the playing area and there are some lovely touches such as when the camp shop is revealed by the manual raising of the back drapes. This device evoked much laughter each time it was utilised. There is also a running joke where a sign hand painted in real time clarifies which year we are in and where we are.
Joe Gosling as Paul is convincingly gawky and withdrawn but gradually comes out of his shell to confront both his emerging sexuality and his mother. Bradley Cross as George effectively portrays how troubled he is by his brute of a father but conversely appears much more confident and at ease with his sexuality. He is what is sometimes called "straight acting" in the gay community and is at first assumed by the other characters to indeed be heterosexual. The love scenes between the two lads are beautifully written and played. Great tenderness is married to enjoyable wit. The fumbling nature of first forays into love and sex is well depicted.
There is strong support from Janet Bamford as Paul's mother Denise. She is a very bossy character but does reveal a softer side and that she does care very much for her increasingly independent son. Her own burgeoning romance with the camp site owner Norman is also well represented and his character is warmly realised by Mark Hill.
As the brassy and earthy shop assistant Angharad Mairie Macfarlane shows a deft comic timing. Some of her reactions to the increasingly obvious attraction of Paul to George are very enjoyable to witness. She also has a strong line in put-downs and is not someone with whom you mess. This leads to regular confrontations which also add to the overall comic effect.
There is also a lovely cameo from assistant director Joanne Reid as a feisty barmaid.
The second act felt slightly too long and occasionally the staging was less effective. The pacing was, however, good throughout the entire 90 minutes. This act had a darker hue where we saw the violence in George's background and how his father's alcoholism influenced his son. This was where George had clearly learned that you drink to oblivion or lash out when you can't deal with a situation both of which behaviours we see evidence of in the play.
Martin Buchan as Mark had a difficult task as he had no comedy and his was the least sympathetic character in the piece. He carried this off very well.
Throughout Lloyd Eyre-Morgan showed an acute ear for convincing and funny dialogue. Whilst mining the same seam as Jonathan Harvey's early 90s success Beautiful Thing, Dream On offers something refreshingly different. When Denise reminds Paul that they don't trust southerners because they are not like normal folk the audience and this reviewer roared with laughter. Much was made in the play of the tensions between the north and the south in England. This was given extra point because the action mainly took place in Wales. There is a lovely moment when Paul and George are finally in bed and beginning to be intimate with one another. George asks Paul if he has ever done this before and Paul replies done what? That was a very revealing indication of emerging sexuality as well as a very funny misunderstanding.
Perhaps more could have been made of the fact that the two as well as breaking conventions were also breaking the law in the late 80s. The age of consent for gay sex was 21 until 1994 and only finally equalised in 2000. This is to quibble as the essentially comic story is believably resolved and ends on a happy note with characters united in differing pairs and looking forward to the future. The audience were hugely satisfied and gave the performers a well deserved standing ovation.
Producer Chad McGitchie from BadCheck Productions has chosen well to support this new writer / director who is clearly an emerging talent.
Reviewer: Andrew Edwards