Dreams of Violence
Stella Feehily
Out of Joint
Library Theatre, Manchester, and touring
(2009)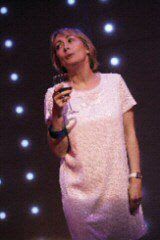 Out of Joint returns to the north west with Stella Feehily's new comedy Dreams of Violence, as always directed by Max Stafford-Clark whose output doesn't seem to have dropped despite his stroke a couple of years ago.
Hildy is a middle-class woman in her forties who has attached herself to various causes and campaigns since she was at university and has the dreams of violence mentioned in the title. Her philandering husband Ben, a doctor, is still trying to get her into bed even though they are going through a divorce and he is seeing an obsessive young Canadian called April.
Hildy's alcoholic mother Shirley still clings to the fame she had as a pop star over thirty years ago until it was cut short after she was blacklisted for playing Sun City in apartheid-era South Africa. Her Irish father Jack torments the nurses in his nursing home and flits between bouts of rage and tears. She no longer sees her drug addict son Jamie, but is irritated to find that everyone else seems to be seeing him and giving him money.
The play progresses in a series of sixteen loosely-connected scenes rather than a solid plot, some of which tell extended stories and others are over in seconds. Hildy and Ben have a civilised dinner to discuss their divorce; Hildy tries to persuade the cleaners at a local merchant bank to march in protest at their low salaries compared to the huge bonuses of those they clean for and who have made such a mess of the economy; Hildy's mixed feelings (love and exasperation) for her mother, father and son are revealed; the cleaners take their own non-union action after they are made redundant; Hildy's family is brought back into the family for an uncomfortable reunion.
As would be expected from Stafford-Clark and Out of Joint, this is a solid production with a firm hand on the tiller and excellent performances all round. The play works well as an episodic piece with some good, well-written comedy, tension and family drama, but there are some aspects of it that seem like affectations, such as some self-conscious attempts at hyper-real overlapping dialogue and introducing some lyrical flourishes into natural speech.
There are some gratuitous references to the current banking crisis that would no doubt please the marketing people but never really probe beneath the surface and the obvious, but the play is really about blame. Hildy blames her mother for not being there when she was a child as she was on tour, just as Jamie blames Hildy for always being out on some protest and both mothers dismiss the allegations; Hildy blames her husband for the breakdown of her marriage; the cleaners blame the bankers for their lost jobs. Nobody takes responsibility and everyone looks for someone else to blame, in Jamie's case with the encouragement of his counsellor.
Although the star billing goes to TV star Paula Wilcox who is very good as bitter alcoholic Shirley, the production is held together by a very strong performance from Catherine Russell as Hildy. She has excellent support from Nigel Cooke as Ben and Ciaran McIntyre as Jack with some very good performances in the smaller roles from Jamie Baughan as Jamie, Giles Cooper as nurse Simon and banker Carl and Mossie Smith and Thusitha Jayasundera as cleaners Annie and Bea, plus a sinister performance from the latter as the mouth of April through the letter box.
This is by no means a major play but it works effectively within its limitations, entertains and is well-performed. It runs for an hour and a half and, like a few shows currently running in the area, has no interval.
Philip Fisher reviewed this production at the Soho Theatre
Reviewer: David Chadderton