Dreamworks' Madagascar The Musical
Book by Kevin Del Aguila, original music and lyrics by George Noriega and Joel Someillan
Selladoor and Theatre Royal Plymouth
The Lyric, Theatre Royal Plymouth
–

Listing details and ticket info...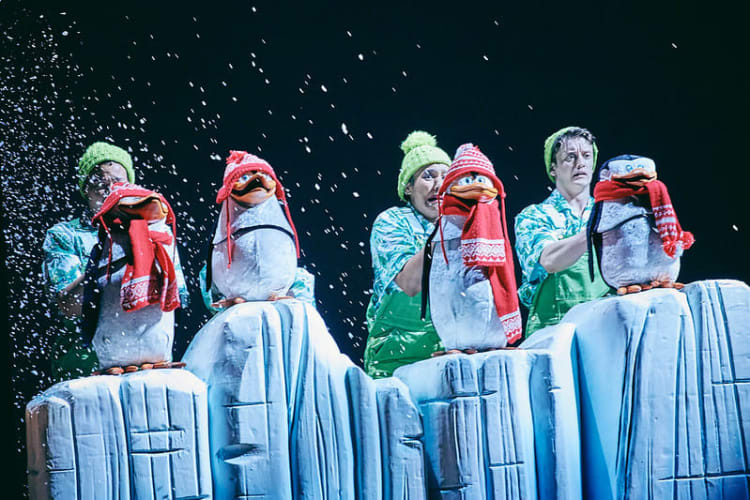 Not content with the £2 billion made by the three animated Madagascar films, Dreamworks Animation Studio has taken to the stage with a musical version featuring live performers and puppetry.
Emmy award-winner Kevin Del Aguila's adaptation of the much-loved first film tells the simple story in 100 minutes (including interval) but is somewhat threadbare and song-heavy. Multi-Grammy award-winners George Noriega and Joel Someillan's original music and lyrics are upbeat, generally unmemorable and rather long for the target young audience but "I Like To Move It!" is a winner and a surefire audience-grabber for an on-your-feet encore.
Otherwise, the target audience is unexpectedly silent: none of the expected excited laughter or exclamation but clearly engaged enough not to misbehave.
Joesph Hewlett is a tad too quiet as king of the zoo Alex the Lion, who thrives on steak served to order and a doting audience; belter Jarneia Ricard-Noel (Six, Hairspray) is sassy as Gloria the Hippo and Little Crackers' Joshua Oakes-Rogers combines puppetry and melancholy as Melman the hypochondriacal giraffe.
Francisco Gomes brings energy and pathos as Marty, the born free zebra captured from the African plains and desperate to break out from the cages and performance of New York's Central Park Zoo. Luckily, there is a band of ingenious penguins on a mission to smile, wave and head south by fair means or foul to make his dream come true.
Puppet designer Max Humpheries's crafty penguins all but steal the show—with Connor Keetley particularly on point with Skipper's iconic deadpan voice—while monkeys, lemurs and fossas delight under the skilful hands of Laura Marie Benson, Ella Howlett, Brogan McFarlane and James Hilton-Foster. Fabian Aloise's choreography adds a welcome whirl of moves to pad out the overlong songs.
But it is Strictly finalist and CBBC anchorman Karim Zeroual, whose channelling of the bonkers King Julien is spot-on, who grabs the limelight with moves to brighten up any party and a cunning plan to keep Alex as protection from the marauding predators.
The set, based on Tom Rogers's original, is superb: the open plains of Africa, towering NY skyline, a proscenium built of crates and doors which open to reveal cascading flowers or monkey and verdant Madagascar, all which are enhanced by Howard Hudson's apposite lighting.
It is quite a spectacle, fabulous puppets but no real heart.
Reviewer: Karen Bussell