dressed.
Created by Josie Dale-Jones, Lydia Higginson, Nobahar Mahdavi & Olivia Norris, music by Nobahar (Imogen) Mahdavi & Alex Paton
ThisEgg in collaboration with Made My Wardrobe
Battersea Arts Centre
–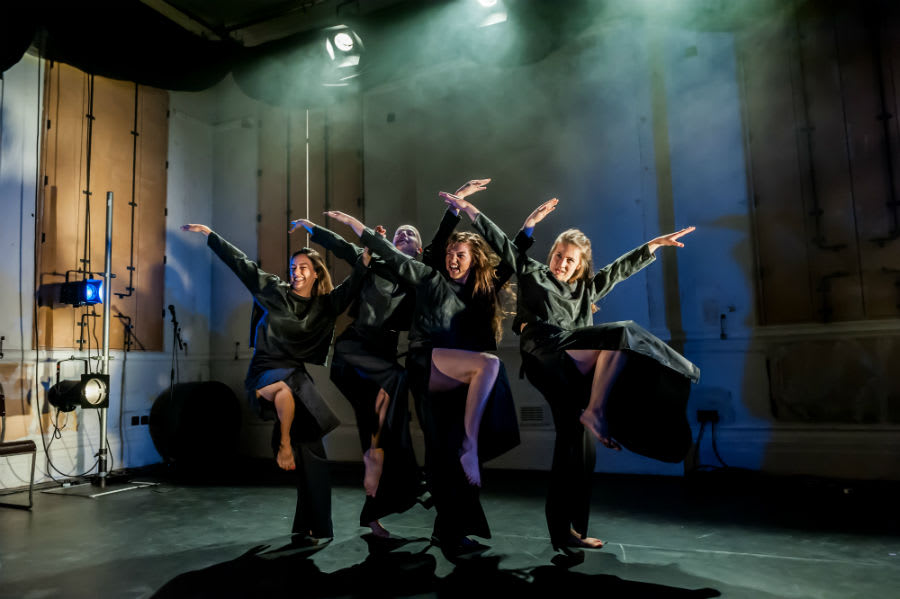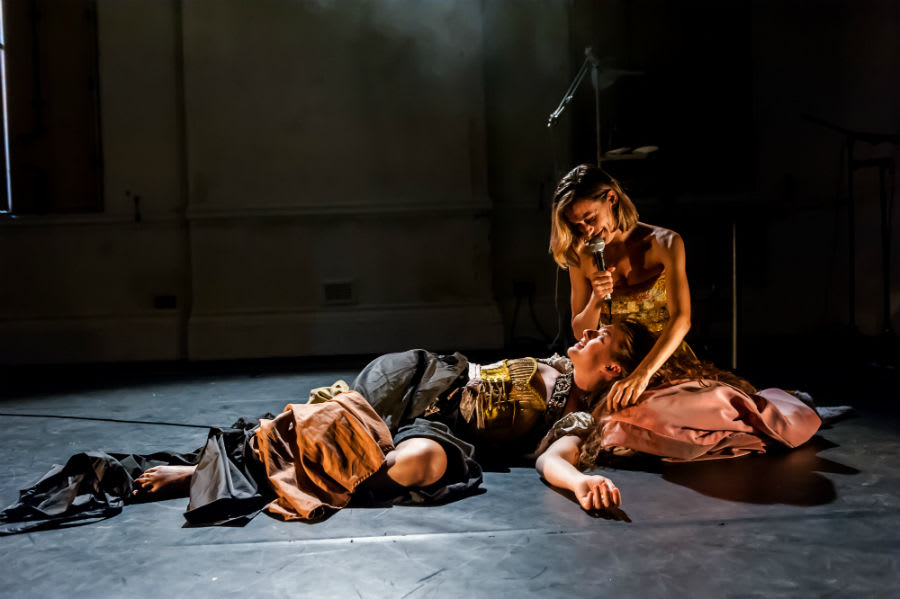 At the age of nineteen, Lydia Higginson was stripped and sexually assaulted at gunpoint by a group of men.
Her friend Nobahar Mahdavi, whom Lydia later visited, recalls how she was. "You couldn't sleep... you suffered from anxiety and depression... when you fell asleep, you woke up screaming."
It's hard for most of us to imagine how you come back from that appalling experience. The way she does is the subject of dressed, a show she has created with three friends she first met in a dance class when they were aged ten. It is visually striking, emotionally moving and often funny.
The four greet us playfully with dance and exercises to light music. The mood changes as we are asked to close our eyes to hear, briefly, an extract from Lydia's journal describing the sexual assault.
Nobahar tells us how Lydia afterwards returned to her parents' home and locked herself away for months to make costumes. It was her way of "reclaiming her body".
As she sits at a sewing machine, the other three put on costumes she made and become versions of the way women are expected to be. Nobahar sings a haunting song by Alex Paton in which she offers someone to take her in whatever way they want.
Josie Dale-Jones becomes a clown with surreal jokes about, for instance, dating a cat who followed her down the street. She also calls for a "cheer for all the guys in here. We couldn't make it without you."
The personas soon disintegrate into images of pain. Nobahar's attempt to sing again at the standing mike distorts her mouth into a horrified scream. Olivia Norris in a sleek black dress contorts her body into painful shapes till with a final grimace she says, "it's disgusting".
Lydia's attempt to dance ends with her huddled into a mound of clothes then gently cradled and sung to by Nobahar, a scene which left many of the audience in tears.
The point of the section is emphasised by Lydia's three friends in costume, each wearing a mask of a bearded man as they tap dance in line across the stage.
Two of them become exhausted and discard the masks and costumes. The third looks irritated and angrily asks Lydia, "do you really think making costumes is going to achieve anything?"
Left alone at the machine, Lydia asks of those who assaulted her, "what did you do with the part of me you took? Do you ever remember it?"
Despite the disturbing content of dressed, there is a tender optimism to the show. It is a fine contribution to the recent theatrical upsurge in politically engaged responses to the abuse of women, which has included 56 Edinburgh festival shows in 2018 citing #MeToo.
What happened to Lydia shouldn't have happened, wouldn't have happened if the world had been different. And making it different so that doesn't happen depends on what we do with it.
Reviewer: Keith Mckenna