Drive Ride Walk
Composed by Osnat Schmool
Greenwich Theatre & Filament Theatre
Greenwich Theatre and touring
(2011)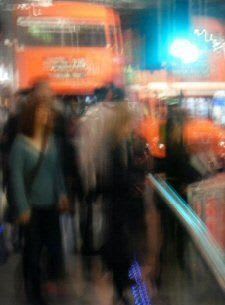 This new piece of music theatre, produced with Filament as part of Greenwich Theatre's Artist Development Programme, began life as a two-song sketch at the Bridewell Theatre half a dozen years ago. It has now been realised as an hour-long show that will immediately resonate with any Londoner for it captures the daily incidents and frustrations of all out lives.
Opening, appropriately since it is so specifically about their experience, with the cast entering through the audience, the sound of their a capella singing increasing as they come in, it is immediately engaging and remains so through its length. The format is a series of songs that sometimes follow on each other, sometimes have a deliberate hiatus for effect between them which are presented as a piece of physical theatre by a carefully choreographed and talented ensemble.
The introductory number is followed by one that centres on a young man who has just passed his driving test and is being allowed to drive a friend's car. There is a sequence jam-packed on the Underground, another of pedestrians, hurrying to work, annoyed by people in the way, the person who stops to check a bag or talk on a mobile just in front, and then the routine of the working day with a messenger girl on a scooter weaving between everyone, a computer fixer promising clients he'll soon be there, a woman opening up the shutters of a shop, the guy late for a meeting, the even tempered bloke at the Gas Company call centre.
The routine of travel to work, daily grind and back is repeated, there is a break for relaxation with lunchtime sandwiches in the park, reading the sports pages or catching up with some study, a couple making eye contact and perhaps more, then there is the motorist reacting to the obstructions and the bad road skills of others, and the people who slip or stumble - or get pushed.
Sometimes a cello or an accordion joins the otherwise unaccompanied voices adding an extra richness to the sound, or the singers themselves clap or click a rhythm, but this is a score mainly of beautifully blended vocal lines. Through the waves of sound individual lines ring out but it is often not easy to follow a clear lyric, which probably is unimportant because I suspect it often turns out to be a repetition of single phrases.
This is a personable cast who make their roles clear characters. His spoken lines help define Stuart King on the end of his telephone help line (and what a wide vocal range he has). Primly-suited Nathaniel Morrison is so precise in his movements that you can't help notice him is his character a city broker and just a beautifully turned out assistant in a smart store's menswear department. Does Jon-Paul Hevey's guy get anywhere with the girl he's eyeing ("She/he's really watching me"), Osnat Schmool's pavement-hazard girl on a scooter, who tactfully remembers to call someone PA not secretary? Will Theo Ogundipe's novice driver be able to get his own car? What does Rebecca Thorn's shopkeeper sell in her store? Nick Trumble, EmiWokoma, Abimaro Suit - they all have their movements coming to the fore but I wanted to find out more about the characters they are playing.
So often a character seemed about to launch into a number of their own and then doesn't. There is a delightful song around the phrase 'If I wasn't here' but it is left to the audience to supply where they themselves would like to be. I wanted to know about these characters. In the same way there were moments when director Sabina Netherclift's cleverly choreographed walking lines, packed groups, clusters and dispersals seemed about to launched into a proper dance and you just wished they would take off.
As an item in a concert I think Drive Ride Walk would be a musical delight but it is given greater life and vitality by being staged. Yet, much as I enjoyed it, it still has the feel of a work in progress because it could go much further.
At Greenwich the company is augmented by singers from the Greenwich Borough who give admirable support but it is a mark of just how good the main company is that in a number about falling the greater physical skill and control of the professional performers becomes noticeably apparent. They thoroughly deserved the acclamation the Greenwich audience gave them but this show could blossom further into a longer, more characterised work.
At Greenwich Theatre until 26th February then Stratford Circus 2nd - 5th March and Jackson's Lane 16th - 19th March 2011. There will also be 'festival' performances at Spitalfields Market 3rd March (12 noon or 1.30 pm), Queen Elizabeth Hospital Woolwich 19th March (10.30 am) and Lewisham Shopping Centre 19th March (12.30 pm).
Reviewer: Howard Loxton