Driving Miss Daisy
Alfred Uhry
Theatre Royal, Bath
Festival Theatre, Chichester
–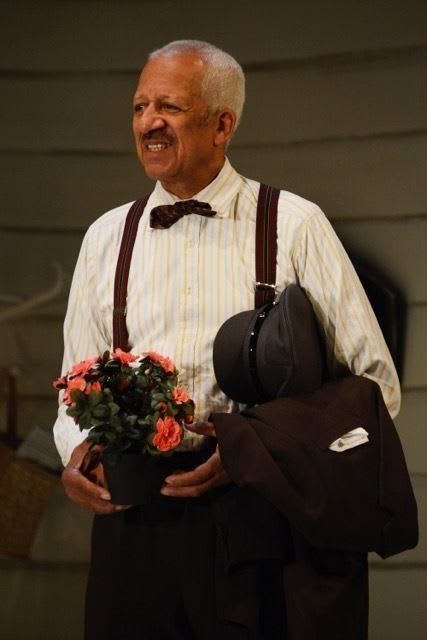 A cantankerous old lady crashes her car, demolishing not just the car but also the garage, the toolshed and a vast amount of vegetation. Her son Boolie, understandably, insists she has reached the time when it is not safe for her to drive any more which she finds extremely frustrating and lets her feelings be known in no uncertain manner.
The thought of losing faculties and having to rely on others does not sound the most promising of subjects for entertainment but there is much more to this play than a humorous and argumentative exchange between mother and son. The chauffeur that her son has chosen for her happens to be black.
She is not prejudiced against black people—Oh dear no!—"but you can't trust them, they're forever taking things. They're like children and you have to watch them." Gradually, over the years, almost against their will and after many arguments and accusations, a close friendship develops between Miss Daisy and her chauffeur until finally she realises that this man has become her best friend.
The story is based on the author's grandmother, a formidable old lady called Lena Fox, whose car crash was the stuff of legend to the family and neighbourhood, and the play is written with affection as well as humour which is probably why we feel warmth towards this difficult old woman who refuses to ever admit she is wrong in any way.
In an episode which finds the couple driving to a family party, she berates her chauffeur for taking a wrong turn. "You took the turn with me Miss Daisy, and you have the map". There's no apology for her mistake and she's as irascible as ever, but moments after our laughter Siân Phillips makes us feel the vulnerable side of Miss Daisy left nervously alone in the car while Hoke, not allowed to use toilets meant for white men, goes into the shadows to "make water" and, nervously, she realises for the first time how much she relies on him.
Simon Kenny's set is rather stretched to fit the vast reaches of the Festival Theatre, something which detracts just a little from the intimate exchanges between the three characters, but performances are excellent, most especially Derek Griffiths as negro Hoke. He has perfected the stance, attitude and voice of his character and brilliantly brings every nuance of understated gentle comedy to the role. The play is very funny, but there are also many moments which touch the heart, such as the scene in the cemetery when Miss Daisy finds, to her astonishment, that Hoke cannot read.
The play is set in Georgia where the author grew up and there are references to what we hope is in the past. Hoke remembers a childhood friend playing happily with his father, the next day seeing him hanged from a tree, hands tied behind his back. It seemingly has never occurred to Miss Daisy that discrimination will affect her too until, to her horror and disbelief, the Jewish Temple is bombed.
Generations of prejudice and bigotry take a lot of eradicating and sadly there's still a long long way to go, but that said, and despite the sadness and frustration of growing old and becoming unable to cope, this is a delightfully moving and mostly very funny play which really touches the heart and hopefully the mind.
Reviewer: Sheila Connor