DROLL

the Owle Schreame Theatre Company
theSpace on North Bridge
–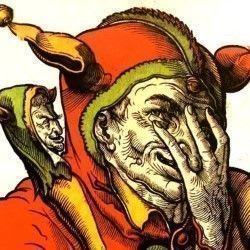 During the darkest depths of the puritan period of interregnum, the banning of theatrical performances led to the seeming end of the artistic pursuits of legions of actors, dramatists and performers making their way in England.
However, this led to the illicit performances of Drolls, low-brow, comedic performances of snapped scenes of famous plays of the era, tarted up with bawdy gags, and much drunken silliness.
To stop this little-known and rarely performed artform being forgotten, Owle Schreame Theatre has brought sixteen of these mini-plays to the Edinburgh Fringe, and are randomly performing one at each show.
It's an interesting situation, as the performance of the Droll itself is bookended by a surprisingly serious but pleasantly concise explanation of the form, before the troupe bursts into song, dance and flippant fourth-wall-breaking fun.
The show managed to draw laughs from all corners of the audience, with a genuinely good cheer, where clearly the cast were having as much fun as the punters, gleefully adlibing and making jibes throughout.
It's a fantastically entertaining hour, and one that technically counts as education. Sort of. Go see it, in any event.
Reviewer: Graeme Strachan