DrumChasers
Ethan Lewis Maltby
Music Fix Ltd
Sunderland Empire and touring
(2011)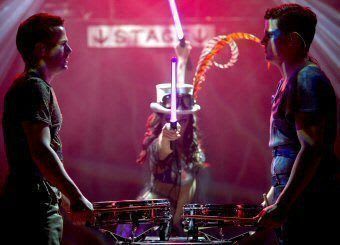 The advertising for DrumChasers promises "an evening quite unlike anything you've seen before." It is, we are told, "a musical without words, but with drums."
It's a percussion show, from drum kit to triangle, from gong to xylophone. A cast of eleven (plus voice-over by Stephen Fry) play their carefully and tightly choreographed way through a variant on the Romeo and Juliet story set in a parallel world, Noiseland, which somehow bursts into our world in an old concert hall where caretaker Mr Bennett, played by Jack Warner, looks after the instruments stored there. He is to be the instrument (pun intended) which solves Noiseland's age-old problems and bringing back peace.
And that's not a spoiler: it's in the advertising!
This could be the recipe for something cringingly self-indugent, and that feeling was exacerbated by the fact that, because I arrived early and was on my own for this show, I read the programme before it started. There, on the first inside page, was an introduction, written in verse which could have been penned by that master of the appalling rhyme, William McGonagall. My heart sank!
(Those who don't know McGonagall really should look at McGonagall Online and marvel!)
If I say that, about a third of the way through the first act, these words are spoken by Stephen Fry, you will realise - as I did at that moment - that this is not a show that takes itself too seriously. Indeed, it is shot through with self-deprecating humour, subverting any expectation that we are going to get a tragedy - or even a melodrama. And it gets that balance between humour and the seriousness required to interest us in the story exactly right.
What DrumChasers actually is is very entertaining, even for those who are not particularly interested in percussion. The skill, talent and commitment of the performers are amazing and the lighting - inevitably very rock concert influenced - impressive. The movement of the instruments on, off and around the stage (by the cast) is smooth and quick and the costumes and make-up were close to but not exactly of this world, nicely contrasted with Mr Bennett's brown coat and flat cap. I did wonder if the sticks which the Noise Wrangler uses to control her people were meant to remind us of Jedi light sabres. They certainly did me.
But it is the performances which will stick in the memory. There was a number (I can't think of any other word) in which two opposing faction members fought each other, circling back and forth round two xylophones placed centrestage and never missing a note or even for a second losing their confrontational body language and expressions. And a comic highlight was a duel between two triangle playing cast members.
Great fun!
"DrumChasers" tours to Grimsby Auditorium (29 Mar), Folkestone Leas Cliff Hall (2 Apr), Edinburgh Playhouse (5 Apr), York Grand Opera House (6 Apr), Croydon Concert Hall (7 Apr), Hackney Empire (9 Apr), Southend Cliffs Pavilion (10 Apr), Cambridge Corn Exchange (11 Apr), Birmingham Alexandra Theatre (12 Apr), Rhyl Pavilion (13 Apr), Burnley Mechanics Theatre (14 Apr), Liverpool Empire (19 Apr) and Arbroath Webster Theatre (23 Apr)
Reviewer: Peter Lathan