Duck
maatin
Katy Galloway Productions & maatin
Arcola Theatre Studio Two
–

Listing details and ticket info...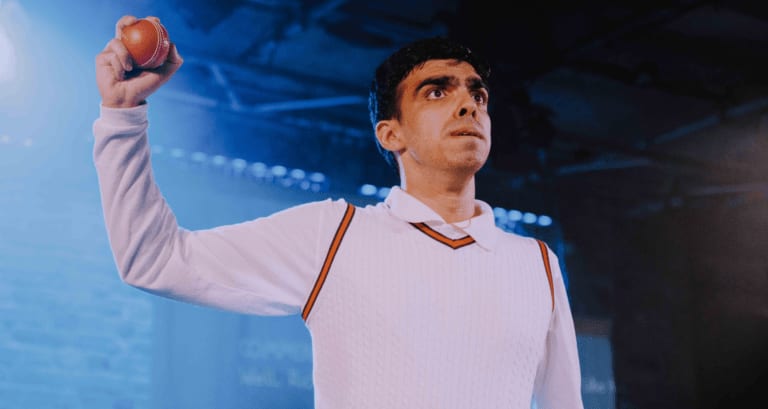 Ismail is a keen cricket player, and he plays well. We hear he "hit a six so big it smashed a window."
His home overlooks the Lords' cricket ground, he talks with his friend Finn about them making a trip to see the Ashes and is entertained by his father with stories of great cricketers such as Sachin Tendulkar who captained the Indian national team and was in 2002 rated by Wisden as the second greatest Test batsman of all time.
At age fifteen, he's impressed his elite English private school so much they are making him the youngest-ever player in their first XI. Other pupils refer to him as Smiley. He seems to be accepted by the elite school and its pupils until things change in Maatin's eighty-five-minute monologue Duck given a lively entertaining performance by Omar Bynon.
A new coach for the First XI, the teacher Mr Eagels, arrives just as Ismail begins his stint with the team. He has barely picked up a bat is ready to hit a ball when Eagels orders him off the training site for daring to play unsupervised. No one else is punished.
It soon looks as if Eagels has an unpleasant dislike for Ismail. He calls him boy, refers to him as an arrogant slacker and arranges for him to play in ways which put him off the game. Made to feel uncomfortable, Ismail performs badly and is more than once bowled out for a duck (meaning not a single run).
Eagels's rude, dismissive attitude encourages cruel comments from other team members such as the lad who calls Ismail "smelly shit" in front of the teacher. Of course, the teacher regards that as harmless banter.
Cricket among the elite may seem very polite until it's not.
Ismail's dad recalls the Conservative MP Norman Tebbit publicly claiming the "cricket test" of which national team you support was a good way of establishing how integrated into the country were South Asian and Caribbean "migrants".
Occasionally in the show, there are briefly heard the voices of two men commenting on what is happening to Ismail as if they were watching a game. At one point, we also hear from interviews with people describing their experiences of unfair treatment.
The 7 July 2005 bombs in London cause more problems for Ismail as the police decide that looking Muslim in a wealthy area is suspicious enough for him to be arrested.
On the day Duck began its run at the Arcola, the Independent Commission for Equity in Cricket (ICEC) published its findings. It is available to read online. The ICEC concluded that "racism, sexism, classism and elitism are 'widespread' in English and Welsh cricket" and that it is "enforced through the dominance of private school networks". They point out that they "represent 70.9% of the secondary schools that are connected with the Counties", and that the "nine private schools known as the Clarendon schools… are 94 times more likely to reach the British elite."
Despite this under-representation, a House of Commons report quotes Azeem Rafiq, who played for Yorkshire, saying, "there was me, Adil Rashid, Ajmal Shahzad and Rana Naved-ul-Hasan. We're walking onto the field and one player said: 'There's too many of you lot. We need to have a word about that.'"
Duck gives us a glimpse of this elite, racist cricket system that is damaging people's lives.
Reviewer: Keith Mckenna