Duckie
Le Gateau Chocolat and Tommy Bradson
HOME Manchester
Royal Festival Hall, Southbank Centre
–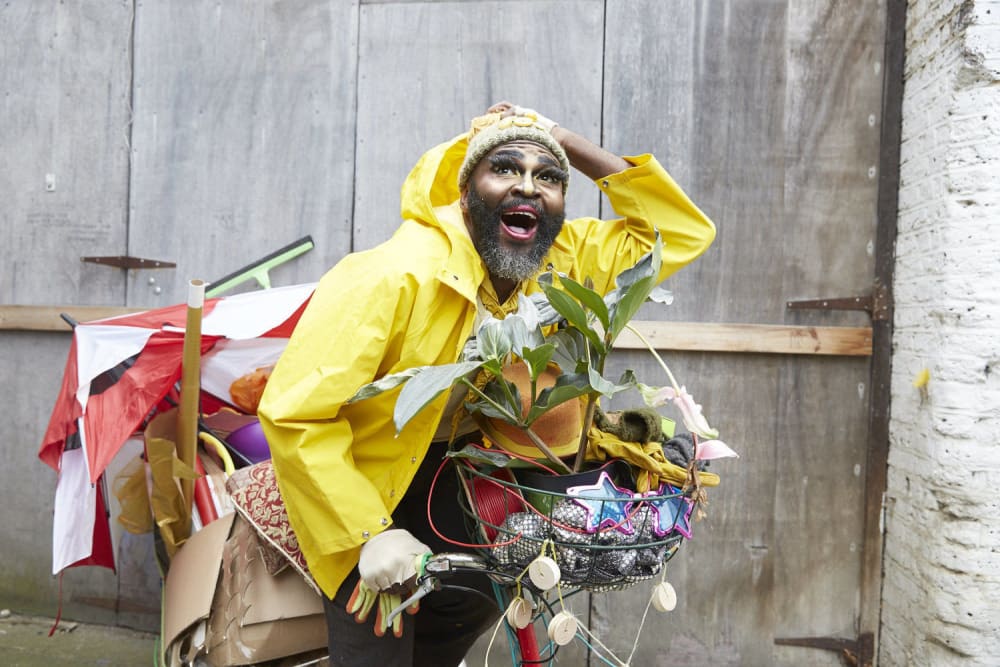 I watched this on the day that Manchester was told it would not be allowed to reopen its theatres for the rest of this year, despite the extensive—and expensive—precautions that many have already taken to be 'COVID-safe' through 'social distancing' (although apparently I could still experience 'social proximity' while getting a haircut or a tattoo, and the staff in my local supermarket seem to need training on how and where to wear a mask).
HOME expressed its frustration with the government's decision on its social media channels, but the venue has spent the last few months setting up online delivery capabilities for film and theatre, both paid and free to access, so was able to act swiftly to move this year's festive programme, though still much lighter than usual, online.
It has become something of a tradition for me to catch a couple of shows for young children in the daytime just before Christmas and be home in time for tea, so I was pleased to still be able to catch Duckie, a show that arrives in Manchester, albeit virtually, with a promising reputation from four years of performances.
Duckie is based very closely on Hans Andersen's The Ugly Duckling but cleverly strengthens its messages with a modern take on its themes about not fitting in, finding your strengths and being yourself in a running time of just under 40 minutes, including short phone-recorded messages from Le Gateau to Manchester audiences at the start and end. Its narrative approach is the same as in many children's picture books, where the protagonist goes to different places or people with the same question or problem but doesn't find the answer until the end.
Duckie doesn't live up to the expectations of his family with his clumsy dancing and burping instead of quacking, so he tries to make friends with others in the animal circus (lions, flamingoes, elephants) but they all reject him as being not like them. Finally, he comes into his own when it is discovered, not that he is really a swan, but that he can sing beautifully.
The story is told by an unseen narrator recorded along with all the music and sound effects who occasionally reminds the solo live performer, Le Gateau, what he should be doing next. Apart from the physical performance, Le Gateau tells his story through a large number of songs that, like many pantos, include a variety of pop hits mixed with numbers from musicals with slightly changed lyrics, ranging from Leslie Bricusse's "Pure Imagination" from Willy Wonka and the Chocolate Factory and Jerry Herman's "I Am What I Am" from La Cage aux Folles to Cindy Lauper's "Girls Just Wanna Have Fun" and The Pussycat Dolls' "Don't Cha".
The recording was made at the Royal Festival Hall in December 2016 with a live, un-distanced audience and doesn't look like it was recorded for broadcast—it's done with a single camera, unedited, probably with everything on 'auto' as it struggles occasionally with focussing and some of the darker spots on the stage, plus LGC's gorgeous bass-baritone voice is drowned out a bit by the recorded soundtrack—but it's fine for home family viewing and gives a good taster of what the show would be like live.
This is a clever take on a familiar tale with a modern twist and some imaginative touches in its staging. It works perfectly well in this online version, which you can book on a "pay what you can" basis and then watch on-demand until 3 January, but I do hope to get the chance to experience it in person in a theatre packed with excited youngsters before too long.
Reviewer: David Chadderton