Dude! Where's My Teddy Bear?
Sheridan Humphrey & Jonny Berliner
Jammy Doughnut Productions
Tricycle Theatre
(2009)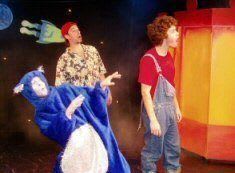 This is a show aimed at the really young - recommended ages 2-7 - with performances nicely timed to fit the holiday when parents are able to go along with them. Not just parents either, the tots are invited to take along a teddy bear for (but you've already guessed of course) it is all about the search for a Teddy bear that has gone missing.
That doesn't make it a weepy. Little Max is very worried that he can't find his teddy but looking for him turns out to be a great adventure. When he and his grandmother can't find Teddy in his bedroom or anywhere art home some sand in Max's trainers reminds them that he last remembers being with Teddy on the beach so the go back there where the surfer Dude claims he's an expert at finding lost Teddy bears. Searching on a different stretch of beach where Dude remembers seeing Max, the two of them team up while Granny thinks of surfing but decides instead to sunbathe while they go on with the search.
Leaving, after a friendly whale convinces them that Teddy isn't there, they discover a Space rocket and getting inside a robot that wants to be a pop star. Teddy isn't in the space rocket either so they take off for the moon. There a moon gerbil gives them words of wisdom about Teddies: "If you love them, being in your heart, they are with you always" but they find that Teddy otherwise isn't anywhere on the Moon.
Of course, Max and Teddy are eventually reunited but on the way the audience have shared Max and Dude's adventure and met some interesting creatures who look intriguing and break into song and dance which they can join in with to help the search along its way as well as some lively involvement displaying their own Teddies at regular points in the action.
It is simply presented with colourful appliquéd designs on successive curtains drawn across the stage providing the setting and imaginative costuming and there is pleasant and tuneful music for the songs with some jokey but expressive choreography. The cast of three - a Max with whom the kids can easily identify, a surfer Dude with a sort of Lloyd Grossman accent and a wonderfully wobbly fake (I feel almost sure) belly and a Granny who also plays all the creatures that they meet . None of the actors or creative team is credited, so I can't tell you who they were, but they certainly held the interest of all the Teddy-waving children I saw it with for the whole fifty minutes or so it runs without an interval. Just one tiny tot needed what was obviously a toilet trip, but they were back and all attention very soon. Unlike the mindless Telly Tubbies (which I can't stand) it managed to hold me too -- so take the kids, you won't find it an onerous excursion..
Noon and 2pm until 31st December, 11.30am and 2pm 2nd January 2010
(No performances 1st January)
Reviewer: Howard Loxton