Duet For One
Tom Kempinski
Calibre Productions
Yvonne Arnaud Theatre, Guildford
–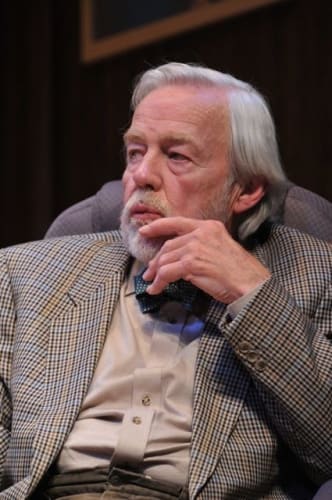 Extensive research has gone into the production of Kempinski's celebrated play, written in the 1980s but even more relevant today when the Paralympics have brought the problems faced by disability very much to the fore.
Not only the problems, but the courage, determination and spirit needed to overcome and triumph has now been seen and appreciated by millions who would normally have dismissed the disabled as almost another race, one interviewee even commenting that he now regarded the disabled as 'people', which raised an indignant outcry but one could see what he meant.
Echoing the life and experiences of cellist Jacqueline du Pre, this the story of Stephanie Abrahams who, diagnosed with multiple sclerosis, finds that her 'raison d'etre' has been taken away and she feels she no longer has the right to an identity, or even a reason for living. A celebrated classical violinist, her whole life has been dedicated to her music, so what is there for her now?
Haydn Gwynne prepared herself for the role by talking with MS sufferers, health workers and classical violinists, and this research has given her an empathy and understanding of the problems faced in dealing not only with the disease itself, but of the feelings of the exceptionally talented who have single-minded dedication to their art to the exclusion of everything else.
As the sessions with her therapist progress, we learn that her insensitive father once stopped paying for her violin lessons, so she refused to do any school work until they were re-instated. The fact that she remembers the exact timing "that went on for five weeks and three and a half days" demonstrates the tremendous importance of her music from an early age.
William Gaunt, on his part, has "immersed himself in the field of talking therapies" and, experienced and outstanding actor that he is, excels in the role of therapist Dr Alfred Feldmann, his long, silent pauses as much part of the therapy as the searching questions he puts to his patient.
Michael Holt has provided a spacious and well thought out consulting room with carefully placed furnishings, the whole giving an impression of solid and dependable taste, with water jug and tissues to hand and enough space for Gwynne to dexterously manipulate her wheelchair.
Only attending the session to appease her obviously worried husband, she is at first light-hearted and joking (at least on the surface) and asks if there is a trapdoor for hopeless cases, but she goes through many moods from positively re-arranging her life to hyper-cheerfulness, before despondency and despair, even giving the idea of suicide some consideration.
This is not what you would call a happy play, although there are some laughs, but in the hands of these two experienced and superb performers the audience was kept engaged and fascinated throughout, probably giving them an insight into the feelings of friends who have the disease—it is all around us.
As director Robin Herford notes, "rehearsing the play while the amazing Paralympic Games were in full swing has brought a fresh appreciation of what so many people have to deal with... and to what extent can determination and positivity conquer everything?"
"It is a journey," says therapist Feldmann, "that we take together".
Touring to Scarborough, Watford and Eastbourne.
Reviewer: Sheila Connor