Duet
Katharine Armitage
Re:Sound
Wilton's Music Hall
–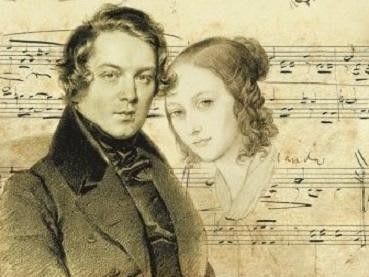 The great love between Romantic composer-pianist Robert Schumann and Clara Wieck, child prodigy and composer in her own right, is Shakespearean in its dramatic, tragic dimensions.
Re:Sound—a collective of multi-disciplinary artists that specialises in working with classically trained singer-instrumentalists—has concertinaed this epic history of thwarted and twisted passion into a one-hour play in which the two composers' music is interspersed through Katharine Armitage's text, allowing Robert's and Clara's 'voices' to be heard directly, their struggle for self-expression embodied in song.
The Cocktail Bar at Wilton's Music Hall is the perfect venue for Duet: with its bare floorboards, rough plaster ceiling and exposed brickwork, it replicates the warm intimacy of Poppe's coffeehouse in Leipzig where the couple become betrothed and to which they return at significant moments in their marriage.
We are beckoned in by two strange figures whose patrician nineteenth-century attire is topped with elaborate, slightly eerie, golden Carnival-masks. An ebony upright piano stands in the corner and as we huddle around the circular tables—which are bedecked with red cloths and wine glasses—it is as if we are ourselves café patrons, invited to share the excitement of the impulsive wedding proposal with which the play begins, enlivened by a brief fragment of Mendelssohn's Wedding March.
Duet - which was commissioned by the Oxford Lieder Festival, to form part of this year's 'Schumann Project' - is described as an "interactive theatrical experience" and, as such, features the requisite audience involvement: we are called upon to toast the happy couple, re-lay tablecloths and join in the Christmas Party games. More seriously, we participate in the ritual, celebratory smashing of a ceramic plate which—as a friend of the Schumanns, Emma Walter (played vivaciously by Olivia Clarke), explains to us—is a symbol of Robert and Clara's commitment to each other: just as breaking the plate is final, so too the engagement is absolute, not to be terminated.
But the breaking of the plate also tempers the intense joy of the occasion. And, even as Clara's eyes shine with happiness and Robert brims with exhilaration, a shadow is cast by the mention of Herr Friedrich Wieck, Clara's domineering, even abusive, father, whose opposition and legal wrangling prevented the couple from marrying for five years.
Having defied her father, Clara finds herself similarly controlled and eclipsed by her husband. Robert declares that when he sees her seated at the piano he sees not a woman but a 'master'. And, during his happiest times, he presents her with Dichterliebe, one of the greatest collection of love songs ever composed. But, his music makes Clara invisible and silent.
One of the most celebrated pianists of the nineteenth century, today she is best remembered not for her music but for her marriage. She was both Muse and Mother, bearing Schumann seven children. She put up with his mood-swings and, as Oskar McCarthy's Robert recognises in rare moments of self-knowledge, she nursed him, protected him and supported him, emotionally and financially. Eloise Irving's Clara is a strong woman, whose evident ardour and zeal are equalled by self-control and discipline; occasionally, the strain breaks through the surface poise but she is tough, because women of her day had to be.
Initially, McCarthy conveys Robert's passion, ambition and fire, but the eccentricity quickly turns to unpredictability and petulance. Increasingly troubled, he becomes more solipsistic and self-pitying. He imagines his illness—syphilis, schizophrenia?—as a 'poison' which seeps from him and infects those around him. Manipulative and melancholic, he begins a tortuous descent into madness. He attempts to commit suicide by drowning himself in the Rhine; incarceration in a mental asylum follows.
The confusion and distress of the ever-more erratic Robert is convincingly portrayed by McCarthy, aided by Armitage's use of music. The gold-masked figures are revealed as hallucinatory figments of Robert's volatile imagination; they torment him with a music which plagues no other ears.
Armitage exercises some artistic licence with regard to the ending. Having lost the will to live, Schumann died two years later, of self-starvation. The real-life Clara did not visit her husband in the sanatorium, where conditions verged on the sadistic, and did not bring him home when his condition improved. On Robert's death, she resumed her own career immediately, as a traveling virtuoso.
Armitage suggests that she did so reluctantly, only when urged by the adoring Brahms that she had a duty to nurture her own creative talent in the service of art. However, expedience was probably a greater factor: she had many mouths to feed, after all. Armitage's ending is poignant and, after such tribulation, suffering and sacrifice, offers musical and visual images of consolation.
With Clarke at the keyboard and Irving and Morris taking up harp and violin respectively, the cast come together to play Clara's "Das ist ein Tag, Der Klingen Mag" ("This is a day for singing songs"), McCarthy's French horn literally giving voice to the song's hunter's horn, which joins with the rejoicing lark, trilling quail and calling nightingale to celebrate the return of spring. At the close, Robert smiles as he clutches a fragment of the plate broken in the pre-wedding ritual.
Armitage effectively evokes the Schumann's social milieu. Roderick Morris is fussy and impatient as café owner Herr Wolf, self-composed and slightly aloof as the refined Mendelssohn, and full of youthful freshness as Brahms—although the latter's fervent idealisation of Clara is not fully communicated.
Clarke sparkles as the playful, convivial Emma Walter, but is more reserved as Elise List, a young soprano and friend of Clara. The cast display considerable talent, both dramatic and musical. They deliver some of Schumann's challenging lieder with confidence and style, and the texts effectively enhance the ambience, and conflicts, at particular moments.
The play occasionally strikes a "false note" in diction and register, but Duet powerfully reignites one of the great love stories of the past, showing us how for the Schumanns music was both a gift and a curse—it endowed them with a creativity that united Robert and Clara as one, and inspired a madness which isolated them in silence.
Reviewer: Claire Seymour