Duet for One
Tom Kempinski
Almeida on Tour
Milton Keynes Theatre
(2009)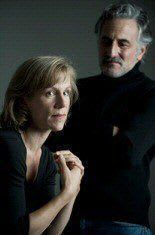 Duet for One, the transfer from the well received London run, has began its foray into the provinces. Milton Keynes Theatre hosts this two hander that has quality oozing from every creative pore.
A sell-out at the Almeida, followed by a successful West End run indicate that this could be worth seeing before you have set eyes on its talented cast and beautifully crafted set.
With two consistently strong performers cast so perfectly, this really was acting at its finest. Juliet Stevenson as Stephanie Abrahams, the flawed Violinist who battles the onslaught of Multiple Sclerosis, is strong yet vulnerable in a role that seems written for her. Her ability to portray the truth of all that attacks this bitter musician is sometimes almost too painful to witness. Her physicality is considered, yet truthful, big yet never a simple mimicry exercise.
Henry Goodman as Dr Feldmann, the dry, intense psychiatrist is his oh-so-powerful self - an often silent presence who manages to share the stage without ever upstaging his co-star. The Doctor, almost confined to his room, seemed to mirror his patients' fine line of strength and vulnerability.
Much of the plaudits must go to Tom Kempinski's brilliantly clever script; a painful, yet funny play that flits between philosophical musing and therapy-like clichés. It is the all-so real feeling when watching that makes one feel as though we perhaps shouldn't be there.
The set too, subtle yet beautifully crafted, adds to this feeling that you are looking through the window into someone's privately owned, highly paid outpouring. Lez Brotherston's design is complemented by Jason Taylor's lighting - both of which are true reflections of the world of these two complex characters.
However, the script and set are only half of the way there. The acting (and Matthew Lloyd's directing) is what truly makes this an un-missable play.
So, put simply, if you have the chance to see Duet for One, see it. I can't recommend it enough.
"Duet for One" runs at Milton Keynes Theatre until Saturday September 12th 2009
Philip Fisher reviewed the original production at the Almeida and Ben Aitken reviewed the transfer to the Vaudeville
Reviewer: John Johnson