Dumb Show
Joe Penhall
Oldham Coliseum
Grange Arts Centre, Oldham
–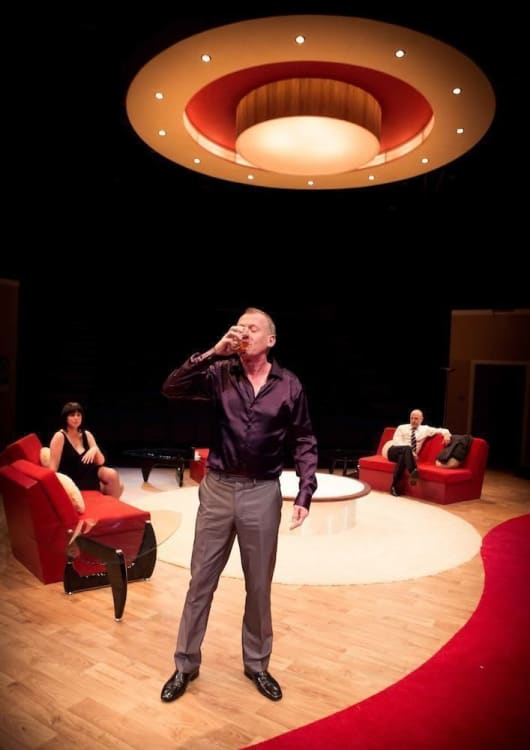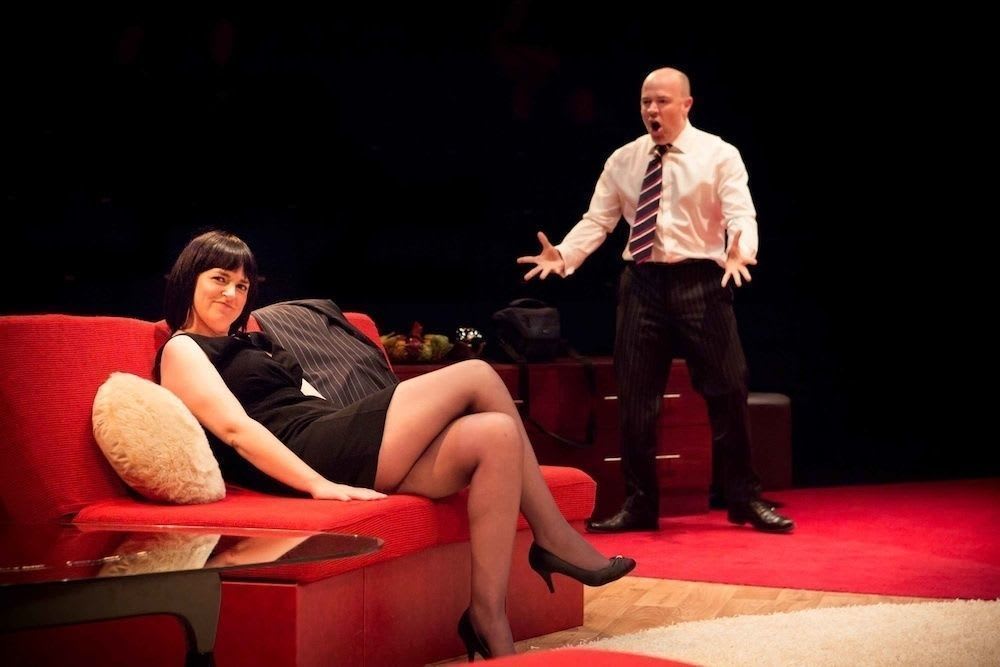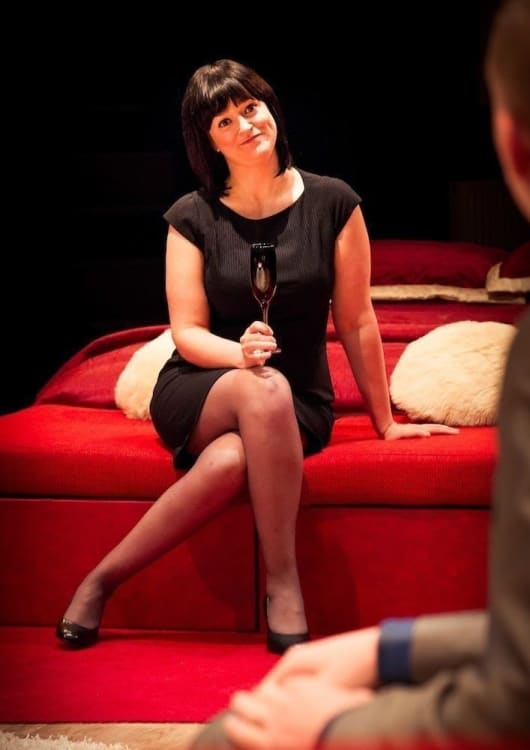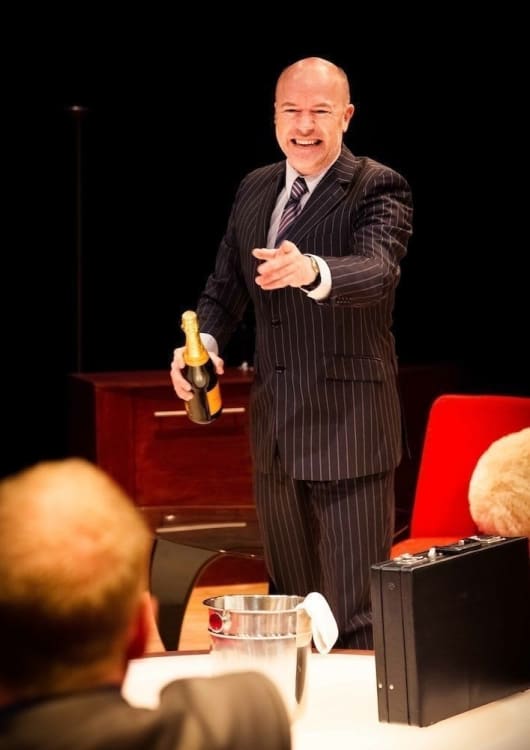 Oldham Coliseum ends its residency at Grange Arts Centre, while the theatre itself has been closed for refurbishment work, with a revival of Joe Penhall's 2004 play about the behaviour of the popular press Dumb Show.
Set in a hotel room, it begins with Barry, a very successful comedian with his own Saturday night TV show, being schmoozed by Greg and Liz, pupporting to be from a bank, to allow them to take over handing his personal finances. I don't think I'm giving too much away, when the theme of the show is in all the publicity, by revealing that the "bankers" are really journalists operating a sting to entrap Barry into doing or saying something —drugs, sexual harassment, infidelity—that will give them leverage to persuade him to "reveal all" as an exclusive for them.
That's pretty much the plot for the next two hours. While it may have seemed a timely revival in the wake of recent revelations about press 'phone hacking and the Leveson Enquiry, these recent events actually reveal the play to be rather superficial and naïve. The techniques employed by the journalists seem so obvious that it is difficult to believe anyone would fall for them, and there are so many occasions when there is no reason for Barry not to walk out other than to prevent the play from being too short. The last scene is just very strange; why on earth would he go back and talk to these people after what he believes they have done to him and his family?
In an interview in the programme, Penhall says, "I'm only sorry I didn't go further with the play because it was just a silly light-hearted comedy" and goes on to give a far more intelligent analysis of the press post-Leveson than anything in the play. As a comedy, it isn't funny enough; as a satire on how the tabloids abuse people and try to justify their behaviour, it just doesn't ring true, as though the writer tried to write about an area he knew no more about than the average person without doing any research. There are funny moments and the occasional point where an argument starts to develop the issues, but they pass rather quickly.
Kevin Shaw's production does nothing to clarify proceedings. The actors struggle with the self-conscious, pseudo-Mamet broken-up dialogue that Penhall has saddled them with, and none of the characters is convincing for a moment. For a "silly light-hearted comedy", the comedy, what there is of it, fails to come across.
As Barry, Steve Huison doesn't initially come across as the "Mr Saturday Night" comic-type, but he does grab the audience's sympathy from time to time when his downfall comes. Kate Coogan and Leigh Symonds as Liz and Greg are two very reliable local actors with impressive theatrical CVs, and so their failure to make their characters consistently believable—both have some good moments—is almost certainly down to the play and the production.
As a comedy with a good cast on a subject with major currency, this should be a production with a big impact to finish the Coliseum's Grange residency, but sadly it fails on most levels with only a few moments to make you laugh or think.
Reviewer: David Chadderton