Duncton Wood
Music and lyrics by Mark Carroll, book by James Peries from the novel by William Horwood
Union Theatre
–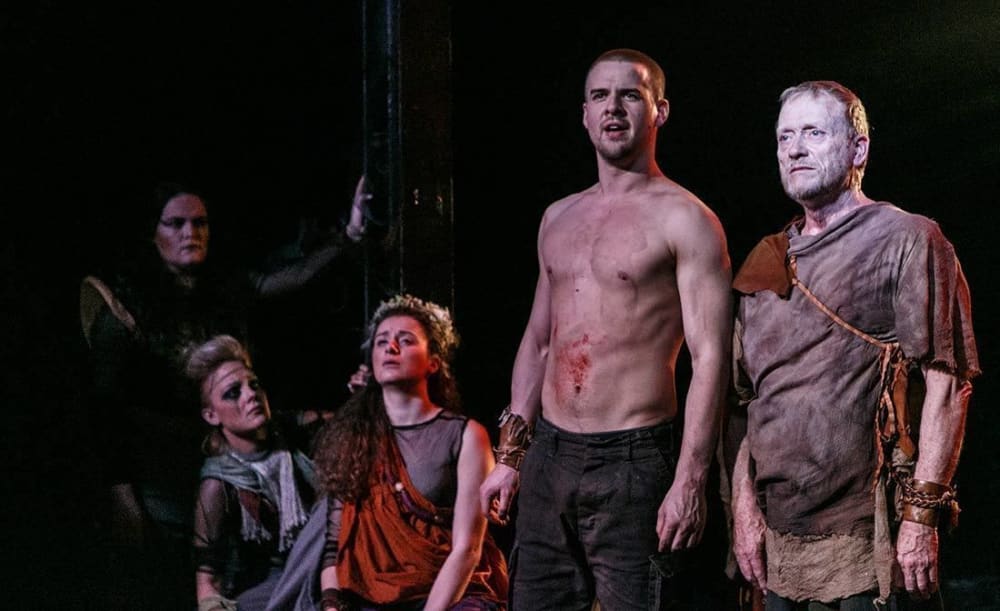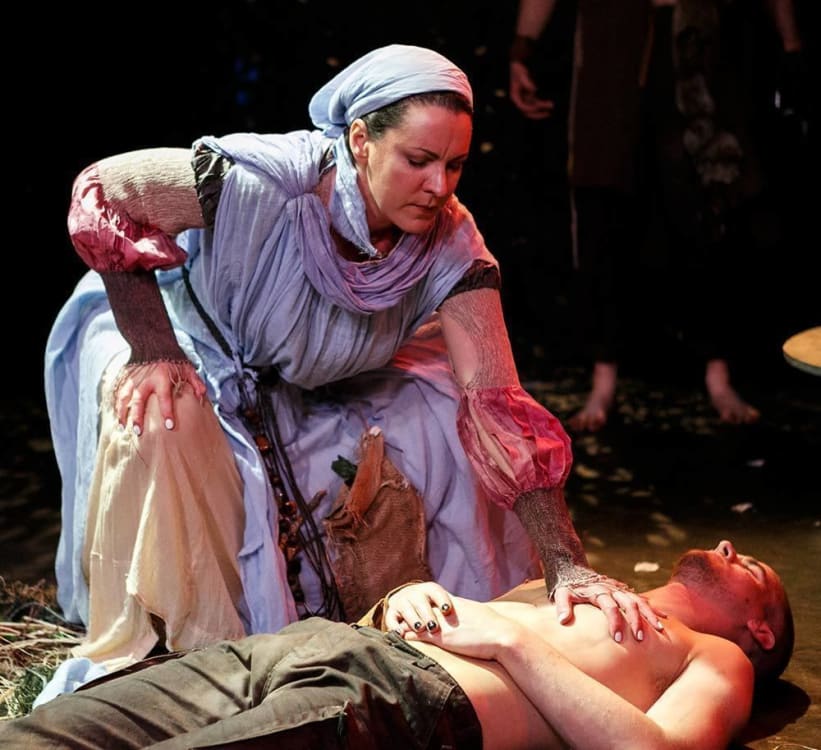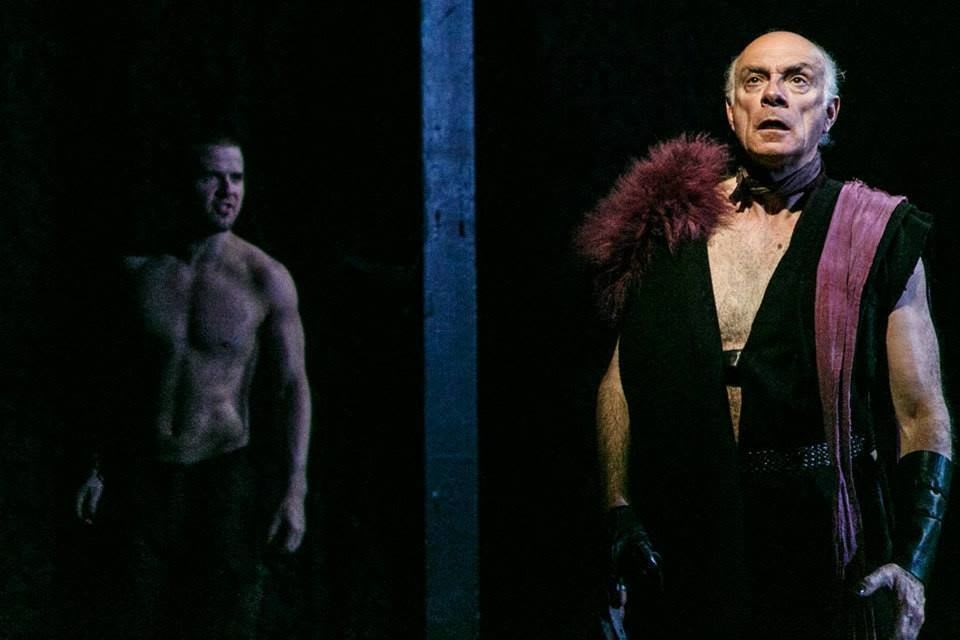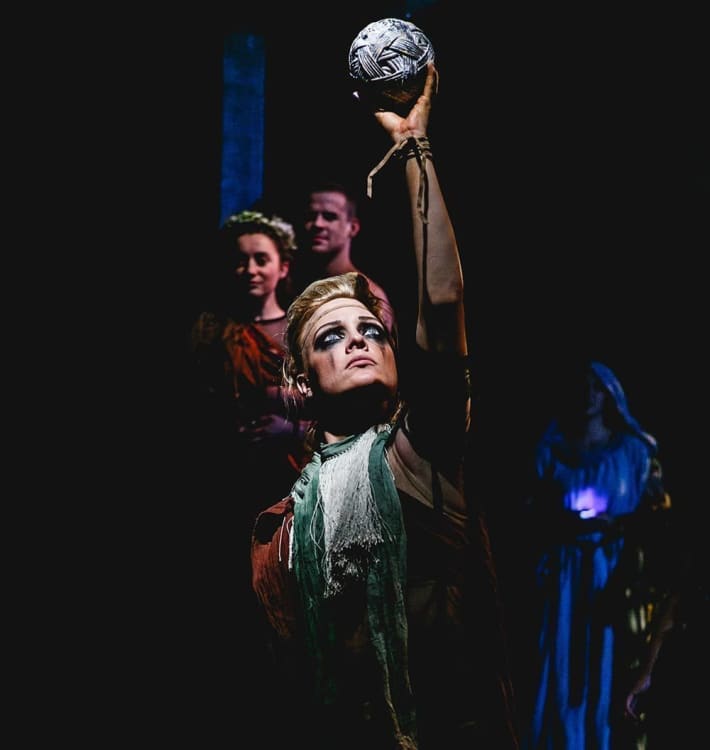 William Horwood's Duncton Wood was the first of a series of best-selling fantasy novels about moles. The lives of near blind furry little creatures who dig holes underground doesn't seem an obvious subject for a musical, let alone the problem of staging them.
I've not read the book but I gather that, though it doesn't dress them up in clothing, it does anthropomorphise them by giving them human feelings and culture and this adaptation solves the problem of how to present them at a stroke.
It presents them as human with just suggestions of mole-ish character, especially their heightened reaction to pheromones. Apart from what sounds like the howling of wolves, there is no involvement with other species so to all intents this can be treated as a human story of power struggles and love.
This is a multi-tribal society with a religious cult involving a sacred stone, a tyrannical overlord and the plot mainly concerned with rebellion against him to restore an older tradition. It's a dark, often violent story, not a tale of twee furry creatures, a fantasy adventure presenting a conflict between good and evil that, whatever the original may offer, doesn't aim at political, moral or satirical parallels.
I suspect the adaptation is a very compacted treatment of a long and complex novel and may lose more than just incidents. The second act in particular seems to leap through plot twists in the story, leaving you sometimes guessing what has happened. But you are swept along by the music.
This is a through-composed piece that slips smoothly from dialogue into Mark Carroll's multi-rhymed lyrics, never comes to a half for a "number" but is buoyed up by music with keyboards, cello and woodwind producing a body of sound that is complex and very atmospheric with an operatic richness.
Necessary narrative is dramatised and sung mainly by Trevor Jones's priestly Hulver, there are some touching, all too brief duets for lovers Cairn (Oli Reynolds) and Rebecca (Amelia-Rose Morgan), rebellious daughter of tyrant Mandrake (Anthony Cable, like an evil Prospero) and lovely choral ensembles. With 28 separate musical items, there are none very long but all carry the story forward.
Carroll uses variations on some simple themes that echo folk song and his writing seems to have its roots in English music but given a very dramatic dimension. It matches speech beautifully and is sung clearly and cleanly. With just one exception, attention to consonants makes every word comprehensible while still conveying emotion.
Josh Little is Bracken, Mandrake's hidden opponent, playing a complexity that the script doesn't properly explore. Thomas Thoroe is Rune whose fine singing voice takes on a bitchy edge when he speaks matching his evil heart. James Sinclair is Cairn's brother Stonecrop, also facing up to steel clawed Mandrake and his henchmen. This is a production in which the ensemble is very much part of the action and the sound and makes a strong choreographic contribution led by dance captain Nadia Eide.
Jean Grey's design takes elements from many cultures to create eclectically romantic costumes with bare chests to be blade-slashed and made bloody. She them against shadows allowing Tim Deiling's lighting to control space and the action to move unhindered.
Michael Strassen's production draws concentrated performances from his cast and creates a dramatic atmosphere that matches the music. He makes what, as told here, is a rather stereotyped story seem much more important.
Reviewer: Howard Loxton