Dust
Ade Morris
Quidem Productions
Grand Theatre, Lancaster
–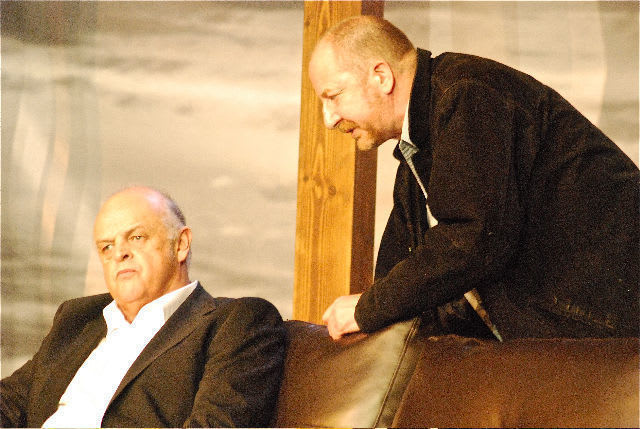 The personal gets political in this tightly-written and intriguing play, which comes garlanded with praise from its Edinburgh outing last year.
In two short acts it lays bare the state we're in, as the age of austerity claims another victim, but traces its way along a political faultline that runs back to miners leader Arthur Scargill, and beyond him to an earlier miners' champion Arthur Cook.
Not so many years ago it's the kind of agit-prop theatre piece that would have gone down a storm in social clubs, community halls, even a large-enough pub. But we all know what's become of them...
Instead it's played here for just one night, to a small but highly-appreciative audience.
Ade Morris's play imagines events in Scargill's Barbican flat... around the days of Margaret Thatcher's death and funeral. And it turns out to be not quite the event he, or we, would have supposed.
Instead he is visited by Lawrence, a militant miner—and accuser—from the past, with a story to reveal about the human cost of the on-going confrontation between capital and labour.
It's a tribute to Morris's writing and directorial skills that Dust can thread together both its time-shifting narrative and political commitment and also produce a solidly-dramatic story.
It's an angry work, and one whose raised voices sometimes steal away the clarity of what is being said, but there's no discounting where its heart lies.
Michael Strobel— seen hereabouts before in Beauty and the Beast in the city's Williamson Park—Stewart Howson, Jacqueline Naylor, Sean Carlsen and Alice Bernard give the play a thoroughly committed and convincing performance.
It's maybe just a shame there are not more like it, at a time when the country could do with some political consciousness raising.
Reviewer: David Upton