Dusty
Jonathan Harvey
Eleanor Lloyd Productions, Jonathan Hull, Eilene Davidson, Ingenious Media, Bruno Wang in association with Vicki Wickham and Tris Penna
The Lowry, Salford
–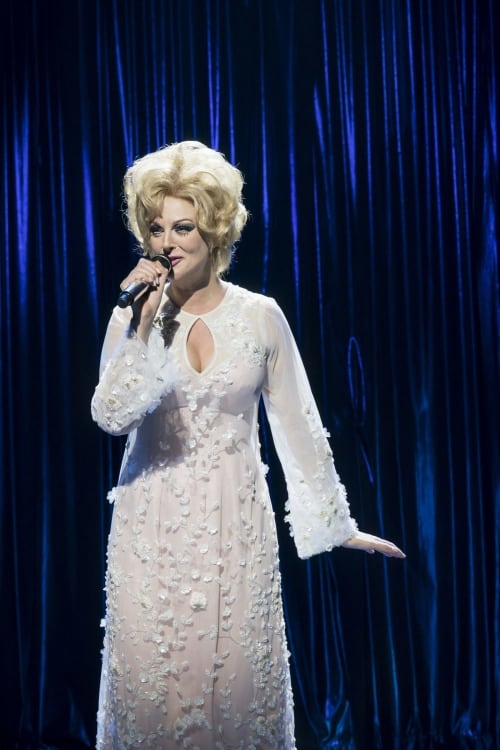 Sooner or later, someone is going to properly capture the essence of one of this country's greatest singers.
Perhaps the panda-like eye make-up that was the trademark style of Dusty Springfield was designed to always conceal the complex woman behind the heavy mascara?
In the meantime this latest attempt does its best, and just occasionally achieves a spine-tingling authenticity. It's based on the memories of three of Dusty Springfield's closest friends, and is written by Beautiful Thing creator Jonathan Harvey, who knows better than most how to thread a gay storyline through a narrative.
What he seems unable to avoid here is turning two of the singer's erstwhile and potty-mouthed companions, Pat and Ruby (Esther Coles and Ella Kenion), into a kind of comedy double act from a parallel pantomime universe. Their crude intrusions do not sit easily, particularly when the drama also gets too heavy-handed.
Dusty, the show and the woman (a highly-convincing performance from Katherine Kingsley), are both at their best when they concentrate on the music. If some of it is used to drive the story along, in the 'best' traditions of the jukebox musical, then so be it, but it works best in moments like a duetted version of "The Look of Love". Burt Bacharach and Hal David's haunting melody becomes a hymn to a forbidden passion at a time when the relationship Dusty enjoyed with an American singer could well have destroyed her career.
Elsewhere several famous characters spring into life, while others appear to have been composited. Roberta Taylor's role, as Dusty's mother Kay, is woefully underwritten, and the star's formative years with singing groups, as well as her brother, are barely mentioned. Then again her championing of Motown and soul music is also pretty well overlooked. At least Rufus Hound does not have to stretch his abundant talents too much to become the pop star's manager, or an American TV host.
Tom Pye's costume and digital set design capture the technicolour style of the Swinging '60s onwards and cleverly contain it all within the apparent confines of a recording studio. And it is in those re-created studio settings where this show, and Katherine Kingsley, really shine. She captures all the self-doubt of stardom, as well as the controlling nature of a perfectionist.
Dusty is never better than when it recalls her belated swansong with the Pet Shop Boys on "What Have I Done to Deserve This", or in the magnificent breathy mezzo-soprano tone she brings to bear in the show-stopping "You Don't Have to Say You Love Me"—a searing lament to one woman's love and loneliness.
Reviewer: David Upton