Dutchman
Amiri Baraka (LeRoi Jones)
Outer Gaea Company and Théâtre Libre
Tristan Bates Theatre
–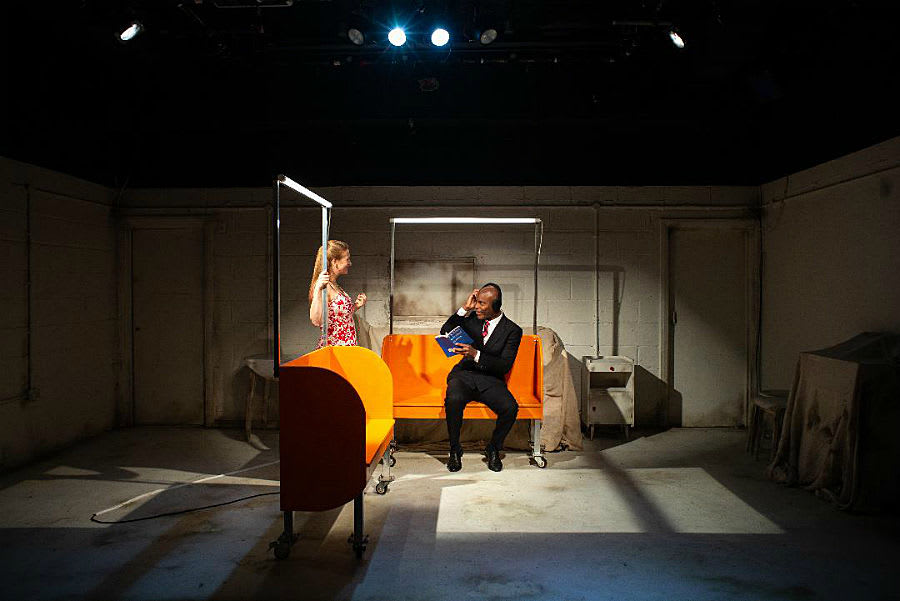 Can African-Americans trust white liberals? Back in early 1960s America, there were many who had good reason to believe they couldn't. After all, President Kennedy hadn't delivered much to stop the racist attacks and in 1963 there was the horrific bombing of a church that killed four black girls.
Dutchman, first performed in 1964, is a disturbing, dreamlike play, which warned against racial integration, warned against trusting the white liberal.
A neat, well-dressed black male Clay (James Barnes) sits alone on a subway train. A slim white woman Lulu, whom Clay appears not to know, joins the carriage. Although she initially accuses him of staring at her body, she is quickly flirting with him and drawing on racial stereotypes to claim knowledge of his history.
Her sexual talk and actions such as placing her hand on his thigh increasingly seem threatening and racist, with her referring several times to him as a "nigger".
She mocks what she regards as his middle-class white integration telling him, "boy, those narrow-shoulder clothes come from a tradition you ought to feel oppressed by... Your grandfather was a slave."
Provoked into an angry monologue, he rejects the idea of harming Lulu, insisting, "if I'm a middle class fake white man, let me be. And let me be in the way that I want safe with my words, and no deaths, and clean hard thoughts."
This stark forty-five-minute play is shocking. Its cast give an engaging, confident performance with Cheska Hill-Wood particularly unsettling as the dangerously provocative Lulu.
It is now easier to argue against the play's bitter version of Black Nationalism, but it still stands as a scary vision of the American nightmare.
Reviewer: Keith Mckenna