Sister Josephine Kicks the Habit

Tamar Scarborough in conjunction with Helmsley Arts Centre
(2006)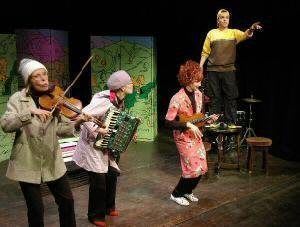 Last year I reviewed the premiere of Ian McMillan's show, based on the songs of Jake Thackray, at Helmsley Arts Centre, and thoroughly enjoyed it. It's a fun show, particularly for a Thackray fan; the venue was full of other fans and, of course, seeing it was a perfect excuse to spend a couple of days in the lovely Yorkshire countryside, stay in a pleasant country hotel, eat good food, have a few drinks and just relax. So it was with a bit of trepidation that I accepted producer Ian Watson's invitation to review this recording of the show, made at the Leeds City Varieties. Would it turn out that those extraneous factors had influenced me both in my judgment of the show and my memories of it?
The short answer is no. The show is as I remember it and I enjoyed it the second time around.
It has to be said that the DVD is not a perfect record of the show. It is a professional recording, made with three cameras, but it is a recording of a live performance in front of an audience in a theatre, with all that that implies. There are no retakes or studio inserts, and no attempt to recreate the show for the screen. The box - very fairly - points this out. The camera operators have obviously tried to get as close to the action as possible and this has led, on a few occasions, to us seeing half of one person on the left and half of another on the right, or even of one going right out of shot but with us still hearing his or her voice. With our sophisticated experience of film and video we don't expect this kind of thing and it does jar a little. On the other hand, we do have to make this kind of decision (whom do we watch?) in a live performance so it doesn't really matter all that much and, indeed, adds to the sense of watching a live performance.
This sense is compounded by the fact that when a character talks to the audience, (s)he is looking away from us - in a studio recording the eyes would be looking straight into the camera. And there is quite a lot of direct addressing of the audience in the show, so this happens not infrequently.
But that's the nature of the beast, and the presence of the audience, whose reactions we can hear clearly, makes up for it. Indeed, not many minutes into the recording we unconsciously adjust our expectations and it ceases to matter - except for the two half bodies scenario, which does, but what could they do? The sound quality, however, is excellent, lacking that distancing reverberation which live recordings of stage shows sometimes have.
And the "feel" of the show comes over, which is the most important thing. No recording can provide that indefinable something which we get from a live show but this comes close. Sister Josephine is very much a work in progress and a further tour is planned for this year (details yet to be announced), but in the meanwhile the DVD is a pretty good replacement, both for those who have already seen the show and want to watch it again, and for those who haven't, whether they know Jake Thackray's work (in which case, they will defnitely want it) or not.
The DVD (PAL format, all regions) is only available from the Sister Josephine website at www.sisterjosephine.com, priced at £18, including post and packing.
Reviewer: Peter Lathan