E15
Helen Monks and Matthew Woodhead
FYSA Theatre
The Pleasance Theatre
–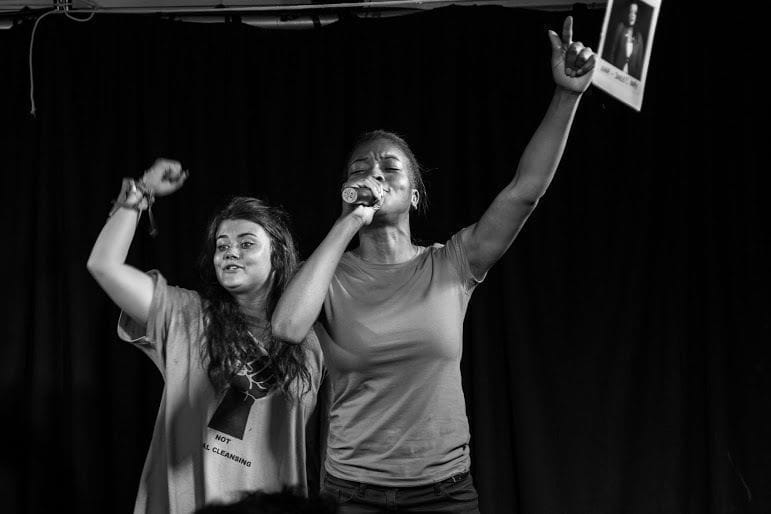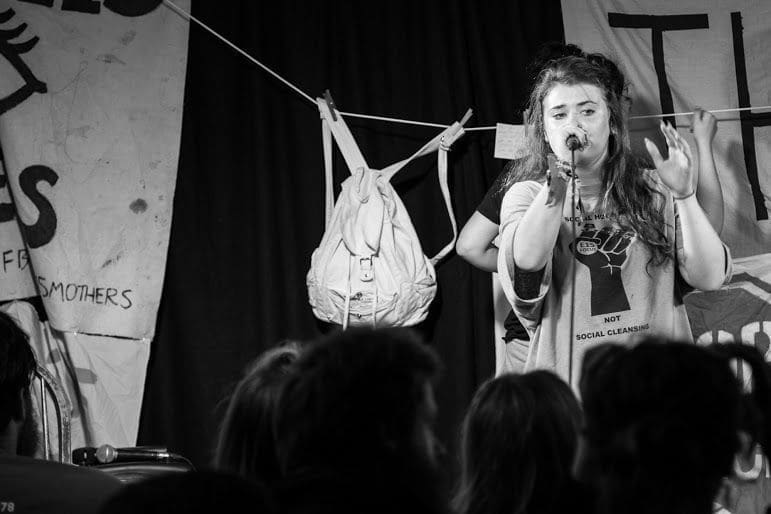 In 2013, the East Thames Housing Association sent eviction notices to twenty-nine young women at east London's Focus E15 hostel. The way these women responded to the threat became national news and inspired thousands of activists across the country. It also prompted FYSA Theatre to create a documentary drama about these events.
The show E15 immediately pitches us into the hectic bustle of an E15 street protest with a cast member handing out leaflets as others chant slogans alongside people selling political papers. The room is decorated with banners. The mood has the feel of a lively party.
The story of this successful housing protest is told by a fine cast through a series of short monologues derived from interviews. These are interspersed with an occasional dramatic scene and dance.
The Focus E15 hostel is not a place its residents love. Rubbish bags had to be left in the hallway. Mice ran through the tiny rooms. Jasmine one of its residents played by Danielle Phillips says, "take three steps and you're on the other side." Amal (Bianca Stephens) another of its residents comments that the place had the "feel of an open prison."
Jasmine tells us how she arrived at Focus E15 at the age of eighteen just as one of the residents had been stabbed to death in the Westfield shopping centre.
The place depended on council funding and, when the residents are handed letters telling them funding had been cut, their situation looks bleak. A week later when Jasmine went to report to the E15 reception that she had been scalded by a leaking boiler that could have seriously injured two children, she was told one of the residents had hanged himself outside the window. It took six hours to take him down.
Focus E15 may be an unpleasant place to live but it is all they had and Newham were proposing to ship the residents off to Manchester and Birmingham, despite the fact that many of them came from families who had lived in Newham for generations.
As they search for ways to protest the eviction, they meet an experienced activist Donna (Joanna McGibbon) who was at a street stall collecting a petition about the bedroom tax. The combination of Donna and the E15 woman generates a very effective campaign.
The women petition, march, hold a picnic of protest occupation of an East Thames show house and eventually occupy for two weeks one of the 650 houses on the Carpenters Estate which Newham had kept empty for some nine years.
The monologues of the women telling their story are intercut with others giving us a picture of the housing crises beyond the E15 protest. A Citizens Advice Bureau worker claims the number of housing issues they are dealing with is increasing massively. She describes how a terminally ill woman was housed by the Council in someone's garage "with no power, just like a cold water tap you know. And she sat on this camp bed and she said, 'this is no place to die'."
We hear about the problem of poorer people being pushed out of housing in central London. Betty, who lives on the Brixton estate, tells us that her home is one of 390 social housing flats on the estate that is to be demolished and replaced with "unaffordable private rented flats."
The housing crises seems too much for the Shadow Minister for Housing Dr Roberta Blackman-Woods MP (Danielle Phillips) who seems helpless and can do little more than admit that, "gosh, London has got huge problems."
At one point, the performance is interrupted by an audience member played by the actor Ben Norris who, in a very moving speech, describes his experience of living homeless on the streets. The moment is typical of a production that is constantly finding different ways to present the monologues.
The show is an important record of a series of events that gave some hope to great numbers of people struggling simply to find a secure place to live. But it is also an often humorous, always interesting piece of theatre at its best.
E15 is also performed at Camden People's Theatre on 23 and 24 January 2016.
Reviewer: Keith Mckenna