Early Modern Actors & Shakespeare's Theatre
Evelyn Tribble
Bloomsbury Arden Shakespeare
Released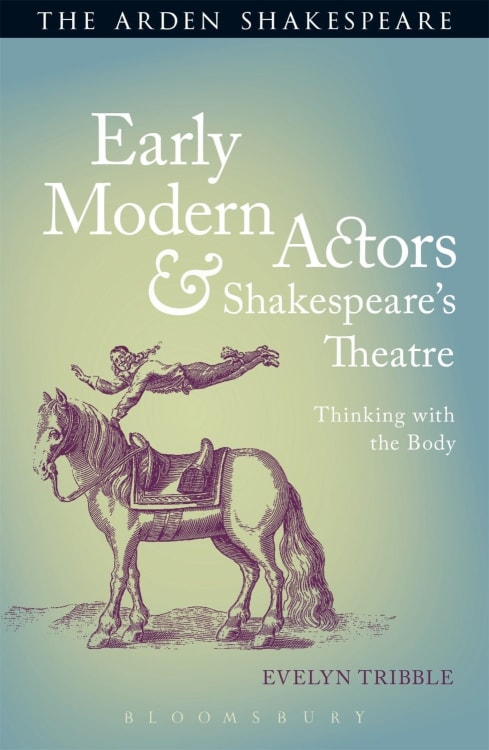 Evelyn Tribble's book begins with an intriguing puzzle posed by the will of actor Simon Jewell, written in 1592 while he was suffering from the plague. Jewell recorded details of his belongings, clothing, debts and bequests meticulously, but one item is given a fairly basic description, as though no more information would have been required at that time: "all my playing things in a box".
What was in that box? What "playing things" would an actor at the end of the sixteenth century have been required to obtain and keep with him? This is the starting point for Tribble's investigation into the working life, methods and obligations of an actor during Shakespeare's time. Jewell's box no longer exists and no record has been found of its contents, but actors at the time were known, unlike actors today, to have owned their own costumes, wigs, weaponry and musical instruments for any parts they were like to play, which would have involved a substantial investment in their craft.
But Tribble takes her inquiry beyond the merely material and looks at the range of skills that would have been required of an actor at that time. Some of the philosophical analysis of "kinetic intelligence" and the way the body learns physical skills went over my head, but there are some fascinating investigations into the level of skill needed to fulfil the requirements of some of the dialogue and stage directions in plays by Shakespeare and his contemporaries.
She poses the idea that if actors are playing aristocrats engaged in sword fighting in front of an audience that would include aristocrats who were highly skilled in such combat—and highly versed in the debates over the 'right' and the 'wrong' way to fight—then they would have to be expert swordsmen in order to get away with it. The same applies to dance, which can say a lot about character, mood, status and many other things. Even the importance of the clown is looked at freshly—and established views of some respected academics dismissed—by examining the skills required of the performer and how these roles would have been read by these plays' first audiences.
These ideas are used to analyse specific scenes from plays of the period, casting them in a completely new light, such as examining the opening fight and the stabbing of Mercutio in Romeo and Juliet with a greater knowledge of swordplay terminology and techniques of the time, or looking at A Midsummer Night's Dream and Much Ado About Nothing through the specific genres and moves of renaissance contemporary dance. She compares the various published versions of Hamlet through the idea that perhaps some of the parts we struggle now to understand in Shakespeare were written to highlight specific skills of the actors he knew would be playing the parts, and suggests alternative interpretations to those in the footnotes of common editions for specific scenes in Cymbeline and All's Well That Ends Well from imagining the non-verbal cues in performance rather than just the words on the page.
This is a small but densely packed book that is a little obscure in parts but has many fascinating ideas that make you want to examine again some scenes you thought were familiar in Shakespeare (or Jonson or Marlowe) and perhaps take them into the rehearsal room for more active study.
Reviewer: David Chadderton