The Importance of Being Earnest
Oscar Wilde
Encore Theatre Company
Highbury Hall, Birmingham
(2004)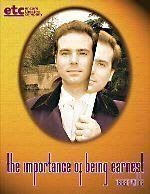 Take three people who pooled their acting, marketing, coaching and directing skills so that they could take artistic control of their work. Add actors, designers and crew all with the same aims: to look at familiar plays with a fresh eye and produce new, challenging work. The result is Birmingham-based Encore Theatre Company who've chosen for their first production Wilde's comedy of English manners.
Having your own theatre company sounds a utopian experience. But while ETC have the luxury of being able to choose which plays they want to perform and how they want to present them, the company also have to share out all the other jobs which are essential to a smooth-running production.
Finding venues would seem to be the first problem. ETC chose Highbury, built as a family home in 1878 by Birmingham's famous parliamentarian Joseph Chamberlain, for their debut. Its galleried main hall, with its rich furnishings, marble fireplace and stained-glass door panels, makes the ideal setting for The Importance of Being Earnest.
Attracting audiences is another difficulty for a fledgling organisation. It's no good being totally at ease on stage if only family and friends are watching.
But on the evidence of Earnest, ETC's reputation will soar in relation to the amount of work they produce.
The company prove you don't have to have a lavish set. A chaise, table and chair are all that are needed to create Algernon Moncrieff's London flat and few changes are needed for the second and third acts which are set in John Worthing's manor house at Wolton.
Once the action gets under way - lack of any incidental music beforehand means the start is rather flat - the acting is superb.
James Parsons, a mischievous, unconventional Moncrieff, and Nigel Boyle, the put-upon, long-suffering Worthing, play off each other as though they really are the best of chums.
Boyle also shines in scenes with Katrina Norbury whose Lady Bracknell is a bit of a snob who deplores any changes to the moral fabric of society. She resists any temptation to overplay the role; she enunciates some of the production's more familiar lines with a witty freshness that's delightful to hear.
There are also strong performances from Alice James (Gwendolen Fairfax) and Jo Hodgkiss (Cecily Cardew) who give more liberated performances than Wilde probably intended.
Director Karen Crouch wanted to present a modern interpretation of Earnest while maintaining the play's classic charm. It works on the whole, although it's odd to reconcile Gwendolen's being sexually forward with Worthing when she's not allowed to choose the man she wants to be her husband. The script line when Worthing, a man of means, reveals his annual income is about £8,000 a year also sits uncomfortably.
There's an inconsistency with some of the costumes. Companies working to a tight budget often have to compromise but on opening night Moncrieff's trousers were about six inches too long and his shoes were neither clean nor appropriate. Still, it gave him a certain charm and immaturity which drew you to the character.
Any criticisms are merely superficial because the acting is of such a high standard. And in the glorious surroundings of Highbury you're so close to the action you're virtually part of it.
ETC have set high standards with their initial offering. There's little reason to doubt they'll be just as earnest with future productions.
"The Importance of Being Earnest" will also play at Ragley Hall, Alcester from May 5th to 8th
Reviewer: Steve Orme