East is East
Ayub Khan Din
National Theatre co-production with Birmingham Repertory Theatre
Lyttelton Theatre
–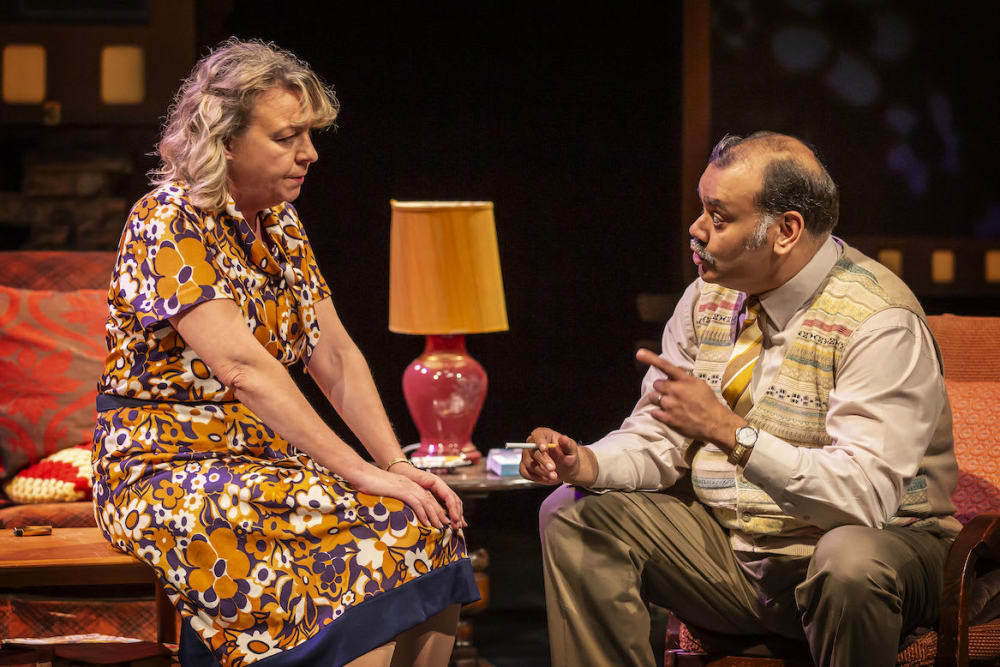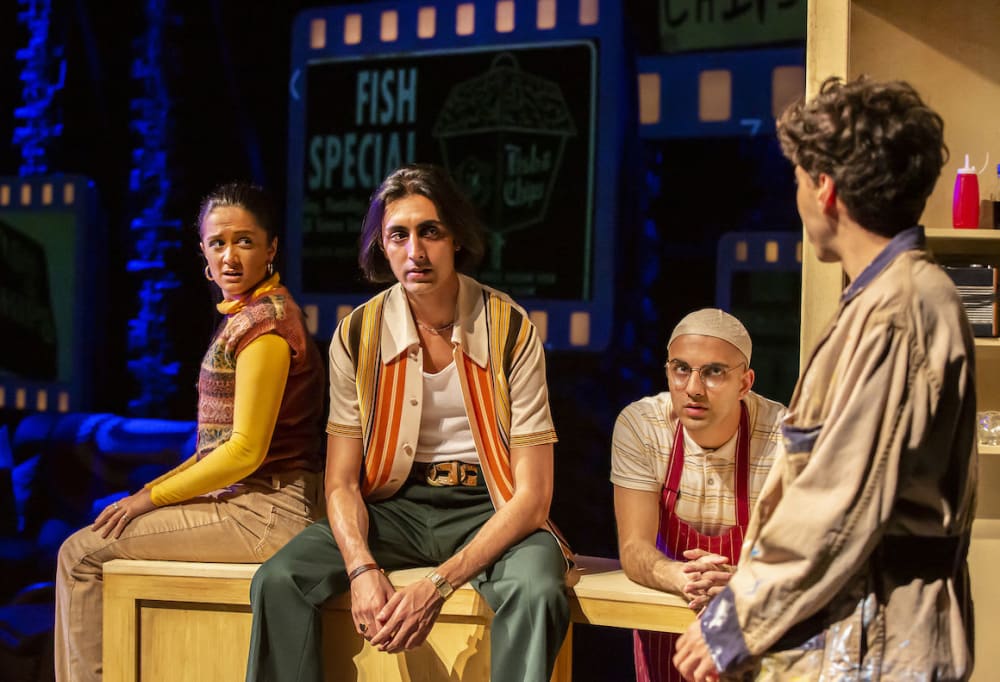 Revived as part of Birmingham Rep's celebration of 50 years since they moved into their current home, and 25 since the play's première in its studio, Ayub Khan Din's play is set 25 years before that in 1971 but its conflicts are still with us, perhaps even more relevant today.
For 25 years (again), Pakistani George Khan has been married to his English wife Ella. They have seven children together and his aim to raise them with his own Muslim values doesn't go smoothly. There is a passing reference to one son who has fled the nest. One more religious son, Maneer (Joeravar Sangha), tries to combine faith with Western life but brother Saleem (Adonis Jenieco) is going to art school, not on the engineering course his father thinks he is doing, and all the siblings are breaking dad's rules.
Though George has the whole family working in the fish-and-chip shop, of which he is the proud owner, there is a lot he seems not to have noticed. For instance, he has only just realised that youngest son Sajit (Noah Manzoor) has still got his "tickle-tackle"—he's never been circumcised. What will they say if the men at the mosque find out? The poor boy, who already has a psychological tic and tries to hide from problems in his parka, now goes into panic, but that snip can't be avoided. Abdul (Assad Zaman) and Tariq (Gurjeet Singh) then have their freedom threatened by dad's plan to get them married.
Tony Jayawardena as George manages to suggest a real affection for his wife and children, despite his desperation, but his growing frustration tips him into violence. It is Sophia Stanton's as Ella, the mother in the middle, who makes this whole family believable. It is a beautifully understated performance, absolutely right for the character.
There is some much broader playing from Rachel Lumberg as neighbour Annie (a lesson in comic timing and not playing for laughs) and Irvine Iqbal as obnoxious Mr Shah, eager to marry off his ugly daughters (whom we are given licence to laugh at) but Iqbal Khan's production roots them in a reality and their scale is a match for the Lyttelton.
Designer Bretta Gerecke solves the problem of putting domestic scenes on a large stage by using different parts of the stage for different locations, with a collection of video screens overhead using black and white film to suggest '70s Salford or as a reminder of the war going on between India and Pakistan and evocative fabric patterns and chip shop signs to facilitate scene change, and with Susan Kulkarni's costumes, there is a great sense of period.
East is East is very funny but it is also very serious, not just a night out. The conflict between modern mores and traditional living, reconciling ideas of equality and tolerance with religious requirement, are still facing us.
Reviewer: Howard Loxton