East is East
Ayub Khan Din
Richmond Theatre
–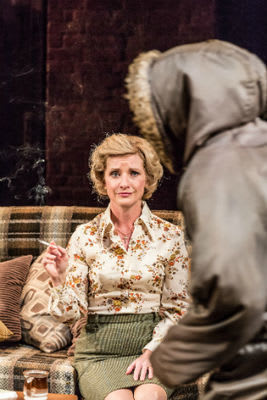 Following its just-completed West End run as part of Jamie Lloyd's Trafalgar Transformed season, Sam Yates's glorious production of Ayub Khan Din's East is East now undertakes a short UK tour, having played Birmingham last week, arriving at Richmond this week, and then heading on to Manchester Opera House (26 to 31 January). Do catch it wherever you can.
Khan Din's play, based on his own experiences as the son of a Pakistani father and a British mother in Salford in the 1970s, debuted in 1996 to much acclaim and was filmed (with mixed results) by Damien O'Donnell in 1999.
Though often perceptive in its portrait of a family caught between cultural traditions, the piece isn't without its flaws. But it remains an important work with strong audience appeal. And it's hard to imagine seeing the play better served than it is by Yates's punchy yet sensitive and perfectly pitched production.
Another striking set—simultaneously evoking the interior and exterior of cramped terraced housing—by the ever-inventive Tom Scutt helps, as does a great sound design by the equally distinctive Alex Baranowski. But most important of all are the nuances that Yates and the cast find in the material, subtleties that were almost entirely absent from O'Donnell's overly cartoonish screen version.
Elements of soap and sitcom do remain, especially in the final scene: a funny yet slightly problematic set-piece that pushes the play into full-tilt farce with the inopportune appearance of a model vagina. But the production is also alert to the subtler tones and grace notes of Khan Din's writing and communicates them in a way that ensures that the family's arguments and alliances, its tensions and sudden turns into tenderness, really resonate.
The plot pivots around two main events—a belated circumcision and a double arranged engagement—that feel a tad contrived. But, as in Yates's superb 2012 Finborough production of J B Priestley's Cornelius, there's terrific attention to detail here that pays dividends: whether it's Jane Horrocks's Ella and Sally Barnes's (wonderful) Auntie Annie gossiping with gleeful morbidity over local deaths and suicides, or the exhilaration of the kids' illicit bop in the family's chip shop.
There's an extra frisson to the production, too: the fact that Khan Din himself is taking on the role of George, the tyrannical patriarch closely inspired by his own father. Whatever degrees of catharsis or torment Khan Din might be going through in playing the part there's no denying that he excels in it, not stinting in showing George's cruelty and hypocrisy (which has seen one son flee the family nest) yet also locating a core of sadness and loss in the character that is, nonetheless, never sentimentalised.
He's beautifully matched by Horrocks: fag almost perpetually in hand, and teetering captivatingly between doll-like vulnerability and defiance as she suffers the violence of her spouse yet proves unable to resist puncturing his flagrant romanticising of his homeland. The actress's quirky intonation ensures that a line as innocuous as "Where's that Meenah with them biscuits?", delivered in the white heat of a social gathering about to go spectacularly off the rails, becomes a comic gem.
Playing the kids caught in the cultural crossfire, there are vivid turns from Johndeep Moore (replacing Michael Karim) as Sajit (snuggling into a pongy Parka as both armour and comfort blanket), Taj Atwal as the sparky Meenah, Darren Kuppan as the toeing-the-line Maneer, Nathan Clarke's art student Saleem, Ashley Kumar's playboy Tariq and Amit Shah's passive Abdul, with the dynamics of sibling rough-and-tumble perfectly caught. And the skilful Rani Moorthy and Hassani Shapi also maximise their impact as the family's prospective in-laws, amusingly preening themselves on their social standing yet also adding important contours to the play's exploration of immigrant experiences.
The quality of the performances and the attention to atmosphere ensures that the production retains the savour of a particular time and place while also gesturing outwards to conflicts that are relatable to all. Highly recommended.
Reviewer: Alex Ramon