East
Steven Berkoff
Atticist Productions
King's Head Theatre
–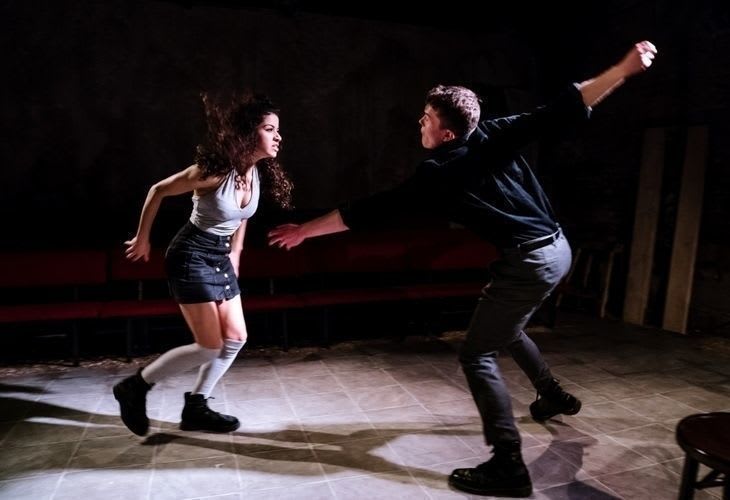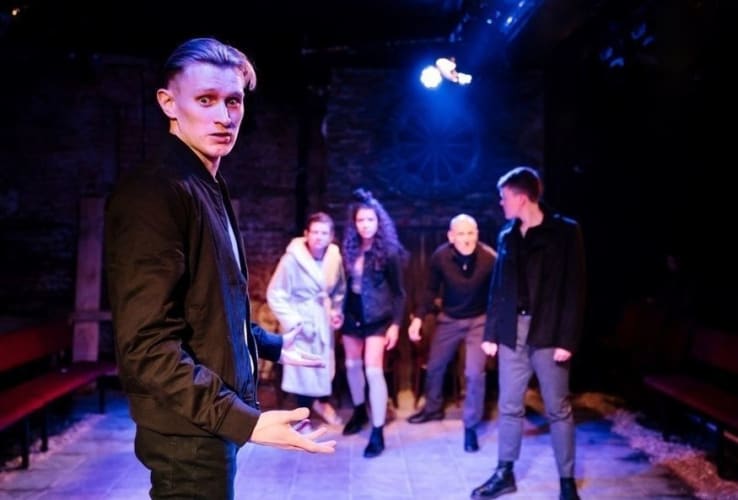 East is a vivid collage of the memories of two generations of life in London's East End that pulses with energy. Originally opening at the 1975 Edinburgh Festival before its London première at this very venue, it made a visceral impact. This revival shows it has lost none of its power.
It was the first of Steven Berkoff's plays that was entirely original and not based on existing literary material. Written in blank verse that mixes Shakespearian eloquence (and often borrowed phrases) with raw gutter language and making a bold use of physical theatre, it also draws on an eclectic range of popular music from music hall favourites to disco.
It demands in–yer-face, full-blooded performance and it certainly gets that from this cast in a production directed by Jessica Lazar that uses stylisation to create an even stronger reality in this intimate venue.
It is played on a thrust stage, the intimate audience on three sides, actors moving among them as they gather: Mum, Dad, daughter Sylv, her boyfriend Mike and his mate Les, already in character. They are two generations who seem like one East End family; together, they form a classical chorus. To start the play proper, they line up chairs against a bare brick wall and freeze for a moment before launching into a cacophonous and competitive rendering of a music hall favourite, the first of several that they will burst out with to match current emotions.
Mike and Les separate themselves from the others. They may be mates now but these two young thugs buddied up after a bloody fight over Sylv, now viciously re-enacted. This is a rough world, where the Kray brothers are heroes. Time is fluid: there is no single point being looked back from, in-text references make it moveable as memories reach back from dancing the Twist to Jack the Ripper, Yiddish theatre and Cable Street.
The boys' manor may have been around Commercial Road but they came north to Islington, a very different Upper Street to that outside the King's Head today. Would they recognize Brick Lane and their old hunting ground? But this isn't a nostalgia fest: it's a hard-hitting picture of a tough life, a violent world but a vibrant one in which pride and bravado kept guys going. There is anger in the air and a need for change, especially felt by the women that tie in directly with our own time.
These objectified women are ready for rebellion. Boadicea Ricketts's young Sylv jibs at the role women are given in their culture; men aren't going to walk over her. Mum is fed up with her belching, farting husband who drunkenly tries to hump her: real love-making stopped years ago. She may spend half the day in her dressing gown but what she hears on the radio gives her aspirations to culture. Debra Penny is splendid describing her furtive and fumbling sex in a cinema, an episode ending in shocking disclosure.
Each of the characters gets a virtuoso opportunity and they deliver them superbly. Line-shooting Dad, at school in the same class as Vera Lynn he says, re-plays the Battle of Cable Street at the tea table, though it is dangerously near going extravagantly too far. James Craze and Jack Condon, as Mike and Les, turn themselves into a Harley Davidson motorbike in a sequence that will stick in the memory. It is a fantastic piece of physical theatre as they alternate as machine and rider.
The highly charged physical element of this production gives it enormous vitality, an energy that makes it a joyful celebration, no matter how black the situation. When it erupts into song, it's in tune in all ways; like the well-contrived text, the mixture of methods seems natural, the humour irrepressible.
This is like crossing Auden and Isherwood with Edward Bond, an Eastenders staged by Frantic Assembly. No it's not. It's Berkoff with a fine cast and an understanding director and you should see it.
Reviewer: Howard Loxton