Eastern Star
Guy Slater
Guy Slater and Tara Arts
Tara Theatre
–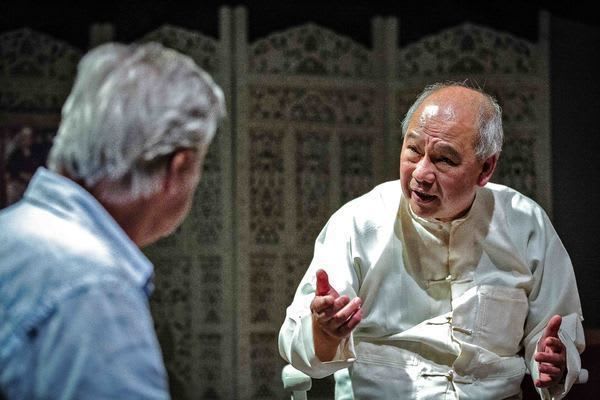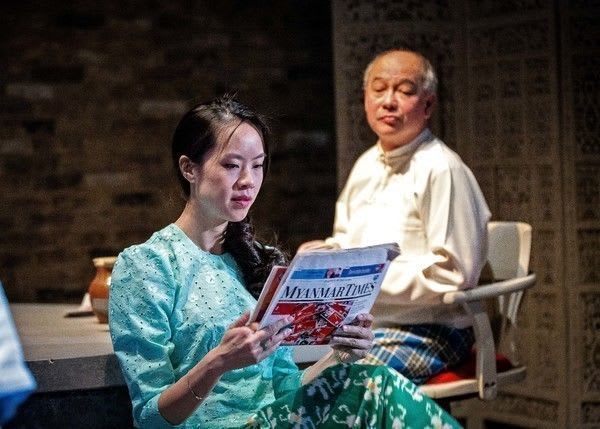 Thirty years ago, student protests in Burma (now Myanmar) culminated in a nationwide demonstration on 8 August 1988, the flowering of a pro-democracy movement that put Daw Aung San Suu Kyi on the international scene. A key figure in the revolutionary movement was human rights lawyer U Nay Min, who espoused the students' cause and helped lead it.
Telling the world about what was happening was Christopher Gunness, a young journalist sent to Rangoon by the BBC World Service passing on information provided by U Nay Min.
Gunness continued to receive information in Bangladesh and returned to the UK to pursue a successful career, while in Burma the movement was savagely suppressed while Nay Min was arrested and served two successive terms of 8 years in gaol suffering brutal torture.
Guy Slater's play is set 25 years later when Gunness is invited back to Myanmar for the commemoration of what became known as the 8-8-88 Rising. Both men still have nightmares, Christopher carries a burden of possible guilt, a guilt made more painful, as gay Gunness's husband points out, by the strength of his feelings for Nay Man. Could an action of Christopher's have led to the authorities identifying Nay Min?
At first, the lawyer refuses a meeting but then agrees to see him, insisting that his niece Maya Tun Aung shall be present as a witness. Representing a generation of people who need to learn their own history, her presence provides a structure for recounting what happened. Events are cleverly recreated not by any attempted at staging them but using the telephone calls that Nay Man made to Gunness and the reports that Gunness phoned through to London.
The relationship between Nay Man and his niece (Julie Cheung-Inhin) and that between Gunness and his husband Jake Hansard (a gentle Patrick Pearson) helps give depth to the characterisation and David Yip as the lawyer supressing decades of anger and Michael Lumsden facing up to his feelings present the two men with an open sincerity that is very moving.
It is very simply staged with a ghostly outline of Myanmar, through which faces seem to be screaming, hanging over Elroy Ashmore's setting of screens and a few pieces of furniture. Guy Slater's production is similarly simple and direct but a play that could easily become an 80-minute political lecture is a play about people coming to terms with the past as old wounds are reopened, secrets uncovered and reconciliation sought for.
As well as marking the 30th anniversary of 8-8-88, the run of the play is dedicated to the two Reuters journalists who, on 3 September, were given seven-year sentences in Yangon (former Rangoon), U Wa Lone and Kyaw Soe Oo.
Announcing the dedication, Jatinder Verma, Artistic Director of Tara Arts said, "when we planned this run, we had no idea that Eastern Star would become so painfully current. The sentences handed down to these two men are truly shocking even by the standards of justice we have come to expect in Myanmar today. We urge for them to be released immediately."
A petition book, calling on the authorities in Myanmar to release U Wa Lone and Kyaw Soe Oo, will be available for theatregoers and members of the public to sign. At the end of the three week run, which begins on 11 September, Jatinder Verma will present the petition to the British Foreign and Commonwealth Office.
Reviewer: Howard Loxton