East Is East
Ayub Khan-Din
Theatre Royal, York
(2005)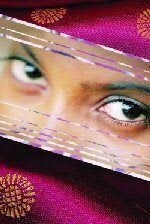 "It would be tempting to suggest that this play marks the real arrival of a mature contemporary British Asian Theatre, but it is too good to be consigned to a ghetto." So said the Birmingham Post when East is East was premiered nine years ago. A successful film version and numerous revivals have since confirmed the play's status as a modern comedy classic.
The story is well known: Pakistani chip-shop owner George Khan ("Genghis" to his children), horrified by the moral turpitude of 1970's Salford, is determined to give his offspring a strict Muslim upbringing. Having already disowned one of his sons for leaving home to become what the family, perhaps euphemistically, describe as a "hairdresser", George is poised to bring off his greatest coup - marrying two of his remaining sons to the unlovely daughters of his friend Mr Shah. After years of simmering resentment the kids are up in arms and their English mother Ella is, as usual, caught in the cultural crossfire.
Damian Cruden's lively and inventive revival, which will soon be embarking on an extensive tour, boasts a first-rate cast. Marc Anwar took over the part of George at short notice and his performance is still a little tentative, but it's early in the run and I have no doubt that he will grow into the role. Janys Chambers is a memorable Ella, frazzled but unbroken by 25 years of marriage to the irascible George. Their six children are played with total conviction by Damian Asher (unwilling bridegroom Abdul), Davood Ghadami (Tariq), Chris Nayak (the religious Maneer), John Afzal (budding artist Saleem), Rokhsaheh Ghawam-Shahidi (the tomboyish Meenah) and Adam Deacon (twelve year old Sajit, who for the past year has taken refuge from family strife inside his beloved parka). Sarah Parks' paintstripper voice and immaculate comic timing are well known to Northern playgoers, and she shines as Ella's warm-hearted but colossally tactless friend Auntie Annie. The cast is completed by Aftab Sachak, who doubles as Sajit's understandably concerned doctor and the comically strait-laced Mr Shah. This is a funny, touching and thought-provoking evening out.
The only aspect of this production that strikes a slightly false note is Laura McEwan's set, which is a little too clever for its own good. The stage is dominated by two enormous gold-framed pictures, vaguely suggesting Islamic designs and the red-brick walls of Salford; not until the very last scene do we realize that they were inspired by Mr Shah's gold-framed photographs of his daughters. East is East is basically a domestic drama and doesn't really need such a heavily symbolic set.
I have no such reservations about composer Ivan Stott's score, a marvellous mixure of Bollywood, bhangra and nostalgia-inducing 70s pop, which makes a striking contribution to the play's atmosphere. Warmly recommended!
At the Theatre Royal, York, until 8th October, then touring to Ipswich, Huddersfield, Bolton, Crawley, Aberdeen, Dundee, Sheffield, Leeds, Canterbury, Salford, Poole, Newport and Leicester
This production was reviewed by David Chadderton at the Octagon Theatre, Bolton, and by Peter Lathan at the Gala, Durham.
Reviewer: J. D. Atkinson